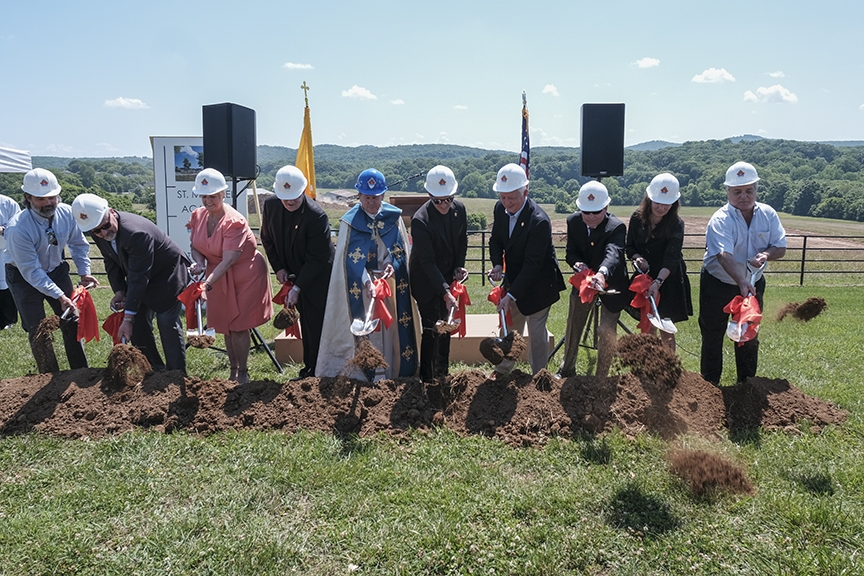 A new era in Catholic education in the Diocese of Nashville was launched on Tuesday, May 31, with the groundbreaking of St. Michael Academy, the first diocesan regional elementary school, that will be built on the Nolensville Catholic Campus.
"All of us working together, saying yes to God, makes great things happen," Bishop J. Mark Spalding told a crowd of about 300 people who were on hand for the groundbreaking.
"This is about more than just a school," Bishop Spalding said. "Though St. Michael Academy will be impressive, this is about community, about family, it is about our faith.
"As Catholics we believe strongly in the value of education, not just academics, but forming character, the seal of Christian values and Gospel teachings every day on the minds and in the hearts of our young people," he added. "It's a powerful concept.
"When you combine faith and education you have the core components of a caring society, a place where children are nurtured, where they are challenged in a good way, and where they lay a foundation that will keep them grounded through good times and bad," he added.
Construction is already underway on the 166-acre site on Nolensville Pike for a $60.2 million, 102,000 square foot elementary school that will eventually serve approximately 525 students in pre-kindergarten through eighth grade.
The elementary school, which is expected to open in August 2024, represents the first of three phases of the development of the Nolensville Catholic Campus. Phase two of the project includes building a home for Mother Teresa Catholic Church, and phase three will be the construction of a high school. Timing, design and cost of the second and third phases of the project have not been determined.
"We have ambitious plans," said Greg Sandfort, president of the St. Michael Academy Board of Trustees. "We hope this will all be in the not-too-distant future."
The site of St. Michael Academy in Nolensville is strategically located close to three major highways and sits between existing parishes in Williamson and Rutherford counties. The school is expected to attract students from those parishes as well as non-Catholic students seeking a high-quality, faith-filled educational environment.
"We welcome all parents who want their children to have a best in class, Catholic, Christian educational experience, one where students will seek the truth, beauty and goodness in the world around them," said Dr. Rebecca Hammel, superintendent of schools for the diocese. "We must make certain that our children are ready for tomorrow, to be compassionate and just leaders in an ever-changing world."
There are 19 Catholic schools in the Diocese of Nashville, including 16 schools in the diocesan system and three independent schools, that serve more than 6,000 students in seven counties throughout the diocese, Dr. Hammel said.
"Six thousand students praying with and for one another every school day," she said. "Six thousand students nurturing their relationship with God through their studies and their interaction with one another so that they know that they are never alone."
"Our Catholic schools instill in them hope, hope in God, hope in the family, hope in their communities, hope for a brighter tomorrow," Dr. Hammel said. "Christian values and virtues are at the core of this hope bearing graces to all who pause to recognize them, as we do in our Catholic schools every day.
"Yet there is more work to be done," she added. "We want all families desiring this Christian foundation, the Gospel values and spiritual growth to have this delivered through a Catholic school education, and we want to bring that here to Nolensville."
Among the people on hand for the groundbreaking were several parents of young children looking forward to the opportunity to enroll their children at St. Michael Academy.
There is a lot of interest in the community in the new school, said Lindsey Perrin, a parishioner at Mother Teresa Church and a mother of three between 7 and 2.
"This school could give parents another option other than Williamson County schools," said Perrin.
"People are looking for other options," particularly since the COVID pandemic, said Joella Chudy, another Mother Teresa parishioner and mother of five between the ages of 10 and 2 who lives in the same neighborhood as Perrin.
Other Catholic schools are too far away, Chudy said.
"It's nice to finally have one in our back yard," Perrin added.
She wants her children to have a faith-based education, Perrin said. And the prospect of building community among the school families is also attractive, Chudy said.
"Our dream is that this campus will become a cornerstone of the Nolensville community," Bishop Spalding said. "That children and their families will feel at home here, nourished by Christ's teaching and welcomed into the circle of God's love." 
'Overwhelming answer to a prayer'
The construction of St. Michael Academy is the answer to a prayer for Theresa Bottei, a member of the Mother Teresa Parish Council.
The Nolensville Catholic Campus is located on the site of a former horse farm, where Bottei boarded her horse for nine years. In that time, there were three managers of the farm who all warned her and others boarding their horses there that they wouldn't be there long because the owner wanted to develop or sell the property.
After she read Pope Francis' encyclical "Laudato Si': On Care for our Common Home" on the environment, she said, "I started looking at this place differently.
"Look at your creation. People need to see your beauty and your creation," she would pray. "Every time I would come out, I would pray. This is the answer to my prayers for nine years."
Seeing people gather for the groundbreaking "in faith and beauty and love, it's the most overwhelming answer to a prayer," said Bottei, a science and religion teacher at St. Bernard Academy.
Bottei thinks there will be a lot of interest in the school. "At Mother Teresa we've got a lot of young families," she said. "Holy Family (Church in Brentwood) has a lot of young families."
Demographic data suggests that in addition to the 34 percent growth in population experienced in Williamson County over the last 10 years, the county's population is projected to continue increasing through 2040 by almost 120 percent.
"As pastor of Holy Family, I've watched the Nolensville area grow and grow and grow," Father Joe McMahon said during the groundbreaking ceremony.
The school is "an investment in our children, the greatest gift the Lord gives us," Father McMahon said. "It is so important that they be given the gift of our faith and provided a quality education for the future. … There is a need for a quality faith filled educational facility, such as St. Michael. Our children will benefit from it, our society will also."
"We are committed to reach the end goal, to see an elementary school, a church and a high school full of families, full of children worshipping, learning and serving, serving others right here where we stand," Father McMahon added.
"Thanks to the generous support of all the members of the community of the Diocese of Nashville, our dream is now becoming reality," said Sandfort. "On behalf of the St. Michael Board of Trustees, your support is greatly appreciated, and we will work together to serve the educational and spiritual needs of this community."
To learn more about St. Michael Academy, visit stmichael-academy.com. To request information, email info@stmichael-academy.com.