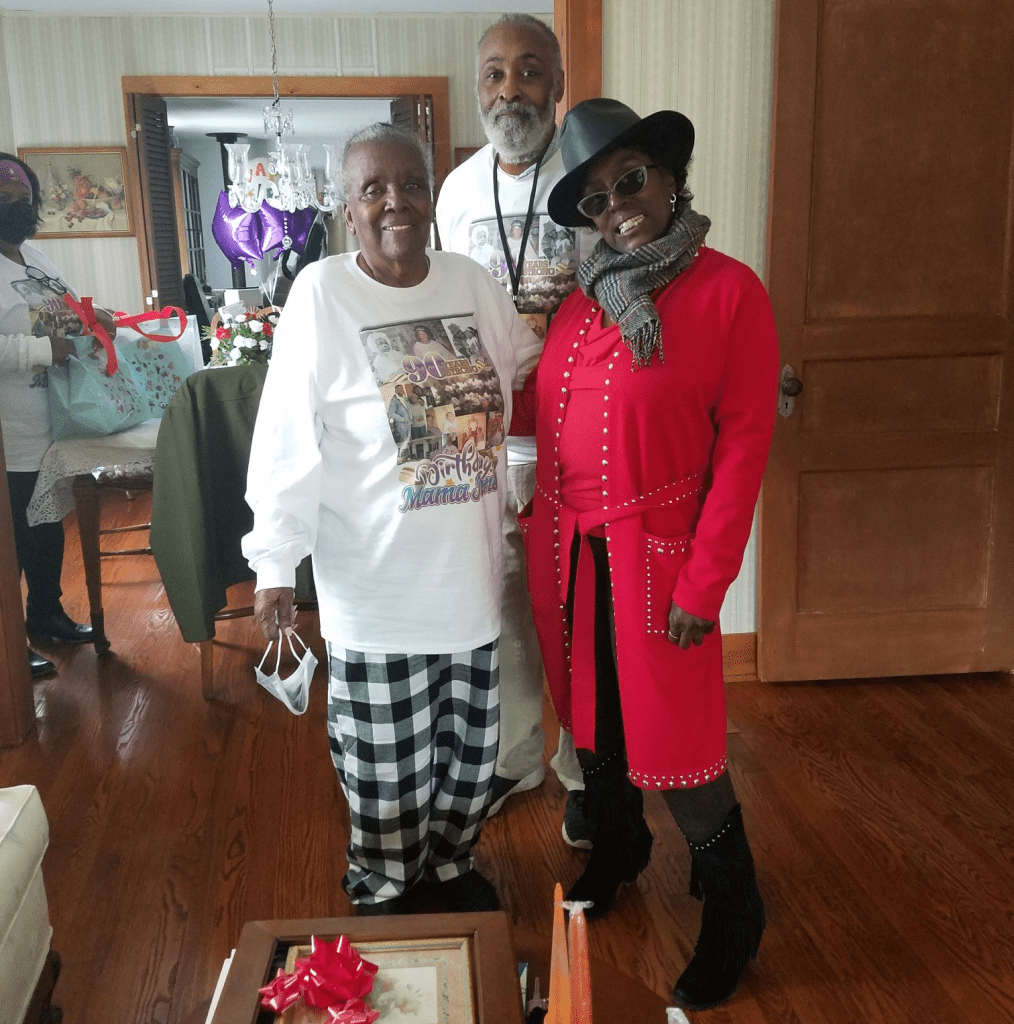 Florene Jones, like many African American Catholics in Nashville, was introduced to Catholicism by the Sisters of the Blessed Sacrament. And the lessons she learned from the sisters as a student at the former Immaculate Mother Academy have lasted a lifetime.
"At Immaculate Mother, the nuns taught her the power of praying the rosary and attending Mass," said Jones' daughter Albertine Baker. She still prays the rosary every day and attends Mass at her parish, St. Patrick Church in Nashville.
Jones has long been active at St. Patrick, serving as a Eucharistic minister for nearly 40 years before declining eyesight forced her to give up that role. She also helped Somali and Vietnamese immigrants with English lessons and to find jobs and housing, Baker said.
St. Patrick Pastor Father John Hammond and a group of parishioners showed their appreciation for Jones' service last Christmas Eve by helping her celebrate her 90th birthday. Jones couldn't come to the church, so parishioners came to her, driving past her home to wish her a happy birthday.
Father Hammond stopped by to give her a special blessing on the day.
"That was the biggest surprise," Baker said of the parishioners driving by. "Especially when Father Hammond came. … To receive a blessing from a priest on your birthday. Her face lit up. She was on cloud 9." 
Lessons learned 
Jones was born on Christmas Day in 1931, the third of 10 children of Lula Lewis and Lorenzo McNeil. Her father decided to enroll her at Immaculate Mother Academy, which was established by St. Katharine Drexel and the religious order she founded, the Sisters of the Blessed Sacrament, to serve African-American children in Nashville.
"He said she was so smart and she needed to be in a school where she could really excel," Baker said of her grandfather.
The sisters encouraged Jones' interest in music, and she later was a singer and dancer with the Jerry Jackson Revue that performed throughout the South, Baker said.
The sisters also introduced Jones to the Catholic faith, and she converted while a student at Immaculate Mother.
Jones passed the devotion of praying the rosary that she learned from the sisters to her seven children, leading them in praying the rosary every night. "We prayed the rosary at night as a family," said Baker, a former kindergarten teacher at St. Pius X Classical Academy and a parishioner at the Church of the Assumption. "Praying the rosary instilled in us a love of Mary and how important she is in our lives."
Other lessons Jones learned from the sisters at Immaculate Mother included helping those in need, treating everyone with respect, to work for justice, and to be active in your community.
While on the road with the Jerry Jackson Revue, she would send money and clothes home to her mother and siblings. While working at the Genesco Inc. Shoe factory in Nashville for more than 30 years, Jones started a program to donate excess shoes to those in need.
Jones raised seven children, including two that she adopted: James Ronald McNeil, who died on Jan. 27, Donald E. McNeil, Baker, Shirlene Jones, Sherman Jones Jr., Edward Smith and Beverly Smith.
Jones always encouraged them to maintain their strong family ties, Baker said. "She would often say, 'If you see your sister or brother needing help, help them. Don't turn your back on them.'"
Her mother would also always say, "A family that sticks together can build an empire.'"
"I tell my mother all the time," Baker said, "thank you for giving us Jesus at an early age."