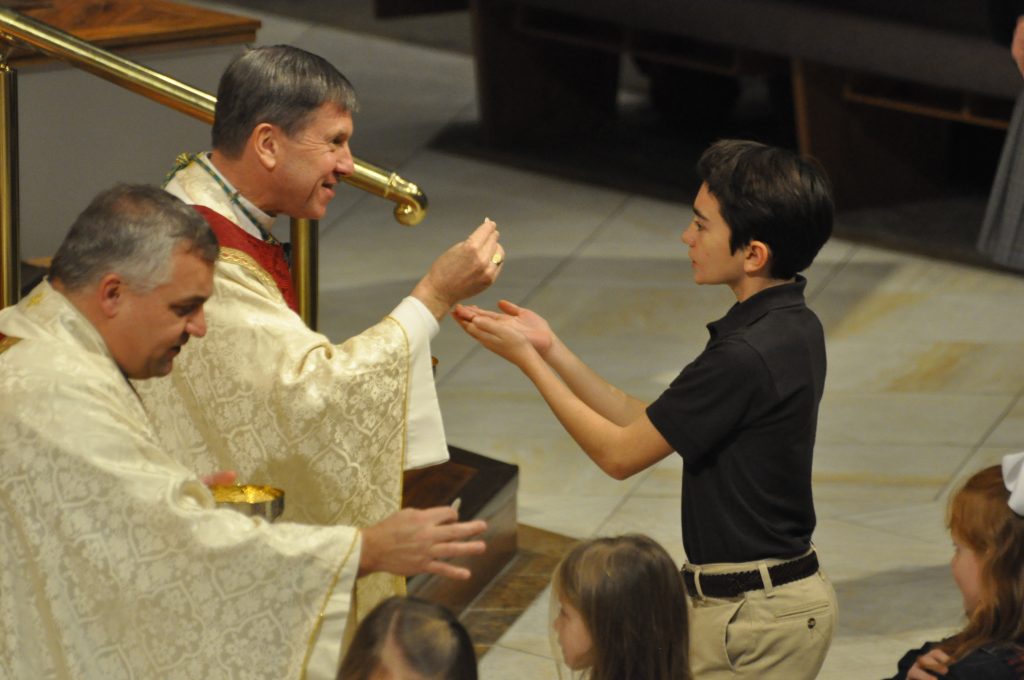 Students from across the Diocese of Nashville gathered at Sagrado Corazon Church in the Catholic Pastoral Center on Wednesday, Feb. 2, for the celebration of the All Schools Mass, held each year as part of Catholic Schools Week.
The date also was the fourth anniversary of the episcopal ordination and installation of Bishop J. Mark Spalding as the 12th Bishop of Nashville and the Feast of the Presentation of the Lord.
At the start of the Mass, Bishop Spalding led the blessing and procession of candles that will be used in liturgies throughout the year, which is part of the liturgy for the feast day.
The candles are a reminder of our baptismal candle, Bishop Spalding told the students. In baptism, the Light of Christ is given to us and we are to share it with the world. "Nothing overcomes the power of the Light of Jesus Christ," the bishop said. "Not even death."
In earlier ages, "darkness played a huge role in people's lives, and they were scared," Bishop Spalding said. "There's still a lot of darkness in the world. We face it every day."
But the Light of Christ can overcome the darkness, he told the students.
Sharing Christ's teaching with the world can be difficult, and people will face difficult times in their lives, Bishop Spalding said. To keep bringing Christ's light to the world takes strength, he said. "That's why we keep coming back to Mass," to hear "the preaching and teaching of Jesus Christ that reminds us, 'Don't give up.'"
At the end of the Mass, Dr. Rebecca Hammel, superintendent of schools for the diocese, welcomed the students and thanked Bishop Spalding for his support of Catholic schools.
"Thank you for all you do for us and for your leadership," Hammel said. "And we wish you a happy anniversary."