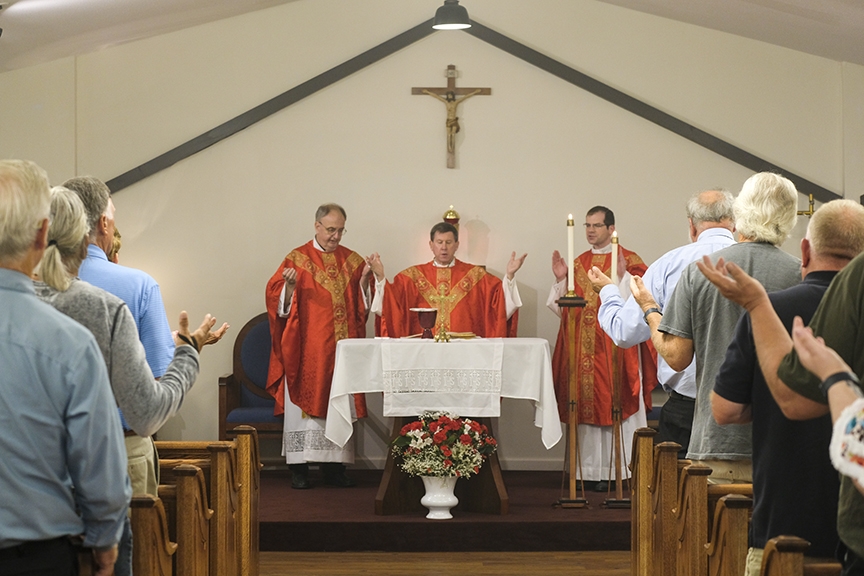 Two years and five days since the very first Mass was celebrated in Smith County at the Carthage United Methodist Church, St. Peter the Apostle Church in Carthage has officially been dedicated and blessed as a parish of the Diocese of Nashville, following a special Mass celebrated by Bishop J. Mark Spalding on Thursday, June 29, the Feast of Sts. Peter and Paul.
"Just two years ago, a hopeful idea was beginning to grow. Now, this evening, here we are, gathering together from various parts of our diocese, and even beyond, a gathering which blesses us with the opportunity to experience a fuller, larger sense of Christian community, Christian family," said Sharon Seward, guitarist for the church choir before Mass began. "Tonight, we are gathered to celebrate this special Mass and dedication of our church. The hopeful idea has become reality."
Two years in the making
The effort to build a Catholic church in Smith County began in January 2021 when Glenmary Father Don Tranel was sent by the Glenmary Home Missioners to establish the area's first Catholic church, Father Tranel explained in a three-page write-up going through the history of St. Peter the Apostle Church. For the first five months, Father Tranel visited area Catholic Churches and visited all the inactive and active Catholics in the area.
That effort led to more than 30 people attending the first meeting at the Chamber of Commerce in Carthage on May 27, 2021. A second meeting, attended by 38 people, was held a month later on June 24, 2021, at the Carthage United Methodist Church, and was followed by the first Mass held in Smith County, which was celebrated by Father Tranel and Father John Hammond, vicar general and judicial vicar of the diocese.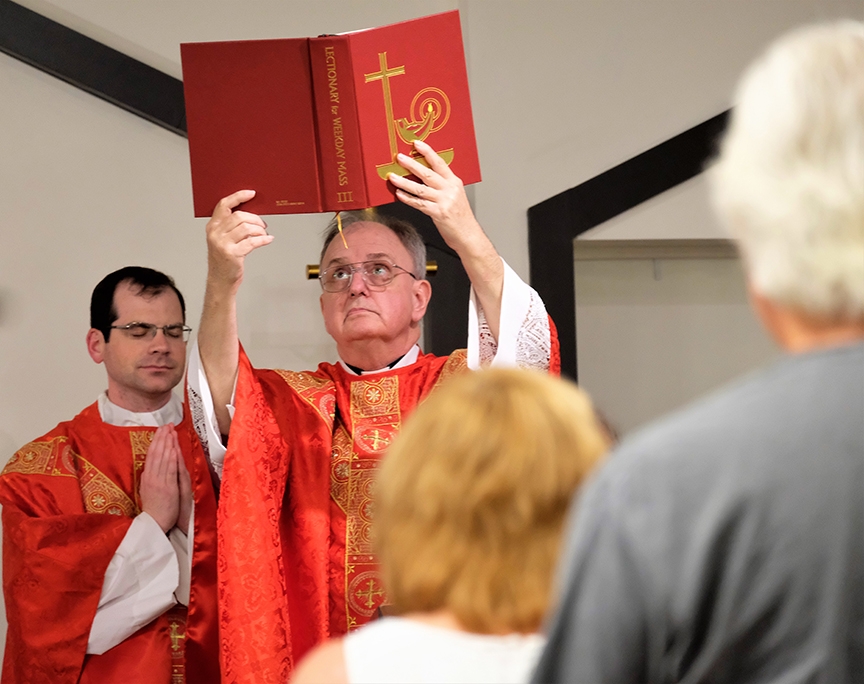 It was during that time that the name "Saint Peter the Apostle" was chosen, explained Father Tranel. "This decision was well received by everyone, and we continue to try to live up to the mentorship and witness of our patron."
By July 3, 2021, "our new community grew in faith and numbers, nourished by consistent weekend Masses, and we slowly became involved in community activities and ecumenical affairs," Father Tranel continued, noting the community's first baptisms, first Holy Communions, and more.
Another milestone was realized on April 9, 2022, Palm Sunday weekend, when the first Mass at its new location was celebrated, following the purchase of a campus on Upper Ferry Road, which includes two buildings with four classrooms on three-and-a-half acres and a walking path along the Cumberland River.
"Holy Week, enthusiasm and happiness prevailed, and one could say the Holy Spirit was active, especially as we celebrated the Easter sacraments and welcomed new Catholics," Father Tranel said.
From Holy Week through December, weekend Mass was celebrated in what is now the parish hall before moving to its new, permanent structure on Christmas Day 2022.
"During this time, our parishioners demonstrated sweat equity and worked tirelessly on the renovation of our existing church, which resulted in a space that evokes the 'holy,'" Father Tranel continued. "All those many coats of paint, all the electrical work, all the many labors of love resulted in a peaceful and prayerful place of worship.
"We thank God for all our many volunteer laborers, and we sense the Spirit of God was upon us," he said. "Far more important than brick and mortar, we try to remain faithful to our Catholic spirituality here in the missions where we are less than 1 percent of the population. Both by our prayer and our witness, we hope to embrace a future bright with God's presence for generations to come."
The dedication
Dozens gathered at St. Peter for the special dedication Mass, led by Bishop Spalding, along with Father Tranel and Father Hammond. During the Mass, Bishop Spalding blessed the people and the space with holy water, anointed the altar and the walls of the church with sacred Chrism, blessed the altar with incense, and officially signed the decree establishing St. Peter the Apostle Church as an official parish of the diocese. Brian L. Cooper, chancellor and chief operating officer of the diocese, also signed the decree.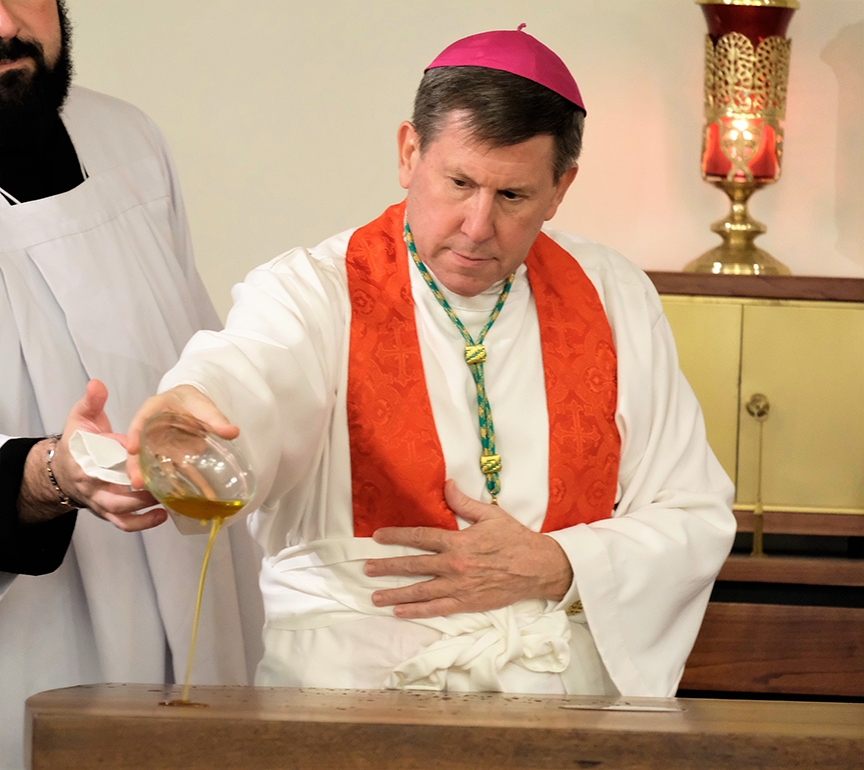 "O God, sanctifier and ruler of Your Church, it is right for us to celebrate Your name with joyful proclamation; for today Your faithful people desire to dedicate to You, solemnly and for all time, this house of prayer, where they will worship You devoutly, be taught by the word, and be nourished by the sacraments," Bishop Spalding prayed during the Prayer of Dedication. "This house reflects the mystery of the Church, which Christ made holy by the blood He shed, that He might present her to Himself as a bride made radiant, a virgin resplendent in the integrity of faith, a mother made fruitful by the power of the Spirit.
"Holy is the Church, the chosen vine of the Lord, by whose branches the whole world is filled, which raises its tendrils, carried on the wood of the cross, upward to the Kingdom of Heaven," he continued. "Blessed is the Church, God's dwelling with the human race, a holy temple built of living stones, set upon the foundation of the apostles with Jesus Christ, its chief cornerstone.
"Exalted is the Church, a city set high on a mountain, visible to all and glorious, where the light of the Lamb forever shines and the grateful hymn of the blessed resounds. Therefore, O Lord, we beseech You, graciously pour out Your heavenly blessing on this church and on this altar, that this place may remain forever holy, and this table be ever set for the sacrifice of Christ," the prayer continues. "Here, may the flood of divine grace overwhelm the offenses of humanity, so that Your children, Father, being dead to sin, may be reborn to heavenly life.
"Here may Your faithful people, standing around the table of the altar, celebrate the memorial of the Passover and be refreshed by the banquet of Christ's word and body. Here, may the joyful offering of praise resound, the voice of men and women be joined to the song of the angels, and continual prayer rise up to You for the salvation of the world.
"Here, may the poor find mercy, the oppressed discover true freedom, and all people be clothed with the dignity of Your children, until they come rejoicing to that Jerusalem which is above."
Parishioners agreed that witnessing the dedication was emotional.
"It's so surreal," said Michael Manor, who previously attended Our Lady of the Lake Church in Hendersonville before he helped in the establishment of St. Peter. "I remember attending the dedication at Holy Family Church in Lafayette and asking the bishop, 'When are we going to get a church in Smith County?' And he said, 'One day.' I never forgot that. And now that day is here, and I'm just so happy."
Winnie Hunt had one word to describe it – amazing.
"It's awesome and it just fills your heart," said Hunt, who has lived in Smith County for 45 years, and would travel to St. Frances Cabrini Church in Lebanon for Mass, since her conversion to the faith in 2019. "It's come together so beautifully.
"I never thought we'd make it this far, and I just can't say enough about it because it's just so heartwarming and makes you feel so much closer to everybody," she continued. "It's a family that we've established here."
"Everybody here is very welcoming," added Miranda Spivey, who was one of those first people to join the church at St. Peter during the Easter Vigil in 2022. "Nobody makes you feel like you're out of place or you don't belong here.
Witnessing the dedication, "I've never seen anything like it before," Spivey added.
'Living Stones'
During his homily, Bishop Spalding said that it is the "living stones" of St. Peter Church that helped make the evening possible.
"What we are doing tonight is because of your generosity and time and talent and treasure. We rejoice in the Lord that he has blessed us and made us the stones of what this church is built upon," Bishop Spalding said. "One of the images that is quite profound in any church building is, you first start with the living stones. That truly builds up the church that you're going to come and pray with and pray within."
He noted how God has always used living stones to build up the Church, as evidenced by Sts. Peter and Paul in the readings for the Mass.
"Some stones are rough, … and (Peter and Paul) were rough stones when the Lord took them, and it took a while for Him to weather and chisel and work for them to have their place in the Church He would build up," the bishop continued. "'Upon this rock I will build my Church. Go Paul and preach to the four corners of the earth and bring in all peoples.'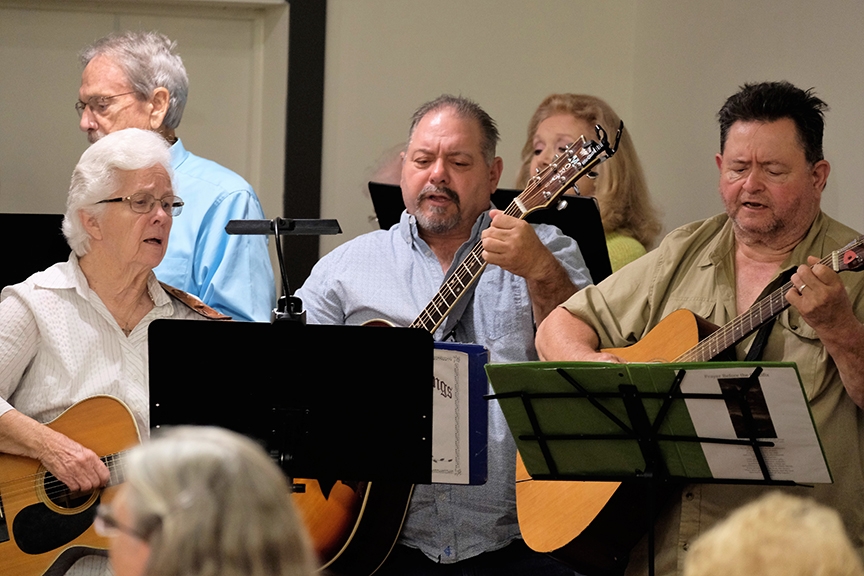 "You read the scriptures and you see how Peter and Paul had it out over, 'where is the Church going' and 'how should we built it up,' but both of them had passion in the Lord with His Spirit within them, and, in the end, they had that profound belief in the Lord and deep respect for each other, and that's what I want for this parish."
When coming together for council meetings and finance meetings and any other event, "bring your passion to it, bring your ideas and your dreams, but never forget who you believe in and the respect you hold for each other," he said.
"There are many prayers and signs and symbols for this night, and I ask you to keep your eyes open and your ears attentive to understand what all this is about. It's about manifesting in who we are as Roman Catholics … and being drawn ever closer to the mystery of God, and the wonder and gifts of His Son in our life," Bishop Spalding continued. "The Church is in a world that has trouble and trials. We live through it, it wears us down some, we are frustrated within it, but we come back here to this wonderful space that you all have created.
"Then, we're nourished by Word, but also nourished in the spirit and soul in the most wonderful gift of the Eucharist, the gift of Jesus Himself, body and blood, soul and divinity, and that strengthens us once again," he said. "That's why you've worked together to bring this about. You must continue to be here with and for each other so that you strengthen each other.
"You're the living stones from which this parish is built up. This church," he concluded. "Continue to be here with and for each other, be mindful of what has gone on in the past in our faith and that you have received from those who have gone before us and have lived, and, as we celebrate Peter and Paul, literally died, so that we can be here remembering Jesus and all He has done and will do in our own lives and in this world.
"We are the living stones, and we're here together to celebrate the gift of this parish, the gift of this church, the gift of this building. May God send forth His Spirit, drawing us ever nearer to the Lord, making us one in here and one in mission as we go forth."