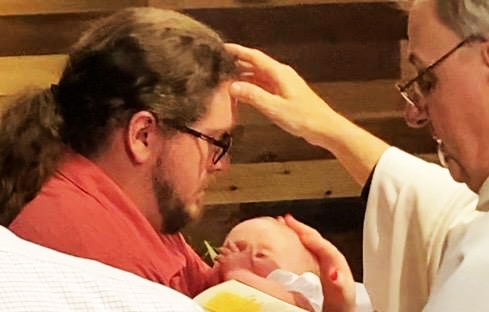 "Josephine Marie, I baptize you in the name of the Father, and of the Son, and of the Holy Spirit."
With those simple words spoken by Glenmary Father Don Tranel on Saturday, April 30, then 5-month-old Josephine Marie Beddingfield, not only became the newest Catholic in the world, but the first recorded infant baptism for St. Peter the Apostle Church in Carthage, the first Catholic Church in Smith County.
She became the second baptism overall, following one catechumen who was baptized at the Easter Vigil along with two candidates who were received into the Church.
"It was historic and hopefully a harbinger of things to come," said Father Tranel. "Anytime you baptize an infant, there is just an air of excitement that comes over the community."
It did bring excitement to the community, according to Virginia Schmidt, a parishioner of Holy Family Church in Brentwood, but who regularly attends St. Peter for Saturday evening Mass with her husband, Richard Schmidt.
"Little Josephine Marie was angelic in her white dress and blonde curls as her proud parents held her during the Baptism," she said. "Everyone in church was visibly moved and applauded loudly to welcome little Josephine Marie into the Catholic faith."
And it was a proud moment for her parents, John Henry Beddingfield and Jackie Beddingfield.
"It's an honor and it feels good to have her baptized and have that Catholic community to help support her and help her grow," said Jackie Beddingfield. "We're blessed and honored to have Josie be that first recorded baptism (at St. Peter). It's an amazing experience. It's historical. … It's unbelievable, too, that it was the first.
"It's exciting to be able to grow that Catholic community of faith in Smith County and seeing that be the start of that growth is pretty exciting," she said. "I just hope that it continues to grow. We've already seen more and more people joining the church on a weekly basis. … We have younger people coming into the Catholic community so, as years go on, Josie also has that community that we feel right now."
Father Tranel said he hopes Josephine Marie's baptism was just another step in a pattern of things to come following the opening of the church last summer and the recent move into the new church building ahead of Holy Week.
"It speaks of a future that's bright with potential. It speaks of God's future that's bright with promise," Father Tranel said. "It was significant.
"Everybody was pumped, everybody was excited and, apart from those that came into the Church at the Easter Vigil, this was a validation of growth and a validation of what we hope will be a pattern in the life of the church," he said. "God has been so good to this little community of faith."