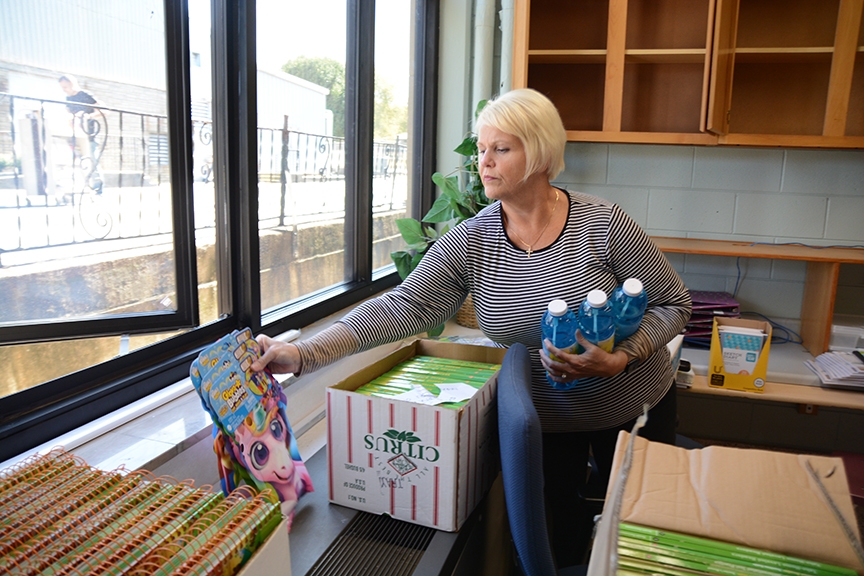 With a little organization and the help of about a dozen diocesan employees, St. Pius X Classical Academy in North Nashville has all new opportunities for its faculty and students following a Day of Service for diocesan employees on Wednesday, Oct. 5, at the school.
The need for the re-organizing of several rooms and clearing out outdated items came after the entire school was repainted about two years ago, said Samantha Kaufman, St. Pius principal.
"When that happened, a lot of things were moved around and placed in different rooms where they shouldn't have been just to get it out of the way of the painting process. So we needed to reorganize things," Kaufman said. "Then a lot of it was making rooms usable, so that our teachers and students could actually utilize those spaces appropriately."
One of the biggest spaces worked on was the school library where they went through and got rid of outdated books and technology and then replaced them with newer items.
"The students are now going to be able to go into the library and just use that space to work in," Kaufman said. "In the past, they used to use it all the time, but without a librarian it's hard. Now, with things cleaned up, teachers will be able to use it as another space they can teach in rather than just being in the classroom all day."
Kaufman said there was another room that was cleared out entirely and will be used to eventually house the schools' archives showing its history over the years, from trophies to newspaper articles to old jackets with its old mascot, the St. Pius Demons.
Finally, a third room was cleaned out and converted into a meeting room for the faculty and staff or for parent teacher conferences.
"It provides a much more private space to meet instead of being in the classrooms," Kaufman said.
Nearly a dozen employees from the Catholic Pastoral Center came to help the school with the project.
"I can't speak enough of how blessed we are that they came that day. We got so much more done with their help than we could've done on our own," Kaufman said. "One of the things that I really appreciated was that they wanted to come and help.
"When we work for the diocese and being a Catholic, we all too often get caught in our own world, and I think it was eye-opening for a lot of them to come to St. Pius. Some have never been here before, but a lot left so happy and proud that they were able to help," she said. "I felt a sense of renewal and it really provided a sense of gratitude for all of us. The teachers were really excited to know that other people were here to help us and cared.
"It was just nice knowing that we are supported and not just tiny little St. Pius in North Nashville to the diocese," Kaufman concluded. "It showed they care, and they want to see good things come from St. Pius. It was really sweet."