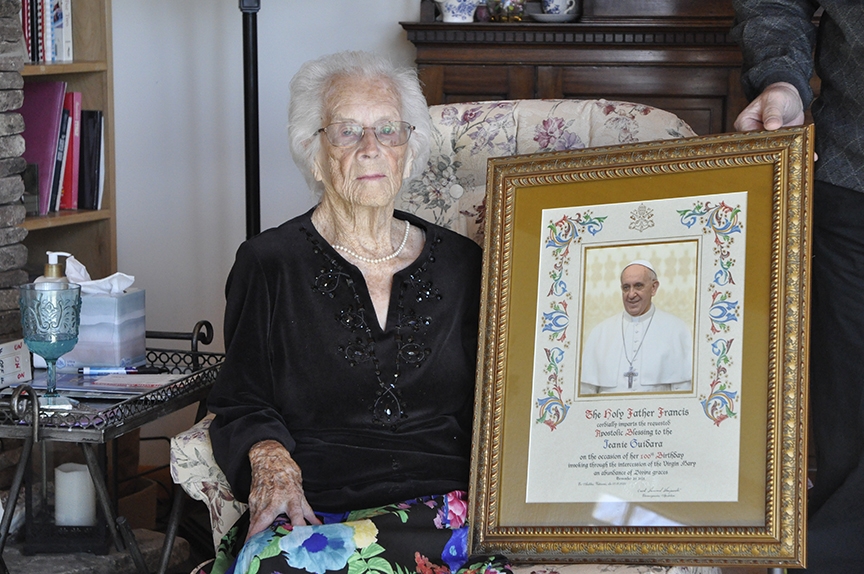 Just a few weeks shy of celebrating her 101st birthday, Jeanie Smith Guidara, a parishioner of St. Andrew Church in Sparta, passed away at her home on Sunday, Oct. 9, surrounded by family and friends, a fitting end for someone who loved family the most.
"I couldn't ask to have been born into a better family. I tell her that all the time," said her grandson, Philip Guidara, during an interview with The Tennessee Register last January in honor of Guidara's 100th birthday. "She was always about the family values of getting together."
And Mrs. Guidara echoed that it was the key to a long, healthy, happy life.
"Have family, keep in touch, and go to church," Mrs. Guidara told The Register. "Just going to church doesn't mean you're going to be happy, but it gives you something.
"And keeping families together" creates happiness, she added. "It's been proven here," referring to her seven children, 18 grandchildren, 16 great-grandchildren and three great-great-grandchildren.
A Mass of Christian Burial was celebrated on Friday, Oct. 14, at St. Andrew Church, with a burial following at Eastland Cemetery.
Mrs. Guidara was born on Nov. 29, 1921, to Archibald Smith and Hettie Reeves. Her grandparents, Thomas and Jane Smith, were the first Catholics in White County, having immigrated from Glasgow, Scotland, to Mowberry, Tennessee in 1903. With no Catholic Church in the immediate area, it required long trips to the nearest church in Winchester, more than 80 miles away, to attend Mass. But eventually, her father helped establish the first Catholic Church in White County in the 1950s after he donated land to build St. Charles Church in Mowberry.
Although St. Charles eventually had to close after only 15 years because of the distance priests had to travel and not enough people to support it, another church, St. Andrew, was established in Sparta in the 1970s. As the church continued to grow, more space was required leading to the groundbreaking of a more permanent church on March 26, 2000, under Bishop Edward Kmiec, the 10th bishop of Nashville. The church as it stands today, was completed in October 2001 and was dedicated by Bishop Kmiec on Nov. 18, 2001. Mrs. Guidara's family, beginning with her paternal grandparents Thomas and Jane Smith, are memorialized as the First Catholic Family of White County by a stone path outside St. Andrew Church.
Mrs. Guidara didn't get to witness the growing Catholic community right away, having moved to Washington, D.C., in 1942, for work. It was then that she eventually met and married her husband of more than 60 years, Nicholas Guidara, and raised their family of seven children in Kensington, Maryland. But, after 9/11, she and her husband returned to Tennessee settling on 77 acres of land in Sparta, affectionately known as "Guido Acres," where several members of the family currently reside. And by returning to White County, Mrs. Guidara got to officially become part of the established Catholic community that her father started.
Mrs. Guidara was preceded in death by her parents; husband, Nicholas; older brother, Richard Smith; younger brothers, Dude (Joseph), Frank and Don; and younger sisters Mary Smith and Lucille Brock.                   
She is survived by her sister Anna Ruth Sessions; her children, Cathy Collins, Tommy, Kenny, Michael, Jimmy, Rita Cipollina, and David; many grand, great-grand and great-great-grandchildren; and many friends. 
"We had a pretty good family, and we've carried that tradition," Kenny Guidara told The Register. "It's the kind of family that she and my dad provided for us."
Memorial contributions can be sent to the St. Andrew Catholic Church Outreach Program, 829 Valley View Drive, Sparta, Tennessee 38583.
Hunter Funeral Home in Sparta was in charge of arrangements.