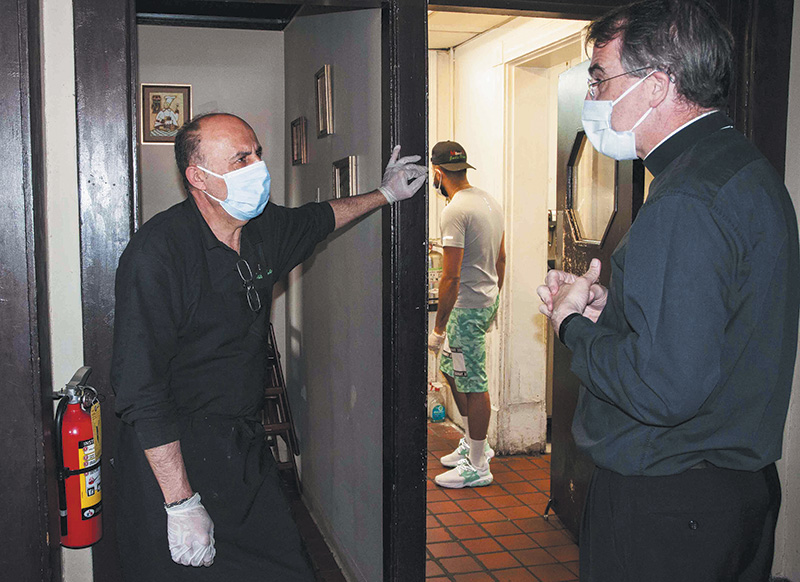 It's lunchtime on a Tuesday at Milano II restaurant in downtown Murfreesboro; the tantalizing smells of Northern Italian cuisine should be wafting from the kitchen, and diners should be filling up the inviting space for a pleasant lunch. 
Instead, masked and gloved volunteers scoop meatloaf, macaroni salad, rolls and fruit into to-go boxes that are given away to people in need from the restaurant's front porch.
While his full-service restaurant is closed due to COVID-19 precautions, chef, owner and St. Rose of Lima parishioner Jack Barakat "decided I wanted to do something for the community."
So he set up the "Milano Central Kitchen," based on the World Central Kitchen food relief model, founded by chef and food justice advocate José Andrés.
"It's been a great success," said Barakat. "We served 1,000 people in four days."
The first day, Barakat and his volunteers prepared 120 lunches. By the second week, they were making 300 lunches a day.
"People kept on coming," he said, people who have lost jobs because of coronavirus related business closures, low-wage workers with no safety net, and others.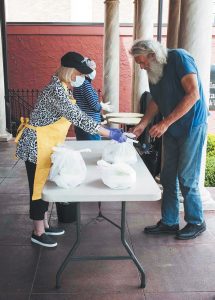 A volunteer picks up 20 lunches every Tuesday and Wednesday to deliver to a nearby homeless encampment, and any extra meals are donated to community service organizations and healthcare workers "on the front lines, putting their lives at risk," said Barakat.
Meals are given away first come, first served, with no questions asked, but a sign posted in front of the restaurant asks people to consider their needs before taking a meal. "If you are not truly hungry, please do not take a meal. You might be depriving a starving child or a homeless person. Thank you," the sign reads in English and Spanish.
The volunteer response and financial donations to the Milano Central Kitchen hunger relief effort "has been so amazing," Barakat said. More people have signed up to volunteer than can fit on the schedule, and donations have come from near and far, from people Barakat doesn't even know. "It brings tears to my eyes," he said.
Milano Central Kitchen is supported through a partnership between Milano II, Al Rayan, St. Rose Church, Murfreesboro Breakfast Rotary Club and Performance Foodservice-Nashville.
St. Rose Parish has helped Barakat collect and manage the donations and encouraged people to volunteer. "I think people are very grateful to have a way to be involved, directly or financially," said St. Rose pastor Father John Sims Baker.
Father Baker stopped by the restaurant on Tuesday, April 28, to talk with the volunteers and offer a blessing over them and their work. "I just think this is a fantastic idea," he said.
St. Rose parishioner Frank Cash was volunteering on April 28, serving up food in to-go boxes. "I believe we're called to give back," he said. "It's a joy to be able to come down here and see that people are fed."
Barakat plans to keep serving the lunches on Tuesdays and Wednesdays from 11 a.m. to 1 p.m. for the foreseeable future, until his restaurant is able to be fully operational again. When the restaurant temporarily closed in March, he had to lay off his entire staff. "I'm not paying myself at all these last months," he said. He is still doing a small dinner takeout business Thursday-Saturday nights, "just to pay the utility bills and the rent."
"I'm determined to open back up and stay in business after this thing passes," he said. For now, he said, "I can put my time and talent and restaurant to serve people."