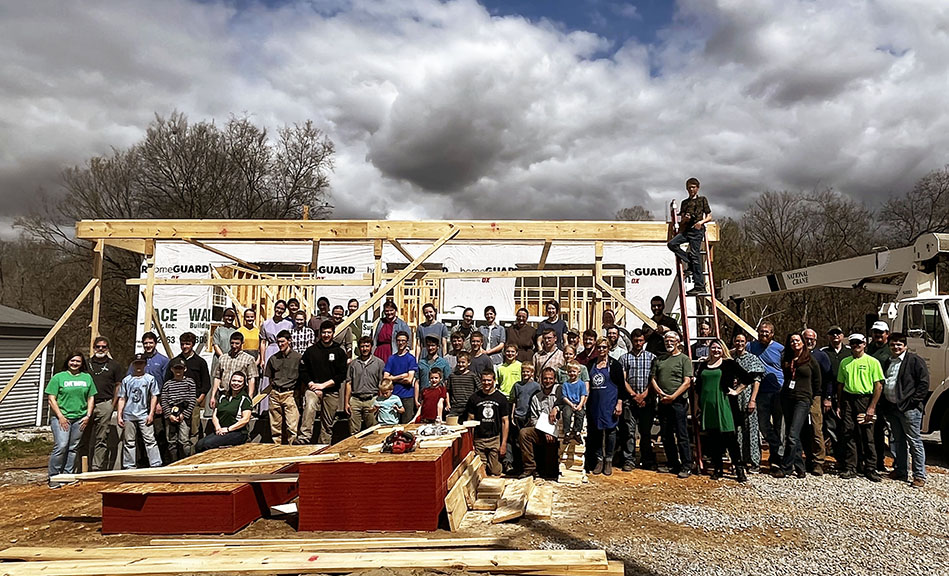 Hope and service were the two words that came to mind for Barbara Hooper as dozens of volunteers gathered for a barbecue lunch to celebrate one of the first house raisings in Waverly, Tennessee, Thursday, March 17, following the devastating floods that hit Humphreys County last August.
The St. Vincent de Paul Society conference at St. Patrick Church in McEwen, for which Hooper serves as the vice president and flood relief coordinator, provided the food and celebration.
"It was more than a barbecue and house raising. It was the community coming together and the sharing of all faiths and all walks of life," Hooper said. "It gave hope for our community.
"If one family sees that hope, the next family will see it, and it's going to keep going," she said. "It is rewarding to see."
"It's very rewarding to see how excited and how happy the people are to get back into their own house," added Eddie Bozman, St. Patrick chapter member and flood relief committee member.
The home being built is one of more than 50 new builds planned for the community, said Sparrow Smith, Inspiritus volunteer coordinator, with hundreds more under case management for repair or rebuild.
St. Vincent de Paul and Inspiritus are among the many organizations partnering to provide relief to the community, along with the Humphreys County Long Term Recovery Group, United Way, United Methodist Committee on Relief and more.
While March 17 marked the first new build that happened by these partnering organizations, work has continuously been done since immediately following the flood, whether it was gathering supplies or providing clean-up and repair to homes that could still be saved.
Additionally, volunteer organizations such as the Knights of Columbus, Christian Disaster Services, Appalachian Ministries, other St. Vincent de Paul councils and more have come in to assist with construction. The national St. Vincent de Paul council's disaster services has also helped in relief efforts through the house in a box program and more.
Along with construction and community cleanup efforts, one recent project involved a group of high school students planting vegetable gardens for flood survivors, including some who lost their own gardens in the flood.
"Anybody that wants to help, anybody that wants to come volunteer, it's important to me to be able to say, 'yes' to them and find a way to give them meaningful work that's going to be a significant contribution to the community and to survivors," Smith said. "Volunteers aged 16 and up can work on construction sites, but there are younger kids in some of these groups who want to help, too, so I try to come up with ways for them to do that.
"Our main focus is getting survivors back into their homes. But when we are able to do something extra, like putting in a vegetable garden, doing neighborhood cleanup, or hosting a community celebration, those are all part of our mission to help people go from surviving to thriving," she said.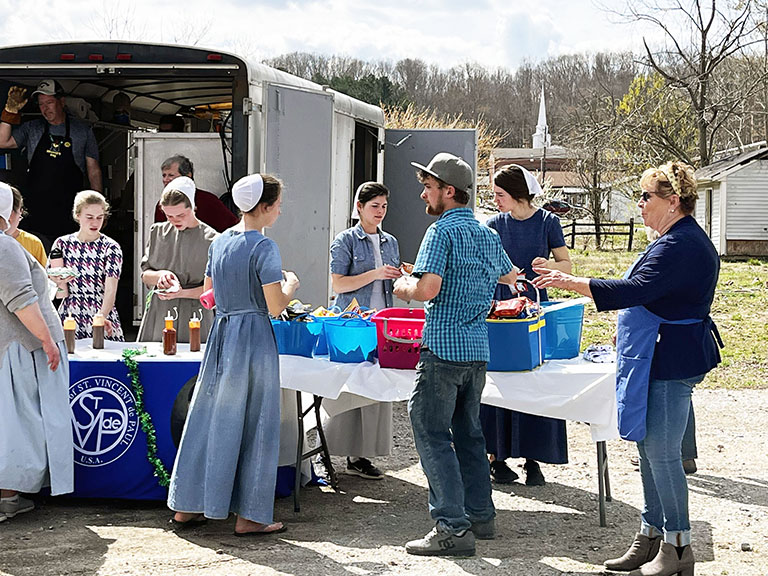 And seeing the number of people coming together to help is what has been most rewarding, Hooper said.
"The beauty of everybody pulling together, that for me has just been amazing and very moving," Hooper said. "Everyone is working together as a team."
Now, as this new build continues the long-term phase of recovery, any help that can continue to be offered is requested.
"The message that I have heard over and over again from the citizens of Waverly is, 'Thank you for being here, but don't forget about us in the long-term,'" Smith said.
"There is plenty of need in the area, and there will be for quite some time," Bozman added. "We appreciate all the help that has been given to us, and we appreciate any additional help."
For more information about donating to relief efforts through the St. Vincent de Paul Society at St. Patrick Church, call 931-582-8454 or email svdp.mcewen@yahoo.com.
Donations are also accepted through United Way in Waverly or the Community Foundation in Nashville.
For volunteer opportunities, or to provide housing to volunteers, call Smith at 629-256-2880 or e-mail sparrow.smith@weinspirit.org.