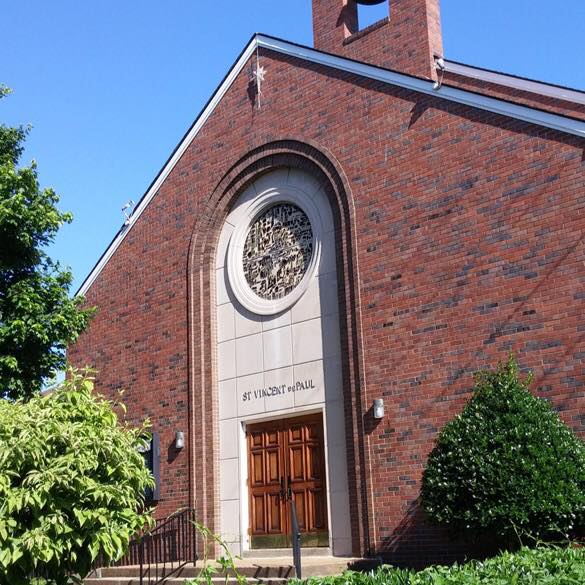 For 90 years, St. Vincent de Paul Church in North Nashville has been serving the city's African-American community and welcoming people into the Church.
"Ninety years is a huge milestone for anybody but particularly for St. Vincent," said Pauline Wilson, the chair of the parish's celebration of the 90th anniversary of its founding. "It's been such an iconic institution for the African American community in Nashville."
The parish will close its year-long 90th anniversary celebration with a special Mass celebrated by Bishop J. Mark Spalding at 10 a.m. Sunday, Sept. 25, followed by a reception in the parish gymnasium.
Several priests who have served at St. Vincent through the years as well as representatives of the women's religious orders that have served the parish and its former school will be part of the celebration, Wilson said.
"We understand we have quite a gem on our hands that we have to protect and maintain," Wilson said.
"We also understand we stand on the broad shoulders of people who endured a lot."
The first of those would be St. Katharine Drexel who founded St. Vincent to serve the African-American community.
St. Katharine was an heiress to a large fortune who established a religious order of women, the Sisters of the Blessed Sacrament, whose mission was to serve African American and indigenous communities across the country. She used her fortune to establish parishes and schools, including here in Nashville.
Her order had already established Immaculate Mother Academy and Holy Family Church on what is now Drexel Street near downtown Nashville to serve the African-American community when in 1932 she established St. Vincent Church and School.
At the time, most public schools were segregated by race, and St. Katharine saw a clear need to provide better educational opportunities for communities of color.
In the early 1900s, most thought Catholic schools should be for Catholic students, said Deacon Bill Hill, who was educated by the Sisters of the Blessed Sacrament at St. Vincent. In fact the only disagreement between Bishop Thomas Byrne and St. Katharine was whether non-Catholics would be allowed to attend Immaculate Mother Academy. She insisted that the only requirement was that the students be African-American. But St. Katharine's philosophy was "always inclusive, never exclusive."
"She looked at it as an evangelization tool and an opportunity to assist those she believed to be the most marginalized in the community, regardless of religious affiliation" said Deacon Hill.
Most of the students at St. Vincent were non-Catholic, but many, like Deacon Hill, converted because of their experience with the Sisters of the Blessed Sacrament.
"A major thing that led to my conversion was the sisters," said Deacon Hill. "They had a strong influence. Of course, I believe that the Holy Spirit also played a major role."
Despite St. Katharine's successes, she and the African-American Catholics of Nashville faced many obstacles, including some erected by the Church itself.
As part of the anniversary celebration, Wilson and her committee were putting together a coffee table book about the history of the parish. "We thought it was going to be just pictures," Wilson said. But as they started researching the parish's history they found documents, including letters from church leadership to St. Katharine detailing concerns about whether she would have enough money to establish St. Vincent after establishing Xavier University in New Orleans.
There were also documents and letters from Church officials questioning whether there was a need for a church to serve African-Americans, Wilson explained.
"The history of St. Vincent really documents the history of Nashville and how far we've come," Wilson said. "It is exciting and uplifting to be part of so much history."
Seeing the many hurdles previous generations of St. Vincent parishioners had to clear brought new perspective to the problems caused by the COVID pandemic, Wilson said. "All of a sudden, this pandemic is not such a big thing. They've survived so much more."
St. Vincent is still carrying on the legacy of earlier generations serving the community, Wilson said. The parish serves the underserved in North Nashville, distributing food boxes every week and sponsoring significant Thanksgiving and Christmas food drives, said Wilson, who is also the chair of the parish Finance Council.
"For me, giving back is the most important part of my St. Vincent experience," Wilson said.