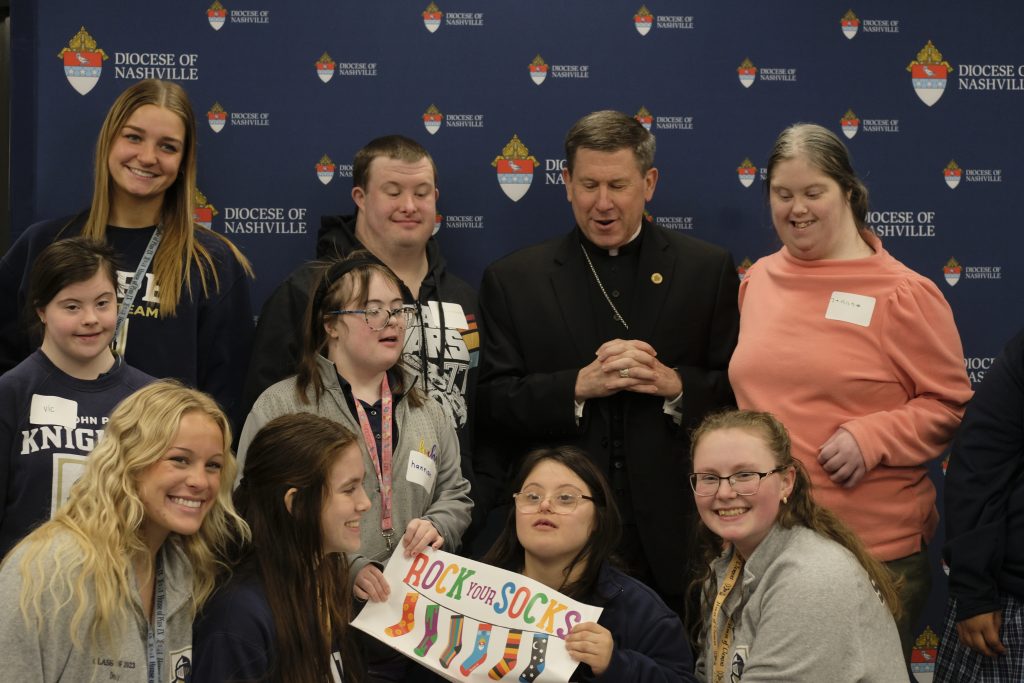 To celebrate World Down Syndrome Day on Tuesday, March 21, the Catholic Schools Office hosted a Rock Your Socks event at the Catholic Pastoral Center.
The event was complete with a dance party, fun photo opportunities, games, and prizes as the students and alumni from Pope John Paul II Preparatory School in Hendersonville, Hand in Hand Options (HIHO) parents, board members, and Catholic Pastoral Center employees "rocked" their mismatched socks and celebrated.
World Down Syndrome Day first started in 2007, and March 21 or 3/21 was chosen to celebrate people who have an extra partial or whole copy of Chromosome 21. Furthermore, many celebrate by wearing colorful, mismatched socks to signify a karyotype of chromosomes, which look like a sock. Additionally, the colorful socks are often worn mismatched in order to celebrate everyone's differences and uniqueness.
"As we observe World Down Syndrome Day in our Catholic schools, we have the opportunity to not only raise awareness but to also celebrate the unique talents and abilities that make each of our students special," said Kathy Boles, executive director of exceptional learners for the Catholic Schools Office. "We recognize that God created each of us differently, and it's through highlighting the diverse strengths and gifts of all our students that we can truly appreciate the beauty of our differences."
"I am grateful to the diocese for embracing the importance of differences, creating an inclusive environment where all students feel welcomed and valued, and fostering a culture of diversity and acceptance that benefits everyone involved," Boles added.
Several students from Pope Prep in the HIHO program as well as student mentors including seniors Lilly Reep, Hannah Dodd, Kristianna Young, Sarah Flowers, Maria Bender, Ellie Shaver, Zach Andress, Kylie O'Neill, and Audrey Evans, as well as sophomore Victoria Griffin, were special guests of the event.
"A day dedicated to celebrating Down syndrome means so much to us. Obviously, we think that all of our Pope Prep students are amazing, but celebrating our students with Down syndrome today allows us to take time to recognize all of the gifts and talents they contribute daily and their remarkable impact on our school community," said Kim Shaver, director of HIHO at Pope Prep. "The Diocese's commitment to the HIHO Program and today's celebration of World Down Syndrome Day is significant to us as educators who dedicate our studies and professional work to special education. To see our students enjoying today's events warmed my heart and is a memory that I will never forget."
"Every student at Pope Prep benefits from the HIHO Program. Students in the HIHO Program are in class, participate in many extracurricular programs, and attend school events, too. Having this HIHO Program in the Catholic schools breaks down boundaries for students with disabilities because they are part of the whole Pope Prep community," added Ethan Abner, HIHO teacher at Pope Prep. "Most school systems don't offer these programs often. The years the students have had with us have been, to say the least, a great success."
Pope Prep was the inaugural school when the program was first begun in 2004 by Bill and the late Mollie Gavigan, Elise and Tom McMillan, and several other families working with school leadership.  Their children, Jeanne Gavigan, and Will McMillan, along with Rachel Putnam, were the first students to graduate from the program. Will and Jeanne also attended the event.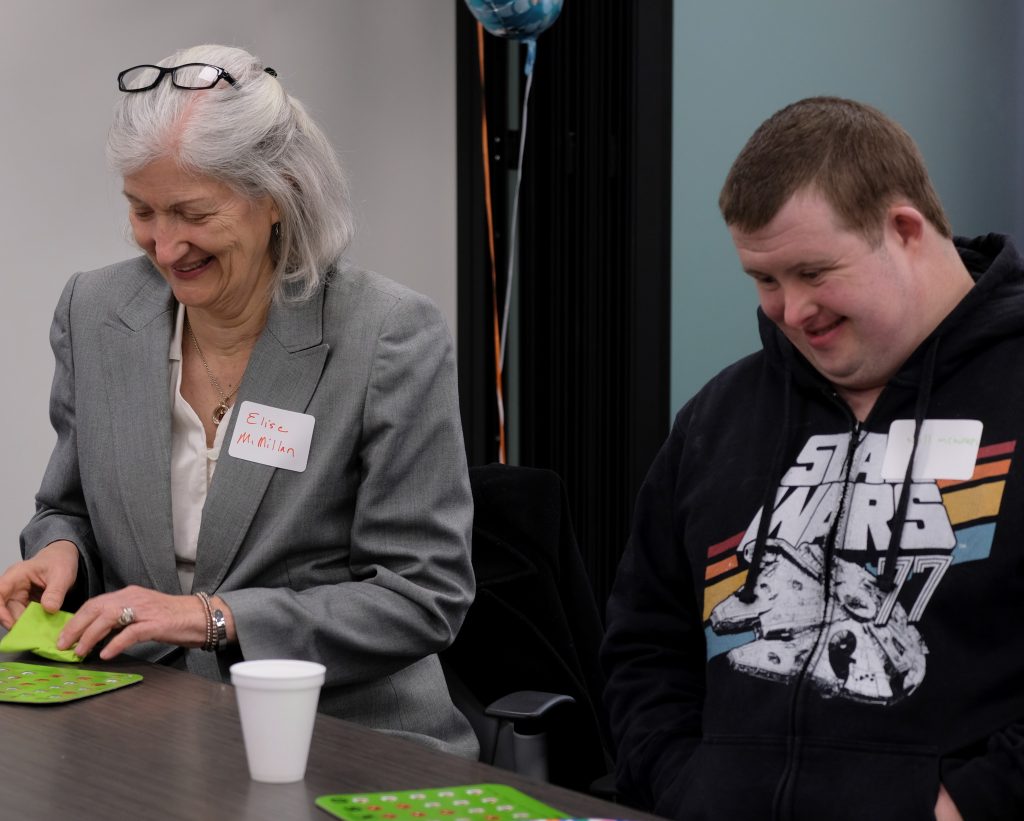 "We were always looking for quality education opportunities where people with disabilities would be meaningfully included for our children and others," Elise McMillan said. "When you have a child with a disability, you realize how much things have changed in our world, but also how much more needs to be done to include and support people with disabilities."
Will McMillan, who graduated from Pope Prep in 2008, looks back on his time at the school and in the HIHO program, fondly.
"It's unbelievable. I really loved my time there. I got to be with friends and my peer mentors and family. I got to hang out with Jeanne Gavigan and Rachel Putnam … and I'm just glad that we all got to do it," he said. "We want to thank the Gavigans and my parents and others for putting this program together."
Shifting to the event, he continued, "I love it. It's great to have something like this. I hope we get to do this every single year."
Elise McMillan agreed with her son, noting the touching words of Bishop Spalding who stopped by during the event to say hello to the students and show off his mismatched socks, too.
"HIHO is something that we all have come to appreciate and love here in the diocese and the ministry that goes on is near and dear to our hearts," Bishop Spalding said. "When I was a pastor, I was working to really develop in the school to have outreach to people that learned in different ways.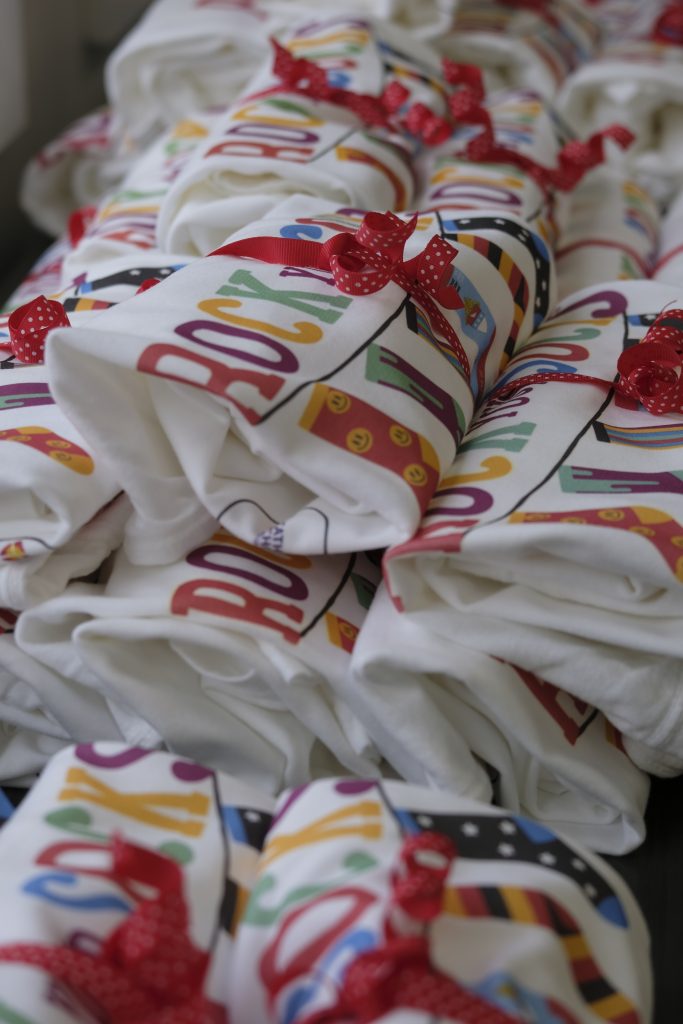 "It has now blossomed due to people that were smarter and better than I, and now I come to a place where I work with people with wonderful gifts, and we bring other's gifts out with all the gifts that we have.
"God has blessed us all, God has blessed us with each one of you, and thank you for being part of us," he concluded. "We're making the world a better place."
Kay Dodd, mother of Hannah Dodd, said it's heart-warming to see the Catholic Schools Office put together this event.
"It's something I've wished for Hannah since she was born. Not only has the Catholic Church educated her, but they celebrate her," Dodd said. "And to see so many other people inside the Church, some who aren't even Catholic, enroll their children in the Hand-in-Hands program is very special.
"The wish as a parent is for them always to be included with everybody else, and today is so awesome because they not only include them, but they also celebrate them," she continued. "The support and acceptance of the diocese and the bishop and the chancellor and the superintendent of schools, to just make it happen is wonderful.
"Everybody has a memory of a connection with somebody with special needs that gives them the empathy to embrace a program like Hand In Hand Options," Dodd concluded. "The joy (of people with down syndrome) and their enthusiasm for life is very contagious, and we all need a dose of that these days."
As the event came to a close, Shaver said she had high hopes for the students.
"I hope that our students feel just how much they are loved and know how much joy they bring not only to their own families but to our entire school community, the entire Diocese of Nashville community, and the world," Shaver said. It's great to have a day like today where we can give that joy back to them."
Along with the event at the Catholic Pastoral Center, several of the diocesan schools celebrated with their students and rocked their mismatched socks, too.
For more information about the Hand In Hand Options program, visit dioceseofnashville.com/hiho/.