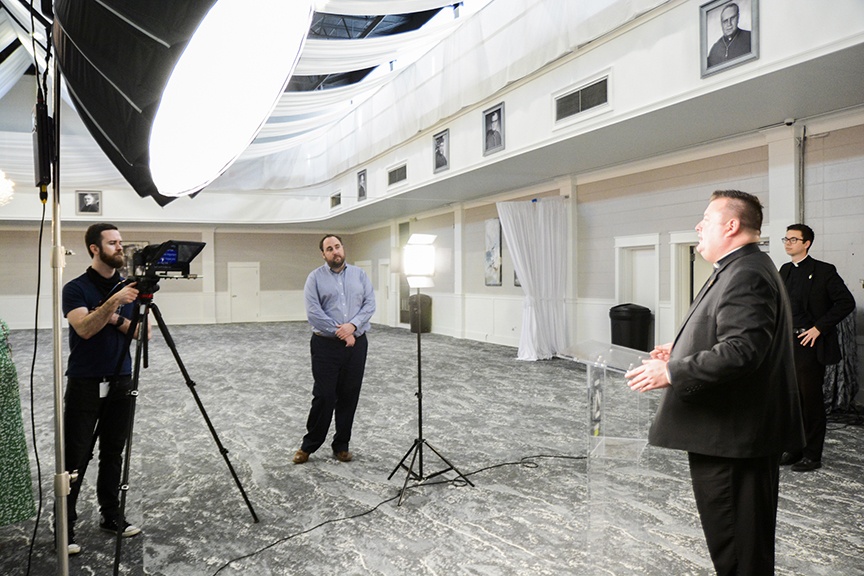 Bishop J. Mark Spalding opened the virtual 2021 Seminarian Education Event and Auction by thanking the event's sponsors and donors for helping to ensure a vibrant future for the Diocese of Nashville.
"Without your support we would not be able to educate and form these young men to serve our Church," Bishop Spalding said in his videotaped message for the event. "Your support helps our future priests and parishes. Give generously to help ensure that your children and grandchildren have a thriving Church and a place to call home."
The online event was held Tuesday, May 25, to raise funds to help pay the cost of educating the diocese's 20 seminarians, which costs about $75,000 a year for each seminarian.
The goal for this year's event, the second year in a row it was held virtually in light of the COVID-19 pandemic, was $225,000.
"It was a good night," said diocesan Director of Development Ashley Linville. "Donations are still coming in."
People can still make a donation to support seminarian education, Linville said. They can make a donation online at the website dioceseofnashville.com/SEDA or by mailing a check to Linville at the Catholic Pastoral Center, 2800 McGavock Pike, Nashville, TN 37214, Linville said.
They can also still watch the video of the event by visiting the website, he added.
"The auction went well," Linville said, bringing in just over $20,000.
The item that brought in the highest bid of $7,500 was a painting by renowned painter and portrait artist Igor Babailov. Other auction items that brought in at least $1,000 included: dinner with Bishop Spalding; a Brazilian dinner prepared by Father Gervan Menezes, chaplain of University Catholic; a tour of historic Catholic churches in Nashville led by Father Ed Steiner, pastor of St. Philip Church in Franklin; a bourbon tasting hosted by Father John Hammond and Father Andrew Forsythe; a dinner and Mass celebrated by Father Patrick Kibby, senior priest at St. Henry Church, at the grotto at the home of Chris and Tricia Casa Santa.
A limited number of tickets are still available for a dinner with the diocese's seminarians at the Nolensville site of the diocese's planned school, St. Michael Academy, and parish, Mother Teresa Church. The dinner will be held 6-8 p.m. Sunday, Aug. 1, and tickets are $100 each.
The event featured talks by the bishop, Director of Vocations Father Austin Gilstrap, and Associate Director of Vocations Father Luke Wilgenbusch. The seminarians made videos about their lives at the seminary where they are living and studying.
"It was really neat to see each of the personalities of our seminarians" through the videos, Linville said.
"After viewing tonight's program, I hope you have a better understanding of our seminarians and the seminaries they attend," Father Gilstrap said in his videotaped talk.
"The need for priests has never been more important than it is today," he said. Donors' gifts "will allow these young men the opportunity to continue their formation and help us to provide the same opportunity to those who will follow them."
"Over the past 184 years, our diocese has grown and has been able to meet the spiritual needs of the people of Middle Tennessee because of the great priests who faithfully served our Church of Middle Tennessee," Bishop Spalding said in his remarks recorded on the site of the diocese's first cathedral on what is now Capitol Hill.
"Our purpose is to help prepare our future generation of priests that will continue the good work that was started here in the Diocese of Nashville many years ago," he added.
Father Wilgenbusch talked about the diocese's seminarians in his introduction of their videos.
"We're blessed to have 20 seminarians this year across the eight years of formation," he said. "Even in the midst of COVID, we were able to welcome nine new seminarians to the diocese this past fall. God never fails to provide for us in our needs."
The seminarians reflect the "rich diversity of the flock" in the diocese, Father Wilgenbusch said. "Our men come from five different countries and speak six different languages, but each one calls Nashville his home," he said. "It's a reminder to me of the unity that God fosters in the midst of his people. In Jesus Christ we are one."
Besides cultural diversity, the seminarians represent a diversity of experience, Father Wilgenbusch said, with some going to the seminary straight from high school and others after several years of work experience.
Among them are a former truck driver, social worker, missionary, award-winning theater lighting technician and a teacher, Father Wilgenbusch said.
"They all have one important thing in common," he added. "Each one is where he is today because he believes that God is calling him to serve as a priest in the Diocese of Nashville, to be that spiritual father that our community so desperately needs."
"To become a priest a man must be drawn out of himself to be conformed to Christ," Father Wilgenbusch said. "At each of the seminaries, our men are learning to mold their lives in the image of the Good Shepherd."
This year's event was again sponsored by the Serra Clubs of Williamson County and Nashville and the Tennessee Knights of Columbus.
Other sponsors included: Maria Manor East Apartments; Villa Maria Manor; Lloyd and Elizabeth Crockett; Mary, Queen of Angels Assisted Living Community; Catholic Community Investment and Loan Inc.; St. Henry Property Development; Wood Personnel Services; Athens Distributing Co.; Taylor, Pigue, Marchetti, Blair PLLC; Steier Group; Carter Group LLC; Miracle Ford; Miracle Chrysler, Dodge, Jeep, Ram; Father Ryan High School; Knights of Columbus Insurance; and Prenger Solutions Group.
For more information about supporting the diocese's seminarians or to make a donation, contact ashley.linville@dioceseofnashville.com or 615-645-9768.