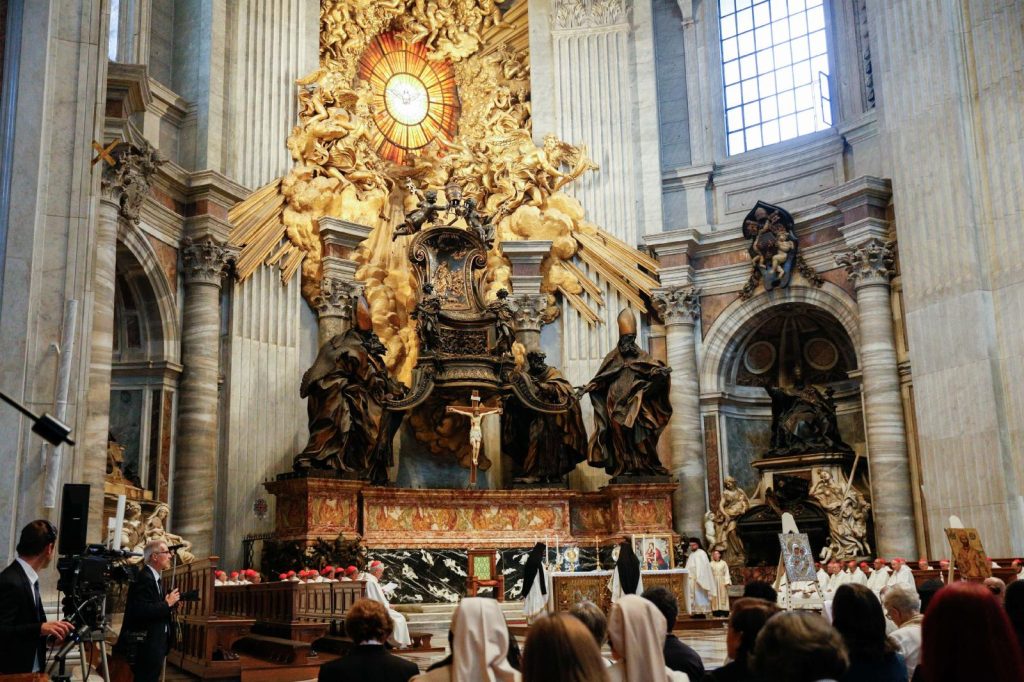 VATICAN CITY. All members of the Catholic Church, from bishops to laypeople, must be formed in a "synodal spirituality" which will guide the Church forward, a cardinal said.
"The laborers of the harvest are bishops, priests, deacons, consecrated men and women, the lay baptized; all need to be formed in a synodal way of proceeding" as a church, Cardinal Béchara Raï, patriarch of the Maronite Catholic Church, said in his homily during a Divine Liturgy with participants in the assembly of the Synod of Bishops Oct. 9.
"It is a formation toward a way of life of communion, mission and participation," he said, as well as "to a synodal spirituality which is at the heart of the Church's renewal."
The Divine Liturgy, presided over by Melkite Catholic Patriarch Joseph Absi, was celebrated in the Byzantine rite at the Altar of the Chair in St. Peter's Basilica, as synod participants were about to begin the assembly's second module, focusing on the theme of communion and the question, "How can we be more fully a sign and instrument of union with God and of the unity of all humanity?"
Many of the synod assembly's 20 members from Eastern Catholic churches concelebrated the Divine Liturgy, which filled St. Peter's Basilica with singing and chanting provided by the Pontifical Greek College. Two Byzantine icons were placed in front of the altar.
In his homily, Cardinal Raï reflected on the Gospel reading from St. Matthew, in which Jesus, moved by compassion, tells his disciples "the harvest is abundant but the laborers are few; so ask the master of the harvest to send out laborers for his harvest."
The cardinal identified several issues touched upon in the synod assembly's working document that he said participants are called to address as part of the Lord's harvest: wars, climate change, an economic system that produces inequality and waste, religious persecution, strengthening inter religious ties and healing the wounds caused by sexual, economic and institutional abuses. He also asked the synod participants to find ways to promote charity for the poor and marginalized and to consider pastoral practices to assist people who have divorced and remarried or are in polygamous marriages.
Citing the synod's working document, Cardinal Raï said Christ makes himself present in the synod assembly and gives participants the Holy Spirit, which "guides the Church to find a consensus about how to walk together toward the kingdom and help humanity to proceed in the direction of unity."
The cardinal also noted the difficult situations many people live in today, highlighting those who are "poor, lost, persecuted, cast aside, disappointed, refugees, innocent victims of war, isolated, homeless, wounded in their human dignity."
"All arouse the compassion of Christ, who has chosen us one by one" to heal these wounds and "fight for a better world, to live in our common home in peace and tranquility," he said. "Let us pray in this Divine Liturgy that the Lord makes us worthy laborers of his harvest."