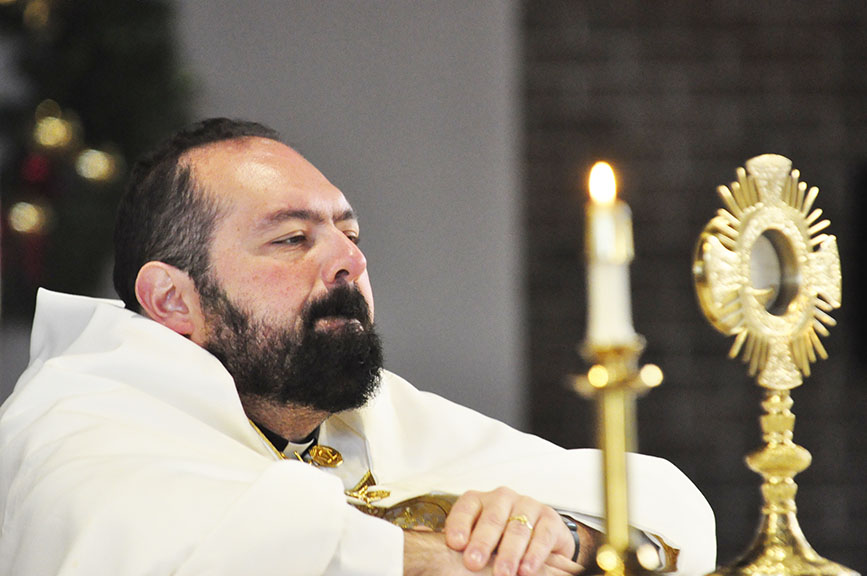 In its ongoing efforts to become more Christ-centered, the Tennessee Knights of Columbus have become the first jurisdiction in the international fraternal organization of Catholic men to create the position of Director of Evangelization and Faith Formation.
The effort began more than four years ago with Past State Deputy Tracy Staller of Seymour, Tennessee, and has continued under Immediate Past State Deputy Michael McCusker of Germantown, Tennessee, and current State Deputy Fred Laufenberg of Fairfield Glade, Tennessee.
"We were going to have to change the way we were doing things" to continue to attract men to the order, said Laufenberg, a member of Council 16088 at St. Francis of Assisi Church in Fairfield Glade. "We need to get stronger in our faith."
In the last year, the Supreme Council of the Knights created a new Department of Evangelization and Faith Formation. Laufenberg followed by naming Jimmy Dee, a member of Council 16523 at Holy Ghost Church in Knoxville, as Tennessee's Director of Faith Formation and Evangelization.
"Jimmy has been a strong mentor for me and others in our faith," Laufenberg said.
"We are working to transform our brothers, who have been incredible emissaries of charity out into the world, into active evangelizing disciples of Christ," Dee said.
That was part of the vision of Blessed Michael McGivney, the priest who founded the Knights of Columbus in 1882, Dee said. "His call to all Catholic men to become holy is our call to all men today."
Laufenberg noted that the number of Catholics leaving the Church is growing. "We have to learn our faith so we can go out and ask and share and try to get them back in the Church," and encourage them to attend Mass and receive the sacraments, he said.
Laufenberg said the Tennessee Council makes four promises to every Knights of Columbus member:
To help all men grow closer in the relationship with Jesus Christ.
To provide opportunities for men to serve Christ in his Church.
To provide opportunities for men to serve those most in need in their community and around the world in the name of Christ.
To do everything in its power to help prevent Catholic families from experiencing financial hardships due to the loss of the primary breadwinner or an underfunded retirement plan.
The state leadership is making faith formation resources available for councils to share with their members and their fellow parishioners, such as the "Into the Breach" video series produced by the Supreme Council that seeks to answer the question of what it means to be a man and how to live as a man in today's world.
Councils in Tennessee are also being encouraged to sponsor more faith-based events, such as Eucharistic adoration and retreats that are open to everyone in their parishes, as well as helping members strengthen their prayer life, Laufenberg said.
On its Facebook page, the Tennessee Council posts daily reflections from Father John Dowling, the pastor of St. Augustine Church in Signal Mountain, Tennessee, to help Knights "focus for just a minute or two on their faith life," Laufenberg said.
At recent statewide meetings, like the Midyear Meeting held Jan. 8 in Nashville, the Tennessee Council has included faith formation retreats or workshops. At the 2021 Midyear Meeting the typical business was replaced by the "Men of the Cross" retreat that was livestreamed and shared with the rest of the order and has been viewed by people in 46 states and eight countries, Dee said.
"We have created new programs that will help parishes re-energize the faithful and openly invite lost sheep back to the flock," Dee added. "We have been proud to serve our order as the test kitchen for so many new and wonderful ideas."
The Tennessee Council is "planning a first of its kind Knights of Columbus discipleship training event," Dee said. "We are likening this event to vocational training for lay faithful who wish to carry their cross, deny themselves, and follow our Lord Jesus Christ in discipleship."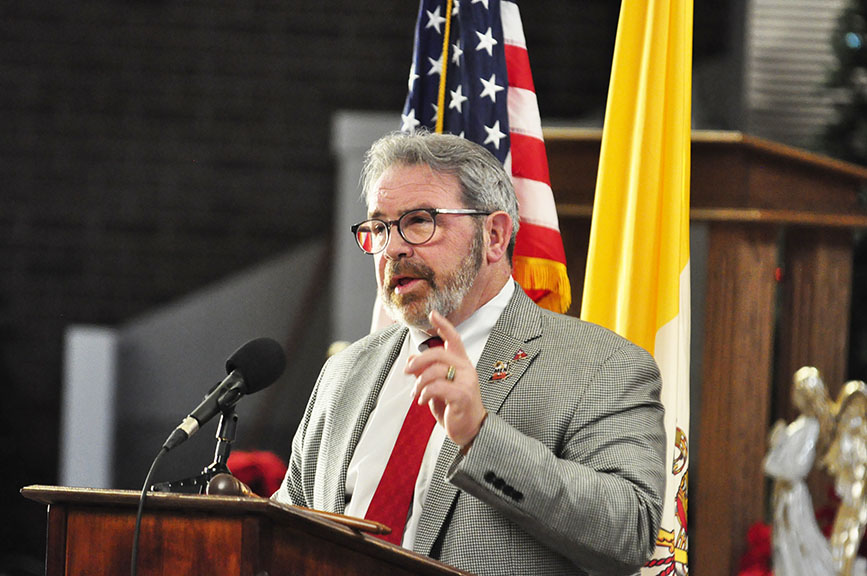 The effort to make the order more Christ-centered is already having an impact, Laufenberg said.
"We have seen an amazing transformation across our councils and parishes over these past several years thanks to the rekindling of our faith within our daily lives," he said during his opening remarks at this year's Midyear Meeting. "Our growth alone over the past two years has been astonishing considering that it has occurred in one of the most challenging times in our history."
Since beginning this initiative, Tennessee Knights have attracted younger new members, Laufenberg said. While new members might not have time to be involved with all of a council's charitable, fraternal and faith formation activities, "young families today do have time to sit down and pray for a few minutes, to go to Mass together, for time to do a retreat. This resonates with young families," Laufenberg said.
"It also resonates with old guys," he added. "We realize the shortcomings we've had in our lives. How do I communicate my faith, my hope and my dreams to my children?"
Laufenberg likes to remind Tennessee Knights, "I love you, God loves you, and there's nothing we can do about it."
Knights of Columbus present top awards
No matter their age, the goal is the same for all Knights, Laufenberg said. "All Catholic men are on a journey to get to heaven."
During its Midyear Meeting held Jan. 7-8 in Nashville, Tennessee Knights of Columbus' presented several of its top awards, including Knight and Family of the Year.
The awards typically are presented during the annual State Convention held in the spring. But because of the COVID-19 pandemic, last year's convention was held virtually and the presentation of the awards was postponed until it could be done in person.
The award winners included:
The Dan and Michelle Schachle family of Dickson County were named as the Family of the Year. Dan is the general agent for the Knights of Columbus insurance program in Tennessee and several other states.
In 2019, Pope Francis announced that the cure of the Schachles' son Michael was a miracle attributed to the intercession of Father Michael McGivney, the founder of the Knights of Columbus. The proclamation of the miracle by the pope led to the beatification of Blessed McGivney. If a second miracle is attributed to his intercession, he will be eligible for canonization as a saint.
Dan Schachle also has been an active member of Council 8241 at St. Christopher Church in Dickson and is a member of the parish council. He also is active in the community as a supporter of the Civil Air Patrol wing in Dickson and the local crisis pregnancy center, CareNet.
Kevin Perry, a member of Council 14079 at Holy Spirit Church in Soddy-Daisy, Tennessee, was named Knight of the Year.
Perry is Deputy Grand Knight and Program Director for his council and lead it's efforts to raise funds to purchase an ultrasound machine for a local crisis pregnancy center. Under Perry's leadership, the council raised $24,000, far exceeding its goal of $18,000.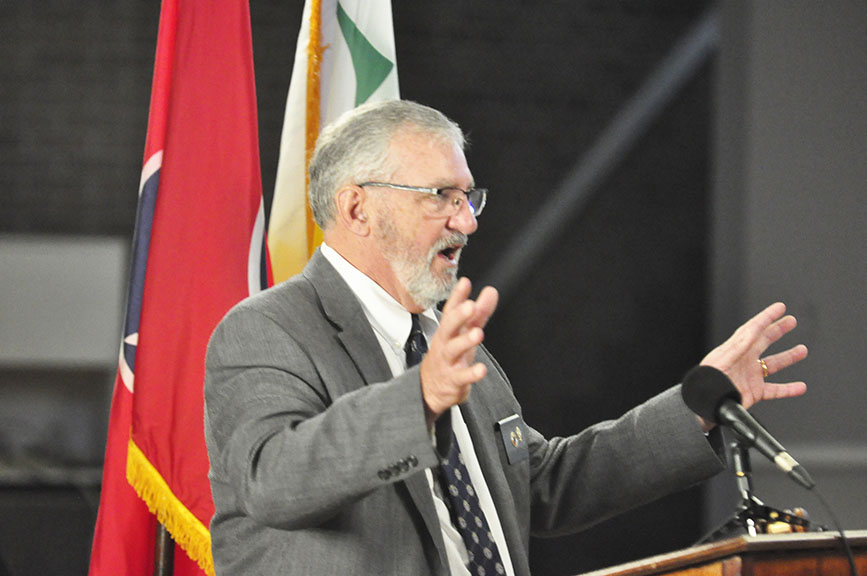 The additional funds were shared with a council in Memphis that was beginning its ultrasound campaign.
Perry also helped organize the council's Coats for Kids program and designed a recruitment brochure for the council.
Perry and his wife Erika have seven children.
Patrick Casey, a member of Council 7170 at St. Ann Church in Bartlett, received the Lifetime Achievement Award.
Casey has been a Knight for 47 years, during which time he has served in every office and every committee chairmanship for his council and for his Fourth Degree assembly. He's also served as a District Deputy and the State Retention Chairman.
For 30 years, Casey has chaired his council's Bartlett Police and Fire Appreciation Breakfast and helped start the parish's Veterans Day Luncheon. He has also been active in his parish and community in a variety of roles.
Tom and Marie Kimball are the first recipients of a new award from the State Council: the Mary Bernadette Kimball Pro-Life Award, named for their daughter who died at age 22 in 2016. The award recognizes an individual's contributions to the respect for life movement, which Mary Bernadette Kimball was dedicated to during her life.
Tom Kimball is the current Pro-Life Chair for the Tennessee State Council. He currently lives near Jasper, Tennessee, and is the Past Grand Knight of Council 10010 at St. John Vianney Church in Gallatin.
Knights prepare for Supreme Convention
Nashville will host the Knights of Columbus Supreme Convention in August 2022 at the Gaylord Opryland Resort and Hotel.
The Tennessee State Council is asking Knights from across the state to serve as volunteers during the convention, which is expected to draw more than 100 cardinals and bishops from around the world and as many as 3,000 people.
Volunteers are needed to help in a variety of roles, including: registration; Fourth Degree honor guard; welcome and transportation for church hierarchy attending the convention; hospitality support; IT support; staffing the Tennessee Country Store; tours; and the Welcome Party.
Two hundred volunteers are needed. Knights seeking more information or to register as a volunteer can visit kofc-tn.org.