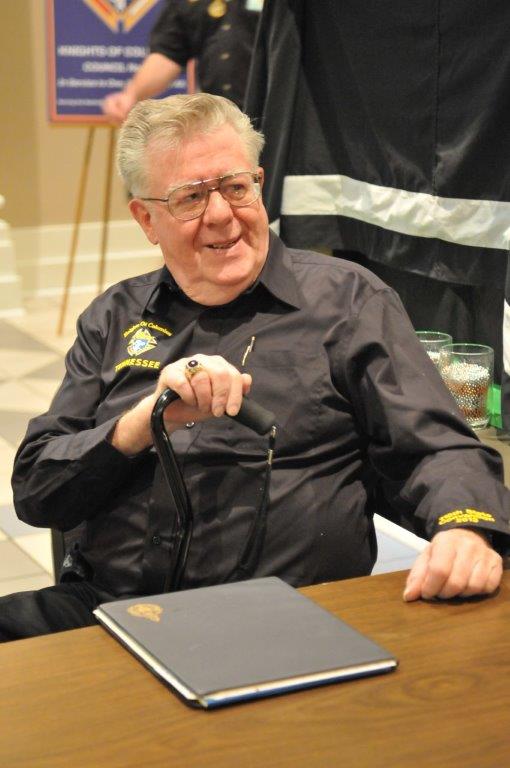 For Robert H. "Bob" Rounsefell, a long-time Knight of Columbus, a Green Beret and the father of four, the organizing principles of his life were God, country and family.
The thread that tied them all together was service.
"All his endeavors were to help the underserved," said his daughter Jacqueline Kilpatrick.
Mr. Rounsefell, the 65th State Deputy of the Tennessee Knights of Columbus died at his Memphis-area home on Wednesday, Dec. 29, 2021. He was 88.
A funeral Mass was celebrated on Tuesday, Jan. 4, at St. Francis of Assisi Catholic Church in the Memphis suburb of Cordova, with burial with military honors at Memphis Funeral Home and Memorial Gardens.
Mr. Rounsefell was a "wonderful" father, Kilpatrick recalled. "He worked so hard to let our mother stay home. That meant so much to me," she said. "He shaped my life by focusing on that family unit."
In his eulogy, Michael McCusker, the Immediate Past State Deputy of the Tennessee Knights and a close friend of Mr. Rounsefell, said Mr. Rounsefell's wife and four children were his greatest achievements.
"In the end, you were all that mattered to him," McCusker said. "And he loved each of you so dearly and spoke of you often on our trips up and down the highways of life."
"I grew up knowing he loved my mother. And what a gift," Kilpatrick said.
"I had a great childhood knowing he loved my mother," she added. "I hope men know how important it is" that they show their children that they love their mother.
Mr. Rounsefell was born in Brooklyn, New York, and lived most of his childhood in Sayville, New York, on Long Island. He attended parochial schools, and after graduating from high school, enlisted in the U.S. Army.
Mr. Rounsefell was a paratrooper with the Army's elite Green Berets, making more than 1,500 jumps. He served in Vietnam, arriving in the country just before the Tet Offensive, which began in January 1968. He was a lifetime member of the Combat Infantryman's Association and earned a Purple Heart.
"He was proud to be a Green Beret. But I think it was more about love of country," Kilpatrick said.
Mr. Rounsefell was introduced to the Knights of Columbus by his father, who was an insurance agent for the order.
"Bob's dad was pivotal in influencing his young son's life," Past State Deputy Michael Porter, a parishioner at St. Stephen Catholic Community in Old Hickory, said in his eulogy at Mr. Rousefell's funeral. "Bob always told the story of how his dad took him to his first Knights convention in New York in 1947 and the impact that that trip and (his father) had on Bob for the rest of his life. He had a mission to serve, and nothing was going to keep him from it."
After he retired from the military, Mr. Rounsefell followed in his father's footsteps and became a Knights of Columbus insurance agent serving North Carolina and a portion of South Carolina.
He was honored by the North Carolina State Council as their Knight of the Year in 1975 for his efforts in starting 11 councils in one year.
His promotion the next year to general agent brought the family to the Memphis area as he assumed responsibility for Tennessee, three other states and a portion of a fifth.
Mr. Rounsefell was the first member of a fraternal insurance company to serve on the board of the Techniques and Contents Committee of the Life Underwriters Training Council (LUTC) in Bethesda, Maryland, which he did for three years. This organization is charged with developing, implementing, and reviewing training programs for insurance agents throughout the industry.
He also served as president of the Tennessee Branch of the National Fraternal Insurance Council, being the first Knight of Columbus to hold that position.
Upon retirement from the insurance division of the Knights of Columbus, Mr. Rounsefell was appointed State Warden for the Tennessee State Council and later was elected State Advocate. He ultimately was elected State Deputy, which is the highest state office in the Knights, and achieved a 63- year-old dream by being installed as Tennessee's State Deputy at St. Mary's Church in New Haven, Connecticut, where the Knights of Columbus was founded in 1882, in June 2010.
"Bob was a natural and brought men all over the state of Tennessee to service through the programs in their councils that serve those most in need in their parishes and local communities, by doing this Bob used his God-given talents and silver tongue to evangelize our faith by calling these men to action and allowing them to use their gifts and talents to serve our God," Porter said.
Mr. Rounsefell was a charter member of the Knights of Columbus Timothy J. Coyle Council 9317 at St. Francis of Assisi church. He received the Lifetime Achievement Award from the Knights in 2011.
"He loved the Knights of Columbus," said Tennessee State Deputy Fred Laufenberg of Fairfield Glade. What those who knew him through the State Council "witnessed was the mentoring and quiet leadership he displayed," Laufenberg added. "He was a special friend to many."
In his eulogy, McCusker, also a member of Council 9317, spoke of his friendship and special relationship with Mr. Rounsefell. "Bob progressed from acquaintance to friend to mentor and ultimately, to something akin to a second father in my life," McCusker said.
Upon returning after serving a tour of duty in Afghanistan, McCusker said, Mr. Rounsefell "saw in me a suffering that the rest of the world could not see or understand. … Through his friendship, he brought me Christ's healing love and in doing so, he saved me and then gave my life a new direction and meaning."
Her father was "full of integrity, always wanting to do the right thing," Kilpatrick said. "And he took care of people."
Through the military, Mr. Rounsefell traveled around the world. His first tour overseas was to England, where he met Denise Anita McCarthy. They fell in love, married and had four children. They were married for 66 years.
Mr. Rounsefell was a founding member of St. Francis of Assisi Catholic Church in Cordova, where he served as lector and Eucharistic Minister. He was a director for the M.R. Foundation of Tennessee.
He was also a photographer, with many of his photos and articles being published in the Green Beret Magazine, and the Pacific Stars and Stripes newspaper. He thoroughly enjoyed flying and donated his time with the Civil Air Patrol, serving as a commander.
An engaging public speaker and storyteller, Mr. Rounsefell was past District Governor of District 43 for Toastmasters International, serving West Tennessee, North Mississippi, and all of Arkansas, helping people overcome their fear of speaking in public.
Besides his wife, he is survived by their children, Karen (James) Dixon of Olive Branch, Mississippi; Christopher (Chris) Rounsefell of Fenton, Missouri; Jacqueline (Kirk) Kilpatrick of Germantown, Tennessee; and Elizabeth (Richard) Exley of Cordova; 15 grandchildren; 10 great-grandchildren; and two great-great-grandchildren.
Memphis Funeral Home and Memorial Gardens were in charge of arrangements.