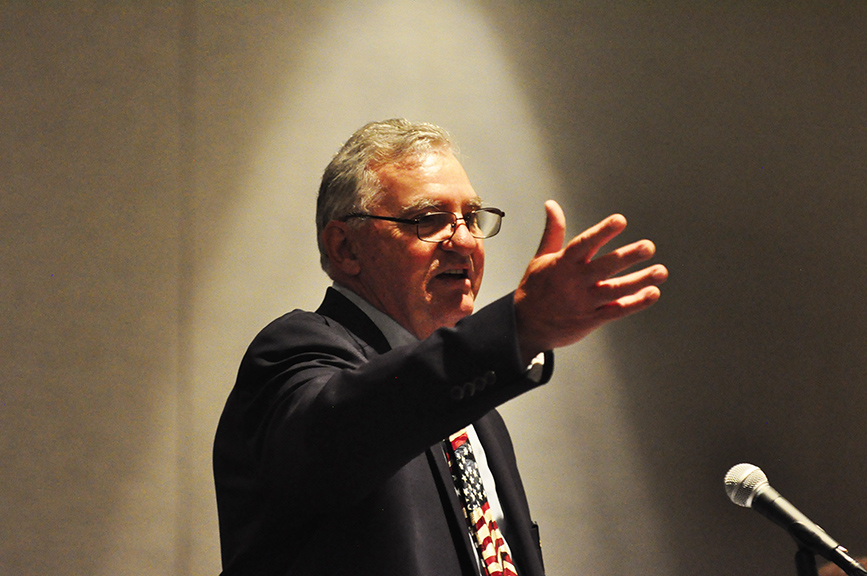 Be sure to check back here for more coverage of the Tennessee Knights of Columbus state convention
Meeting in person for the first time in three years, the Tennessee Knights of Columbus were lauded for their efforts to continue serving the Church and their neighbors during the COVID-19 pandemic.
"When we look back on this historic time in the years to come, I hope you will remember that we, the Knights of Columbus, did not hide from the challenges of this pandemic," State Deputy Fred Laufenberg said in his State of the State address at the Knights' 119th state convention, held April 29-30 at the Franklin Marriott Cool Springs in Franklin.
"You kept the light of Christ alive. You helped ensure no neighbor was left behind. You took food and other necessities to those who had no way to take care of themselves. You took our fraternal charge to heart, as you picked up the phone, wrote emails, and held zoom meetings to make sure your brothers never felt alone or left behind," said Laufenberg, a parishioner at St. Francis of Assisi Church in Fairfield Glade and a member of Msgr. Philip Thoni Council 16088. "When we were finally allowed to re-enter our churches you were the first ones there ensuring safe social distancing and working hard to help keep our worship spaces safe and disinfected."
Laufenberg also highlighted the Knights response to the flooding that devastated Waverly, Tennessee, in the last year.
"When the call went out, you instantly responded with love, compassion, and support for those affected by flooding in Middle Tennessee," Laufenberg said. "Over $126,000 and hundreds of hours were donated. … Brothers, you are each shining examples of the great 140-year tradition of the many corporal works of mercy done by the Knights of Columbus worldwide."
Laufenberg thanked the Knights who attended the previous two state conventions that were held virtually. At this year's convention, some were able to attend in person and others participated virtually.
"We hope this new vehicle of communication and virtual participation will help us continue to grow and strengthen our Church, our state council, and our order," Laufenberg said.
In the next year, the state council will continue its efforts to return the Knights of Columbus "to our original Christocentric mission that was instituted by a simple parish priest we now call Blessed Father Michael J. McGivney," Laufenberg said, referring to the Knights founder who was beatified in 2020 after Pope Francis proclaimed the cure of Michael Schachle of Dickson was a miracle through the intercession of Father McGivney.
"We are embracing a new age of evangelization, with Tennessee leading the way into a bright future for Catholic men everywhere," Laufenberg said.
The state council will focus on discipleship and evangelization in the coming year, following up on a four-day retreat held in Nashville in March that was attended by 40 Tennessee Knights and staff members from the Knights' Supreme Council offices in New Haven, Connecticut. The retreat was part of a new initiative by the order to train Knights how to be missionary disciples.
"We will be sharing that knowledge with every council so that we can take our commitment of helping men grow closer to Christ to the next level," Laufenberg said.
"To succeed in our ongoing mission, we must help all Catholics to become men of the cross. We must be anchored in Christ," he added. The Tennessee State Council motto for the 2022-23 fraternal year, which begins in July, will be "Anchored in Christ."
"The burning question in our hearts must be, 'Jesus, how can I serve you better?'" Laufenberg said. "When your mind, heart and body are centered on Christ, you will be ready to fulfill your baptismal vocation of serving Christ as priest, prophet and king."
State officers re-elected
During the state convention, Laufenberg and the other state officers were re-elected to a second one-year term. The other state officers are: State Secretary Bill Markiewicz of Council 4572 at St. Therese of Lisieux Church in Cleveland; State Treasurer Eric Pelton of Council 8576 at St. Jude Church in Chattanooga; State Advocate David Zwissler of Council 9317 at St. Francis of Assisi Church in Cordova; and State Warden Alan Stanley of Council 9168 at St. Luke Church in Smyrna.