VATICAN CITY (CNS) — When the Vatican issued norms that pontifical universities offer in-person classes on their campuses for the coming academic year, institutes in Rome spent the summer hammering out what changes and protocols would be needed to keep staff and students safe.
In light of the COVID-19 pandemic, the Congregation for Catholic Education published recommendations in early May and confirmed them in mid-June, asking that ecclesiastical universities do what is needed "to be able to teach in the ordinary way, with the lectures held in the presence of students and teachers."
So-called "distance learning" it said, "is no alternative" and must only be used "in part and for particular situations," with authorization from the Vatican office.
According to the rector of Rome's Pontifical Gregorian University, the importance of in-person instruction was made evident during the sudden nationwide lockdown in the spring, which forced all educational institutions in Italy to turn to virtual instruction.
Thanks to fast-acting administrators and platforms already in place, programs were able to continue online, and many students completed their end-of-year exams and defended their dissertations either online or in-person.
While the shock revealed how vulnerable and dependent people are on one another, the rector, Jesuit Father Nuno da Silva Goncalves, said it also showed how their university was ready to respond to new needs, ready to innovate and improve so as to fulfill their mission in human formation and building a better future.
However, while the experience brought to light "unimaginable potential" combined with "unforeseen proximity between teachers and students in virtual classrooms," an in-person presence still has to be a priority, he said on the university's website.
"Our conviction that no technological device can replace the dynamics of onsite learning has grown stronger; a conviction that is not due to nostalgia, in fact, it is the result of long and consolidated experience," he said in comments accompanying the school's new protocols.
So wanting to follow both the time-tested benefits of person-to-person instruction, as seen in the Vatican recommendations, and adhere to Italian protocols and safety measures, the Gregorian and other pontifical universities released fairly detailed plans throughout July of what the new academic year would look like.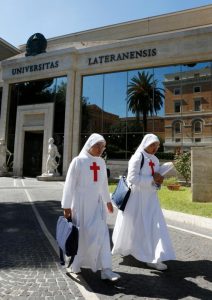 Class registration will remain online for July and August, and, when classes start up early October, it will be on-site learning, but online alternatives also will be ready or up and running for those in need.
As the Pontifical University of the Holy Cross said on its website, it has to take into account that a large chunk of its student body is made up of foreign students, who may have problems attending onsite given ongoing travel restrictions.
About 70% of students enrolled at the Pontifical Gregorian University are foreign students, and 65% of these come from non-EU countries.
International travel is an even bigger problem for students at the Pontifical Urbanian University, whose student body is predominantly from Asia and Africa, Father Roberto Cherubini told Catholic News Service.
Some cannot leave their country, which is why a number will not be able to come to the university to study, he wrote in an email response to questions.
Online opportunities will be made available for them and "we will guarantee technical assistance to both students and professors who need it," said the priest, who works in the university's public relations department.
A cautious, but proactive and flexible approach is definitely the case with the Pontifical Salesian University, which became a coronavirus "hot spot" in the spring when 62 residents tested positive for the coronavirus. A number required hospitalization and one priest died of COVID-19.
Father Mauro Mantovani, the university's rector and president of the conference of pontifical universities in Rome, said the challenges made them aware of the importance of "and profound need" for an educational approach that focuses on every aspect of the person and their call to be in relation with others.
In June, he told RomaSette.it, an online news site for the Diocese of Rome, that what would be guiding them for the future would be "flexibility and the ability to adapt."
Guidelines and opportunities put forth by the school administration are meant "to leave no one behind. We are working to guarantee in-person learning, but, wherever it is not possible, we will keep open the possibility of distance learning, which represents for us a great opportunity," he said.
Father Mantovani said Pope Francis wanted them to guarantee that students had the possibility of following coursework either in person or online, and in that way, universities would "be able to accompany the personal situation of every individual student," according to a letter dated June 26 and sent by the Vatican secretary of state to ecclesiastical universities in Rome.
Accompaniment and personalized attention will be their objective as they "prepare for the new scenarios that await us," the priest said on the Salesian university website.
The same level of prudence and enthusiasm is awaiting new and returning students who will be residing at the Pontifical North American College.
Father David A. Schunk, vice rector for administration, told CNS that the university has not reduced the size of its incoming class, which will be around 35 students.
The admissions office "has been keeping in touch with our new students, and they are excited about coming to Rome to begin theological studies," he said.
Discussions are underway on ensuring social distancing in communal areas and having community members monitor students' temperature, he said.
"Like all plans, we are expecting them to change over time as the situation continues to change, but we know we must be flexible in order to do our best to keep the entire community healthy," he said.
Father Schunk said, "As we move forward, I think the pandemic has taught us the importance of the personal relationships we have with God and with others. For our men preparing for the priesthood, this will be a reminder for them of the sacredness of their relationships, the importance of the person in front of them, and not taking their relationships for granted."