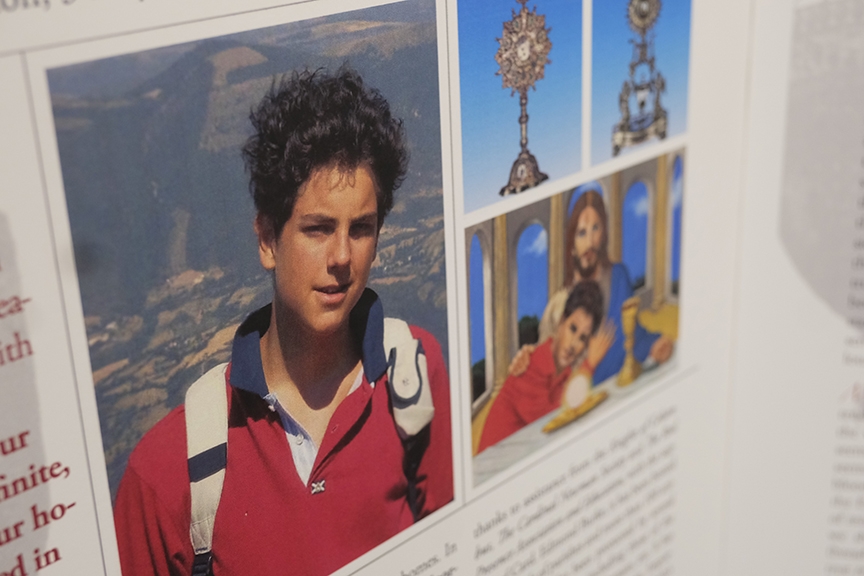 "I'm happy to die because I've lived my life without wasting even a minute of it doing things that wouldn't have pleased God."
Blessed Carlo Acutis, who said these famous words, was known as a teenager of our time, with an extraordinary devotion to the gift of Jesus Christ in the Eucharist.
As part of the Eucharistic Revival's Year of the Parish, Immaculate Conception Church in Clarksville brought Blessed Carlo Acutis' International Exhibition of Eucharistic Miracles of the World to parishioners after each of the weekend Masses July 8-9 in hopes of bringing his inspirational devotion to youth and adults alike.
The exhibition, created and designed by Blessed Carlo Acutis himself, explains every eucharistic miracle ever documented around the world. The 156-poster display is currently being shown on five different continents, and has miracles listed across 20 countries and witnessed by multiple saints and beatified individuals.
The Story of Carlo Acutis
Carlo Acutis was born on May 3, 1991, in London, and grew up in Milan, Italy, as part of a wealthy Italian family. Although he was baptized as an infant, his parents were not extremely religious. When he was just 4 years old, however, his maternal grandfather who had passed away appeared to his grandson in a dream and asked that he pray for him.  
From there, Carlo Acutis' interest in religious practice was sparked. Upon receiving his First Communion at age 7, he soon became a regular attendee of Mass and confession. Throughout his youth, he was considered a friend to all, standing up for those being bullied, and engaged in the same activities as any modern boy would, such as video games and watching films. But he remained devoted to his faith, using his reputation as a "computer geek" to create a website cataloging every eucharistic miracle ever reported and approved by the Vatican.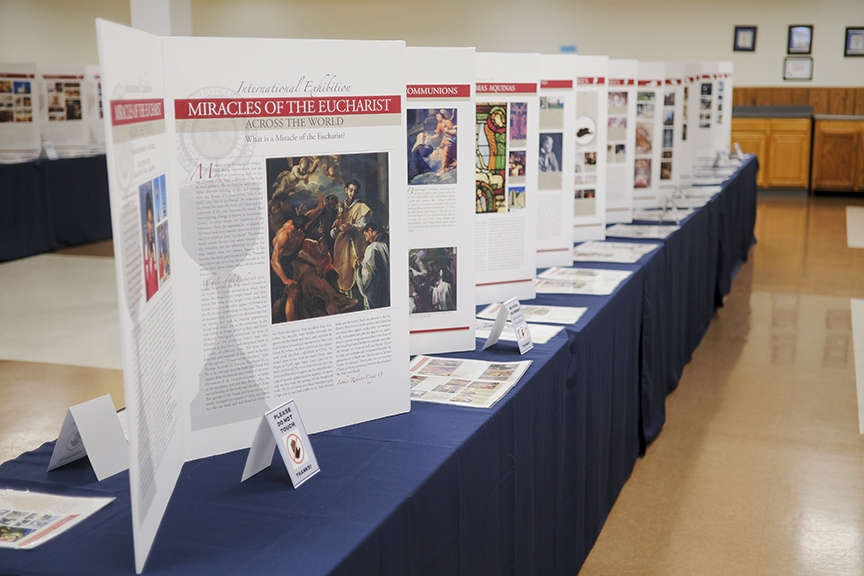 "To always be close to Jesus, that's my life plan," Carlo Acutis once said. "Our destination must be what is infinite, not what is finite. Infinity is our homeland. We have been expected in Heaven since time immemorial."
Things quickly changed for Carlo Acutis on Oct. 2, 2006, when he fell ill with what seemed to be an ordinary flu. One week later, after things did not improve, he was diagnosed with M3 acute leukemia. Considered to be in critical condition, he received the Sacrament of the Anointing of the Sick and Holy Communion on Oct. 10, 2006, and fell into a coma on Oct. 11, 2006, due to a brain hemorrhage caused by the leukemia. Carlo Acutis died at 6:45 a.m. on Thursday, Oct. 12, 2006. He was 15 years old.
Carlo's funeral was attended by so many people that several had to remain outside. He is buried at the Church of Santa Maria Maggiore in Assisi, Italy, in accordance with his wishes.
The Road to Sainthood
It would take five years for the cause for Carlo Acutis' Beatification and Canonization to be officially opened, and he was declared a Servant of God on Oct. 12, 2012.
By 2013, the Holy See had approved the petition for his official canonization and a diocesan investigation opened on Feb. 15, 2013. Cardinal Angelo Scola began the process and it was concluded on Nov. 24, 2016.
Confirming that Carlo Acutis' life was one of heroic virtue, Pope Francis declared him Venerable on July 5, 2018.
On Feb. 21, 2020, the pope confirmed the validity of the first miracle attributed to the intercession of Carlo Acutis, which took place in Brazil. Luciana Vianna claimed that she and her son attended a prayer service and prayed for healing from a defect in his pancreas, which had caused digestive issues and forced the young boy to be exclusively on a liquid diet. After the prayer service, he reportedly was able to eat solid food for the first time in months.
The confirmation of the miracle led to Carlo Acutis' beatification, which officially took place on Oct. 12, 2020, after being postponed because of the COVID-19 pandemic. The ceremony, presided over by Cardinal Agostino Vallini, took place in the Upper Church of the Basilica of St. Francis of Assisi in Italy, to whom Carlo Acutis looked to as a model in his own life.
'An ordinary guy who loved Jesus'
Blessed Carlo Acutis "was just an ordinary guy who loved Jesus," said Marcia Sundberg, Immaculate Conception's point-person for the Eucharistic Revival. "His example, his life is such a good example for all of us, but especially for young people."
Father Jacob Dio, pastor of Immaculate Conception, agreed.
"We have a lot of youth here," Father Dio said. "Not a lot of people know about Carlo Acutis, but he's really just a modern youth who wore jeans and a T-shirt, but who had a deep devotion to Jesus, so we definitely thought this would inspire a lot of young people."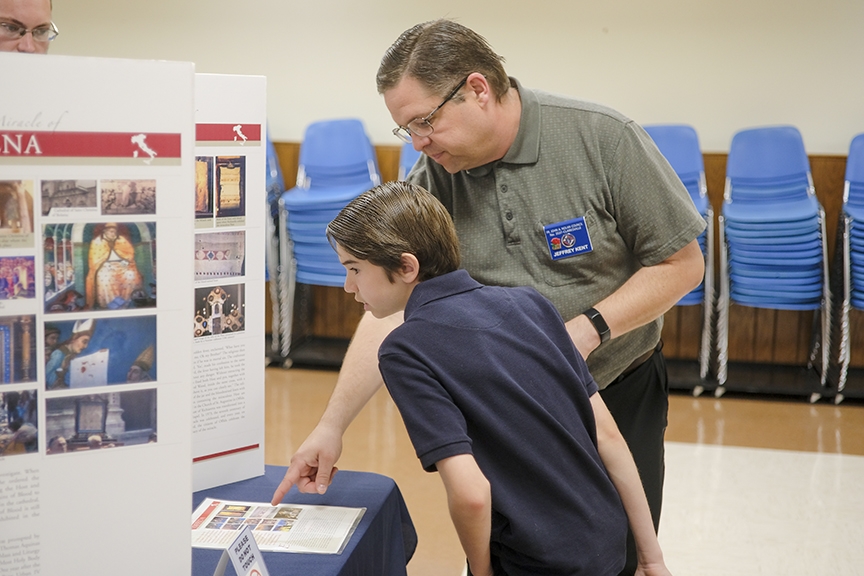 11-year-old Nathan Kent, an upcoming sixth-grade student at Immaculate Conception School, said he enjoyed looking through and reading about the various miracles with his father, Jeffrey Kent, a member of Knights of Columbus Council 3537.
"It was really cool seeing all the stuff (Blessed Carlo Acutis) did," Nathan Kent said, noting some of the most surprising miracles in the exhibit such as those that talked about witnessing bleeding hosts and Jesus extending his hand from the crucifix to grab the chalice from the priest.
"The priest just fell to his knees and asked for forgiveness," Nathan Kent explained. "Then Jesus returned the chalice."
"It's really cool that since (Carlo Acutis) did all that work" to gather the Eucharistic miracles, "God made him an incorruptible," he added.
It wasn't only the youth who were enamored by the display, however. Monice Ntatin, a parishioner of Immaculate Conception, called it terrific and powerful.
"In the world of today, even within the Catholics, I think this is very powerful because people should know more about the power of Jesus in the most holy sacrament. It's been neglected," Ntatin said. "There is a lot we can learn from Blessed Carlo Acutis in our everyday life and our prayer life, and if he could do all this that means there is a lot we could do as well."
Immaculate Conception is planning to share the exhibit with different organizations, schools, and parishes across the diocese once a team is put together. For more information, email Sundberg at mesundb@gmail.com.For more about the Eucharistic miracles included in the exhibition, visit www.miracolieucaristici.org/.