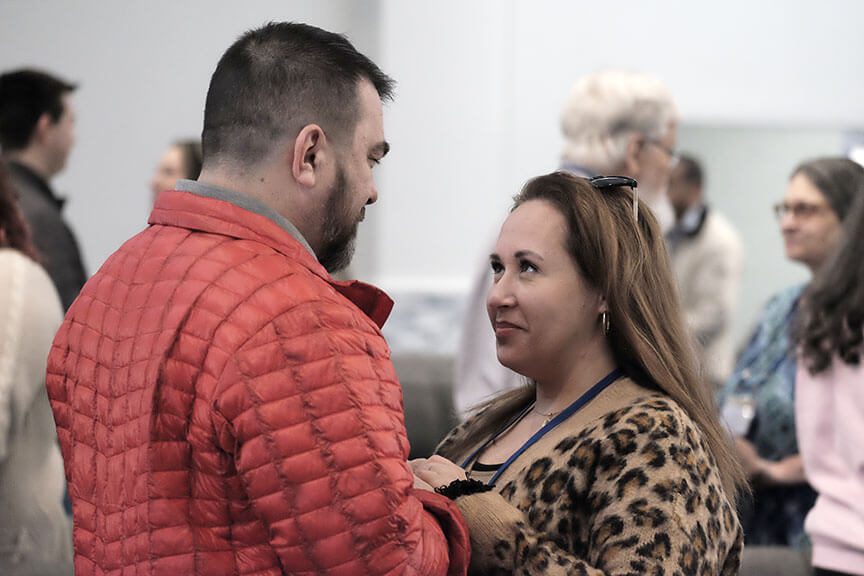 To help families battle isolation on their faith journey, the St. John Paul II Foundation offers the Together in Holiness marriage enrichment initiative.
"Especially post-COVID, families are finding it really hard to find community," said Rachel Townsend, program coordinator of the St. John Paul II Foundation.
The Together in Holiness initiative "was designed for couples so they can have that fellowship opportunity," Townsend said.
The initiative is designed "to help couples grow in holiness for their own marriage, but also to equip and empower the spouses as parents to form their children in the Catholic faith," Townsend said.
Townsend was in Nashville for the Together in Holiness conference on Saturday, Feb. 18, at the Catholic Pastoral Center. The theme of the conference, which was co-sponsored by the Diocese of Nashville and the St. John Paul II Foundation, was "Family, a Domestic Church."
The St. John Paul II Foundation partners with dioceses across the country to put on the one-day conferences for couples. "We have our annual one day conference event that couples are part of today, and then we have our year-round opportunity that is a formation series … which is an opportunity for couples to gather beyond this conference in small communities and to receive ongoing accompaniment and support," Townsend said.
In the small communities, called TH Circles, couples learn about "the role and mission of their own domestic church, their family, and how they live that out within the home and doing that within this community where they have fellow married couples that are on the same journey," Townsend said. "It's receiving that support that I think families are very hungry for and doing it in a very simple and organic way."
The St. John Paul II Foundation provides training and support for couples who want to host a TH Circle, Townsend said.
"They can easily just let us know that they are interested in being a Host Couple and we can walk through that discernment with them," she said. The Foundation offers online formation and guidance on how a Host Couple can start their own TH Circle.
"If they wanted to do that with their natural community of friends, or if they wanted to find other couples in the parish or from the conference, we can help them get connected," Townsend said.
For more information about the Together in Holiness initiative, visit togetherinholiness.org.
The Feb. 18 conference featured three talks: "The Holy Eucharist and the Domestic Church" by Larry Freeney, director of education and assessments at Rejoice Counseling Apostolate and Advisory Board member for the St. John Paul II Foundation; "Liturgical Living in the Home" by Daniel and Michelle Schachle, parishioners at St. Christopher Church in Dickson; and "The Eucharistic Mission of the Family" by Leonard J. DeLorenzo, Ph.D., of the McGrath Institute for Church Life and a professor of theology at the University of Notre Dame.
"Christ is the fulfillment of the sacrament of marriage," Freeney told the assembled couples. "The Eucharist is the mystical consummation of our mystical marriage with God."
God created us out of His love for us, Freeney said. "Because God loves us, we're supposed to love ourselves. He loves me, I love him. He loves me, I love me. And in this overabundance of love, I love others."
"Love at its core is to unite yourself with God for the care and the betterment of the other person no matter how you feel," Freeney said.
"What marriage is supposed to be in its ideal form is Christ on the cross," he said.
"When we were our most vile, our most evil, when we were our most unlovable, what does Christ do for us?" Freeney said. "He advocates for us," praying "Father, forgive them."
"If Jesus can advocate for us, for our forgiveness for what we just did to him," Freeney said, "You can forgive your spouse."
The conference included Mass celebrated by Bishop J. Mark Spalding who gave a blessing to the couples. The sacrament of reconciliation, eucharistic adoration, and various exhibitor booths were also available to attendees.