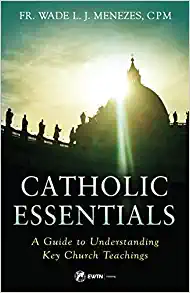 Father Wade L.J. Menezes, CPM, will sign copies of his newest book, "Catholic Essentials: A Guide to Understanding Key Church Teachings," 11 a.m.-1 p.m. Saturday, April 1, at St. Mary's Bookstore, 1909 West End Ave., in downtown Nashville.
"Catholic Essentials: A Guide to Understanding Key Church Teachings," published in June 2022, is Father Menezes' third book; he previously authored "The Four Last Things: A Catechetical Guide to Death, Judgement, Heaven, and Hell" and "Overcoming the Evil Within: The Reality of Sin and the Transforming Power of God's Grace and Mercy."
Along with his books, Father Menezes has been a contributing writer for several notable Catholic publications including the National Catholic Register and Our Sunday Visitor.
Father Menezes is a member of the Fathers of Mercy, a religious order based in Auburn, Kentucky. The order was founded by Father Jean Baptiste Rauzan, at the invitation of Cardinal Fesch of Lyons, France, following the French Revolution's effect on people's faith. Pope Gregory XVI officially dubbed the missionary priests with the name "Fathers of Mercy" in 1834.
With the Fathers of Mercy, Father Menezes has served as the Assistant General and as the Director of Vocations and Director of Seminarians, as well as the chaplain-in-residence at the Shrine of the Most Blessed Sacrament of Our Lady of the Angels Monastery in Hanceville, Alabama.
During that period, he celebrated daily Mass as well as offered daily opportunities to attend the sacrament of reconciliation. Additionally, for the many pilgrims that visit the shrine, he gave spiritual conferences on specialized points of Catholic Christian doctrine.
Both the shrine and the monastery are affiliated with the Eternal Word Television Network (EWTN), for which Father Menezes has hosted several televised series covering a range of topics including the Four Last Things, the Ten Commandments of Catholic Family Life, and the Gospel of Life vs. the Culture of Death. He also host's EWTN's series "The Crux of the Matter," "The Wonders of His Mercy," and "In Defense of the Eucharist."
As an itinerant preacher for the Fathers of Mercy, Father Menezes has traveled all throughout the United States, Canada, and Australia.
For more information about the event, call 615-329-1835.