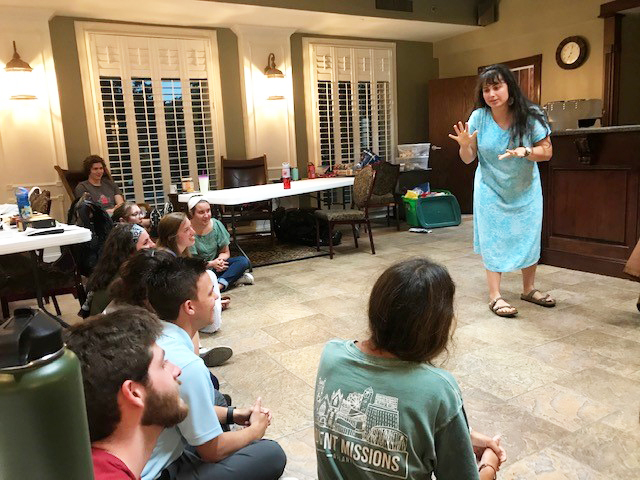 Signs of rebirth from the slowly receding, life shattering pandemic are all around us especially where our Catholic faith is concerned.
As churches move to reopen and schools recess for summer, two faith enrichment programs affected by COVID-19 are also returning.
The Diocese of Nashville's Totus Tuus program, which was cancelled last summer, held its first visit to a parish this summer the week of June 7 at St. Rose of Lima Church in Murfreesboro. From there, the program will move to other parishes across the diocese throughout the summer.
At the same time, several parishes are bringing back their own summer Vacation Bible School programs after the pandemic caused cancellations last year. And some parishes will have both Totus Tuus, which is scheduled through the diocesan Office of Faith Formation, and a Vacation Bible School.
The goal of all the programs is to keep children close to the Catholic faith during the summer break for schools and parish religious education programs.
The term "Totus Tuus" is Latin for, "Totally Yours" and served as the motto of St. John Paul II. Under the program, teams of four college-aged students and seminarians fan out across the diocese bringing the week-long program to parishes.
After last year's cancellation, the program is returning to 11 parishes this summer, including one in Jasper, Indiana, said Rachel Gieger, assistant director of catechesis in the Office of Faith Formation.
The other parishes in the diocese that will follow St. Rose of Lima are: Our Lady of the Lake in Hendersonville, St. John the Evangelist in Lewisburg, Holy Rosary in Donelson, St. Christopher in Dickson, St. Thomas Aquinas in Cookeville, the Cathedral of the Incarnation, St. Stephen in Old Hickory, St. Ann and St. Philip in Franklin.
"Each parish registers with us for one week, with elementary school students meeting during the day from 9 a.m. to 3 p.m., (Monday through Friday), and middle school and high school students meeting from 7 p.m. to 9 p.m., Sunday through Thursday nights," said Gieger.
The Totus Tuus instructors – who are officially called missionaries – attended a one-week training program at St. Bernard Abbey in Cullman, Alabama, May 30 through June 5.
This year, said Gieger, "the topic is the Beatitudes and the Joyful Mysteries of the Rosary."
"The same group of missionaries teach the same program to both groups all day, with our evening program just a little more suited – in terms of content – to middle and high school students," said Gieger.
Some – but not all – of the missionaries are seminarians, whom Gieger feels make a strong contribution to the program.
"Since they are seminarians and still discerning the priesthood, this is a good opportunity to see if this active ministry is still appealing to them and an opportunity to take their faith formation from seminary into the field," said Gieger.
"We are at the tail end of it today, with our elementary/grade school age students' final day tomorrow," Dr. Benjamin L. Smith, the new director of catechesis at St. Rose of Lima, said of the Totus Tuus program.
"This is my first year at St. Rose of Lima, but Totus Tuus has been here for several years, and I found it to be a very positive program, with very well-trained missionaries," said Smith.
"These people are very well-spoken, zealous, and joyful in their approach to the daily lessons; our parishioners were very enthusiastic about the program's return, even before registration started," he said.
Parishes around the diocese are also bringing back their Vacation Bible School programs this summer. Some, like Our Lady of the Lake, are doing both Totus Tuus and a Vacation Bible School.
Kathy Skinner is parish coordinator and Vacation Bible School co-director for Christ the King Church in Nashville. "Our VBS will run from July 19 to July 23 this year, and at present we have 170 children enrolled, but believe me, that figure is going to grow."
The long-running program is popular in the parish and is supported by volunteers who help prepare the grounds for the week as well as the adult leadership for the activities.
The program is open to children who are 4 years old through rising fifth graders and "focuses on children inviting God into their hearts and building a friendship with Jesus," according to the Christ the King website. "Each year, VBS has a specific theme, and all the events during the week revolve around this theme. Each day during VBS week, kids are immersed into exciting activities and stations centered around Bible stories, with one main Bible point each day. Each day's activities include crafts, drama, games, snacks, video and music. The Bible verse is reiterated in all the stations and activities of the day, reminding the children of God's love for us."
This year's Vacation Bible School at Christ the King is titled "Rocky Railway: Jesus Power Pulls Us Through."

Enrollment fees for the program are $45 for non-parishioners and $40 for Christ the King families.
"Our program's hours this year are from 9 a.m. to 12:30 p.m., Monday through Friday; we are staffed strictly by volunteers and will utilize the entire Christ the King campus," said Skinner.
"At this point things look really good," said Gabriel Heidbreder, Director of Faith formation at Our Lady of the Lake. "We have a very large group already signed up, with room to grow for sure."
"These families are hungry for the opportunity to send their kids to a summer camp, and the kids are very excited for the chance to be with their friends once again," said Heidbreder.
The program will run July 14-18, is run by a dedicated group of parishioners, and the enrollment fee is $10 per child.
For more information about the Totus Tuus program, visit dioceseofnashville.com/totus-tuus/. For more information about parish Vacation Bible School programs, check with the individual parishes.