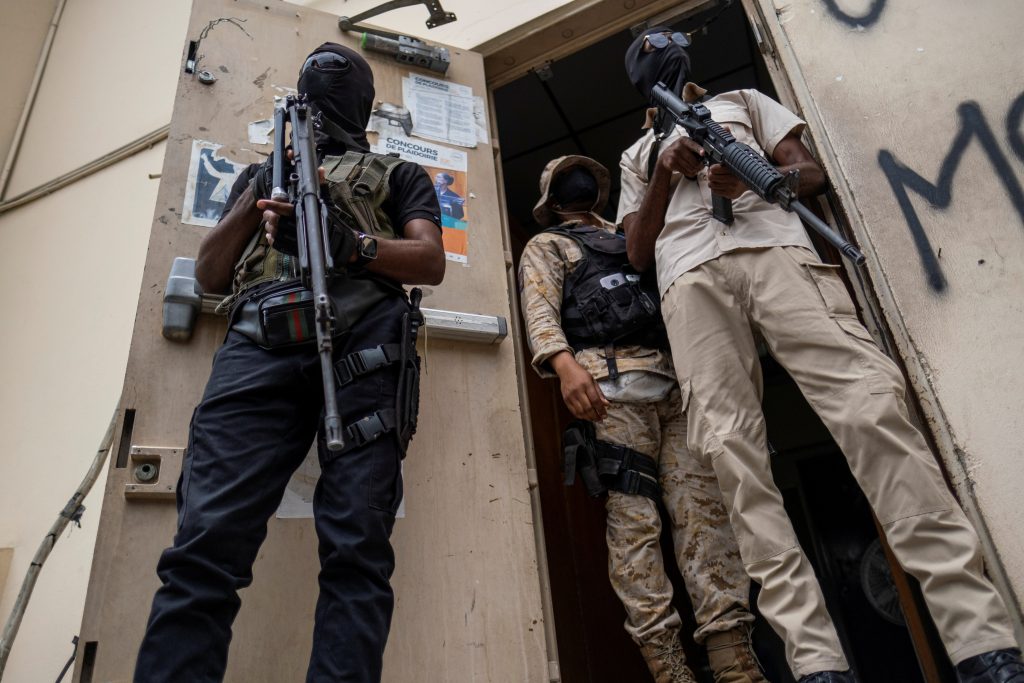 Ongoing violence and disruptions to life in Haiti had already been making it difficult for the Parish Twinning Program of the Americas to help the people there even before the country's president was assassinated.
"To be really honest, things were already shut down for the past two and a half years," said Theresa Patterson, executive director of Parish Twinning Program of the Americas. "Nothing specific has occurred in the past two weeks that made the existing situation – for PTPA – any worse than it already was."
On July 7, Haitian President Jovenel Moise was shot and killed, and his wife Martine Moise seriously wounded in an attack.
Haitian officials have detained at least 20 people for their role in the attack, including two Americans of Haitian descent and a Florida-based doctor, Christian Emmanuel Sanon, who was described as a central figure in the case.
The attack pushed the country into uncertainty as various factions jockeyed for position in forming a new government.
"The good news is that we have been able to sustain communications with our people" in Haiti, said Patterson.
Her organization, headquartered in Nashville, pairs Catholic parishes and congregations of other denominations with parishes in Haiti, South America, Central America and the Caribbean to provide financial and other support. The program has 285 U.S.-based congregations twinned with parishes in Haiti with another 39 twinned with parishes in Mexico, El Salvador, Guatemala, Honduras, Nicaragua, Colombia, Ecuador, Peru, Jamaica and Puerto Rico.
"All of our aid comes directly from private individuals and churches," Patterson said. "Right now, we have 29 from the Diocese of Nashville, and while most are quarterly, some others are monthly."
The poorest country in the Western Hemisphere, Haiti has a population of 11,541,685, but 59 percent of its people live in poverty and 24 percent of those people suffer in extreme conditions.
The U.S. congregations affiliated with the Parish Twinning Program provide crucial support to the people of Haiti, helping to pay for schools and medical care. In the past, parish groups from the U.S. frequently made mission trips to Haiti, staying at Parish Twinning Program's Matthew 25 guest house in Port-au-Prince on their way to their twinned parish.
As the number of mission trips has dwindled in recent years, "we have also reduced staffing at our Matthew 25 guest house," said Patterson, a parishioner at St. Henry Church in Nashville.
The facility normally sees some 2,200 people pass through its doors each year, but Patterson noted that "we've had to let most of the staff go, operating with just security guards and our program coordinator."
President Moise's killing was another in a long line of problems facing Haiti. "The unrest here has been going on for two and a half to three years," said Patterson. "First it was with demonstrations that turned violent, and then the gangs, which are rampant in several neighborhoods and fighting for territory."
The problems have led to fewer mission trips to the country. "No one has any interest in going down there (to the capital) either," Patterson said. "I am not aware of any missions scheduled to go down to Haiti, and none have gone due to the gangs, violence and kidnappings."
The country's problems have affected the Parish Twinning Program's sister organization, the Visitation Hospital Foundation, which operates Visitation Clinic in Petite Riviere de Nippes in southwest Haiti.
The clinic was founded on the Catholic principle of treating people with dignity and respect, something that, Fran Rajotte-Myers, Visitation Hospital Foundation board president, acknowledged, "is not always the case with other institutions in this country." 
"Our clinic administrator, Franz Michel, and our pharmacist Evans Orange, have been buying medicines every two months via email sent to various laboratories, because of the difficulty in going to Port-au-Prince."
"Our PTPA liaison, Bertony Domond, brings them to the clinic by a route through the mountains above Port-au-Prince to avoid the gangs," Rajotte-Myers said. 
The clinic, which sees about 1,000 patients a month, has not yet been affected by the coronavirus pandemic. "The clinic is not treating any COVID patients currently, but it is just a matter of time," Rajotte-Myers said. 
The Biden Administration sent 500,000 doses of the COVID vaccine to Haiti, "but we are not sure how they (the Haitian government) will handle distribution," she said.
"Five hundred thousand doses will not go far in a population of 11,541,685," Rajotte-Myers said.
The clinic needs financial support, Rajotte-Myers said. "Ninety percent of every dollar we receive goes directly to the clinic from (the Visitation Hospital Foundation's) bank to theirs, with complete U.S. oversight," she said. "We know how every penny is spent. No government hands process the donations in any way." 
The Visitation foundation has been in existence since March 1999. It is located at 237 Old Hickory Boulevard, Suite 100, Nashville, TN, 37221. Online donations are also accepted at www.visitationhospital.org or by emailing developmentdirector@visitationhospital.org.