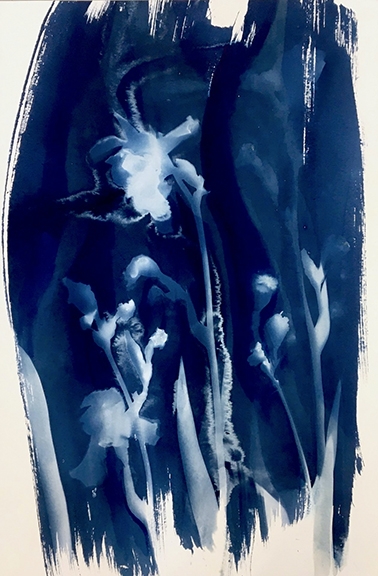 The newest exhibit at the Frist Art Museum, entitled Nashville Art Teachers: Beyond the Classroom, features artwork from 33 art teachers at schools across Davidson County, including those of Colleen McCormick Metzger, formerly of Overbrook School and now of St. Matthew School in Franklin, and Marty Welsh of St. Edward School.
"I was elated, as I knew there were going to be many entries by some incredibly talented artists," Metzger said of her reaction when she found out her art was chosen. "I have been working very hard the past few years to be consistent and dedicated to my own art practice again."
"I was pleasantly surprised and excited to see the work of the other teachers included in the show," Welsh added.
The exhibit opened March 4 and will continue through Aug. 28. The 33 pieces were chosen from 318 submissions by 85 teachers, said Shaun Giles, exhibition curator and Frist Art Museum community engagement director.
The exhibit "salutes the heroic efforts of teachers during the challenging circumstances of the COVID-19 pandemic," and "showcases artists who are skilled in diverse media and emphasize a variety of themes," according to the Frist Art Museum website. "These artists share their observations, perceptions of the world around them, and personal stories through their art."
The artwork
Metzger's piece in the exhibit, Rainbow Iris, is a 2021 cyanotype using water, pigment and iris essence on archival paper mounted on a wood panel. Cyanotype is a photographic printing process that produces a cyan-blue print.
"I fell in love with the process of cyanotype three years ago when I was awarded a full tuition Educator's Scholarship to attend a week-long workshop" at Shakerag Workshops at St. Andrew's Sewanee School in Sewanee, Tennessee, Metzger said. "The workshop, along with the inspiration of teaching artist Christel Dillbohner, a week in a beautiful environment with other artists, and the exposure to this approach to image making, was exactly what I needed.  
"I truly believe in this kind of professional development to stay inspired, learn new techniques and approaches to education or your areas of expertise as well as modeling lifelong learning for our students," she said. "I have been making cyanotypes ever since and continue to build my body of work and professional experience. I have begun mixing other media with cyanotype and find the process very exciting with unending possibilities."
Metzger created Rainbow Iris during the 2021 Easter season, "knowing the historical symbolism of the Iris in Greek, Roman, Christian and Catholic traditions," Metzger said. "I feel a deep spiritual connection to the land and God's beauty when I am working with cyanotype outdoors. In the case of (Rainbow Iris), I used locally grown Iris, the sun, wind, earth, sky, water and handmade artisan paper in my backyard.
"When I sprayed water on this piece to stop the photographic processing, a rainbow of light appeared and layered on the opaque petals," she explained. "Hence, the partial reason for the title of the piece.
"I feel like the process of making each piece is a spiritual act and transports me beyond self. It is like witnessing God in someone else," Metzger added. "Eyes are the windows to the soul and nature is a constant reminder of the wonder, awe, miracles and experiencing the divine in the everyday."
Giles said Rainbow Iris was an "excellent selection" for the exhibit.
"The work reflects the artist's creativity as well as her understanding of the technical aspects of the cyanotype process," Giles said. "The indigo and white create a striking contrast, and there is an ethereal beauty to the work. This is a well-executed composition that awakens the viewer's curiosity."
Welsh's piece, Portrait of Richard, is an oil portrait of her husband, Richard Greathouse, and was painted in 2018 shortly before they were married.
"For this piece, I used the sight-size method, where the subject is painted from life at a 1:1 ratio on the canvas," Welsh explained. "I wanted to capture him at that moment in our lives but looking towards the future. It was also a nice excuse to spend time with him, since painting from life is fairly time intensive," she added, noting that it took roughly 15-20 hours to complete.
"It's a simple and personal painting for me. It's not meant to make any grand statement, but I hope it can inspire the viewer to slow down and appreciate the presence of both the painting and the people around them," she added. "For me, artwork is a remnant of the artist's gratitude for existence, so I hope some of that is conveyed to the viewers."
"I am sure this beautifully rendered portrait stood out to jurors for its high quality," Giles said.
The artistic journey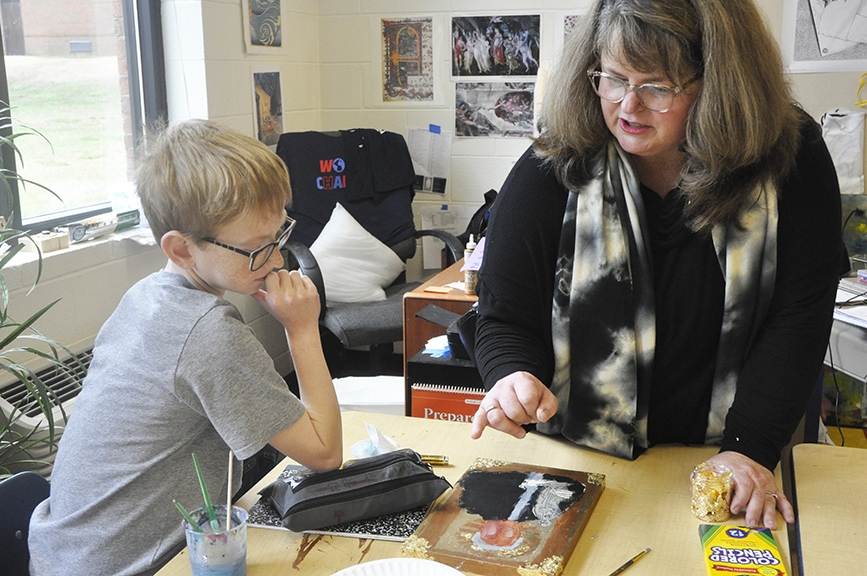 Metzger, who grew up in Williamson County Public Schools, attended Father Ryan High School as a freshman and attended St. Philip Church in Franklin with her family, said that, while her interest in art began at a young age, she didn't take a formal art class until she was a senior in high school at Bishop Verot Catholic High School in Fort Myers, Florida, where her family moved to for three years. 
At the time, "I was actually more interested in winning the soccer award than the art award; however, God began leading the path to my future that year when I won the Art Award, the Creative Writing Award, and the Best Christian Attitude Award," Metzger explained. "When I entered college (at Converse College in South Carolina), I wanted to double major in Art and Psychology or Art and English, but soon the studio classes rose to the top, and I compared it to the likes of falling in love. I had found my passion and won most of the major Art Awards in the department and shows. "
Metzger further went on to eventually receive a Master of Fine Arts from the University of Arts in Philadelphia.
"I have been lucky to spend the last 31 years since my freshman year in college doing what I love. Not everyone can say that," she added. "I am very fortunate and grateful to all the artists, art professors, colleagues, students and creative people that have inspired me and walked with me over the years. So many people contribute to one becoming who we are meant to be."
Welsh, who is a parishioner of St. Edward Church and also regularly attends Mass at the Cathedral of the Incarnation, also found that her interest in art started at a young age.
"As a kid, I loved making art and watching Bob Ross," Welsh said. "On family trips, my parents always took us to churches and art museums.
"I feel lucky that, as a Catholic, art is baked into our culture," she added. "You can't study art history without learning Church history as well."
But her love of art didn't mean she initially intended to pursue it as a career, Welsh said.
"For my undergraduate degree from the University of Dallas, I studied biology and had a language concentration in French, but I always took art classes as well," Welsh explained. "After my bachelor's, I decided to move to Florence, Italy, to study at The Florence Academy of Art, and I graduated from the three-year program in classical drawing and painting and worked there for two years as an instructor.
"I still teach with the Florence Academy of Art as an adjunct professor and teaching fellow for their (Master of Arts) program during the summers," she added. "I'm happy to say that after teaching at St. Edward, I've taught art at every level from preschool through graduate students to professional artists. I'm constantly learning more about how students understand and respond to art. The pedagogy of art is a fascinating field with lots of room for growth."
The next generation of artists
While Metzger and Welsh were already artists in their own right, it's their work as art teachers that allowed them to submit art to the exhibit and is their own chance to inspire the next generation of artists.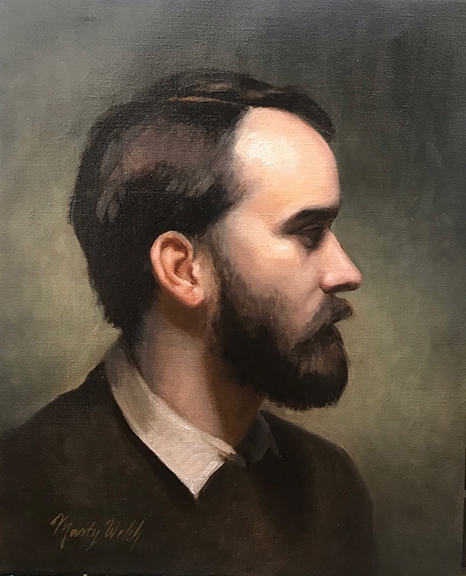 Metzger has taught at several schools in the diocese including St. Cecilia Academy, Father Ryan High School, Pope John Paul II Preparatory School, St. John Vianney School, Christ the King School and Overbrook School. These schools, as well as teaching positions at others including Austin Peay State University, Watkins College of Art and Design, and Belmont University, have led to more than 25 years of teaching experience.
"There are always ways to go back and improve or rework an area, but oftentimes, less is more. Art takes time, dedication, focus, perseverance," Metzger said of what she hopes her students learn. "There are ways to approach art in your own unique way or style and still meet the objectives of the assignment. Believe in yourself and trust the process. … The process is as important and sometimes more important than the final product. In the end, you are contributing to your growth as an artist and art appreciator."
Welsh has taught at St. Edward School for the last two years, following a year of teaching at a high school in Antioch after moving to Nashville from Italy.
"I hope (the students) learn that everyone is an artist," Welsh said. "Everyone can learn to draw and paint just as much as everyone can learn how to read and write. Overall, art is about doing things with love. No matter what they choose to do in life, they can do it artistically."
The Frist Art Museum, 919 Broadway, Nashville, is open from 10 a.m. to 5:30 p.m. Thursday through Saturday and 1-5:30 p.m. Sundays.
Tickets are $15 for adults and can be purchased online at fristartmuseum.org. Discounts are available for seniors, military and students when purchased in-person. Children 18 and younger, as well as Frist Art Museum members, get in for free.
For more information, visit fristartmuseum.org.