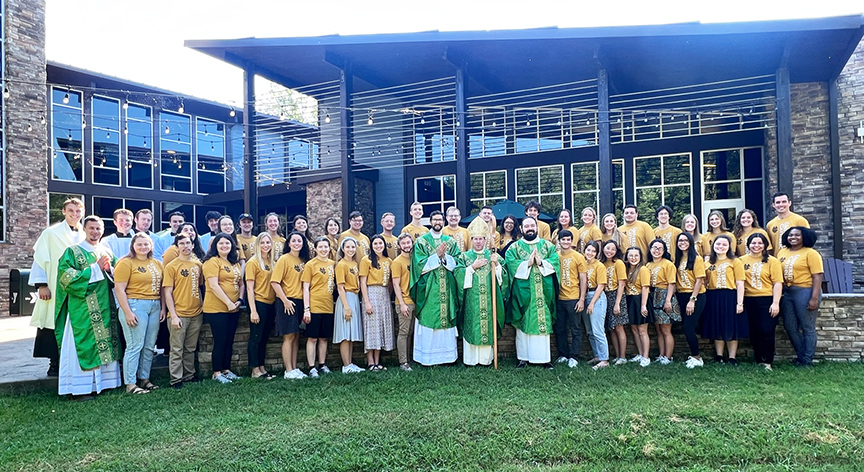 Guided by the goal of "one mission, one branding, one direction," University Catholic implemented a pilot program during the 2021-22 school year to extend its mission "to propose Jesus Christ and form his disciples" to more college campuses in Middle Tennessee.
The success of the pilot has led to the 2022-23 school year beginning with established models at 11 colleges and universities, including Vanderbilt University, Belmont University, Aquinas College, Trevecca Nazarene University, Lipscomb University, and Meharry Medical College in Nashville as well as Middle Tennessee State University in Murfreesboro, Tennessee Tech University in Cookeville, Austin Peay State University in Clarksville, Sewanee: The University of the South in Sewanee, and Cumberland University in Lebanon.
And now, it's taking yet another step as it becomes a diocesan-wide initiative to implement the University Catholic model in all universities and colleges throughout Middle Tennessee.
"What began at Vanderbilt University in 2006 and has grown to encompass all Nashville area colleges will now expand to every end of the Diocese of Nashville," according to the University Catholic website. "Students will have easy access to the sacraments and local opportunities to grow in their faith and build a strong Catholic community while in college. They will also have opportunities to join with other Catholic college students throughout Middle Tennessee for retreats, pilgrimages and service opportunities."
The first step in the growth of University Catholic began with the announcement of new priest assignments by Bishop J. Mark Spalding in May, which included appointing Father Gervan Menezes, former chaplain of University Catholic/Nashville, as diocesan director of Campus Ministries. Father Menezes will serve as the common direct contact for all schools implementing the University Catholic model.
"UCat has a 16-year tried and true model, and my new job will be to ensure one mission, one branding and one direction of proposing Jesus Christ and forming His disciples throughout many campuses," Father Menezes said.
The first step in sharing that model is to "give the schools the backbone of the ministry" by teaching them the four dimensions – spiritual, human, intellectual and apostolic, Father Menezes said.
The spiritual dimension includes Mass, adoration and retreats.
The human dimension includes hospitality, friendship, parties and other social gatherings. Several intramural sports teams are available for students to join including soccer, softball and volleyball.
The intellectual dimension includes groups for vocation discernment for men and women, Bible studies, an understanding of what Catholics believe and why, and more.
The apostolic dimension focuses on service, works of mercy and evangelization through groups like the Knights of Columbus, the March for Life pilgrimage, and mission trips.
By starting each program with these four principal dimensions, "we're all in this together. Each ministry, especially the smaller schools, no longer have to worry about knowing what to do or not having support," Father Menezes said.
Once those dimensions are implemented, each school is then encouraged to tailor the program to best meet the needs of its students. "It's not a one-size fits all, and we don't want that to be the case," Father Menezes said. "Take the idea, take the core of this, and then apply what you need to do on your own."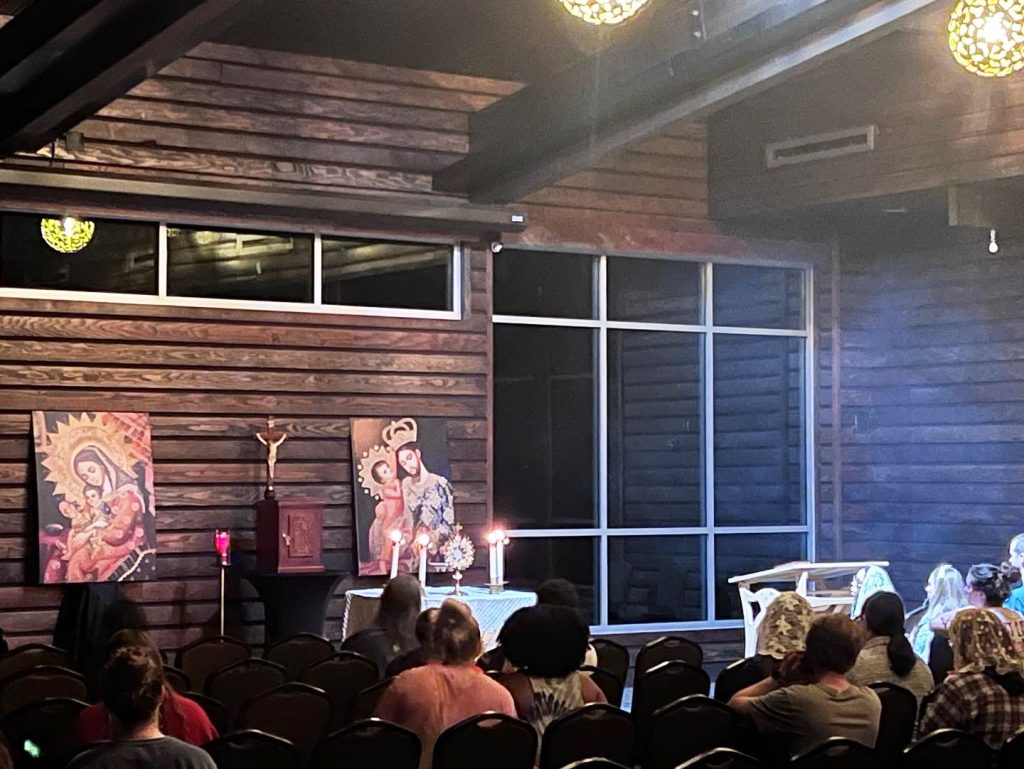 Several of the universities are already taking those steps to reach students at their schools in their own unique ways.
One of the newest schools to implement the University Catholic model, Sewanee: University of the South, already has about 70 students interested in participating, said University Catholic President Will Stacey.
The group plans to ease into the program with the basics, Stacey said, beginning with Sunday Mass at 5 p.m. at the Chapel of the Apostles on campus, daily rosaries and weekly Bible studies. Eventually, they hope to have an event relating to one of the four dimensions each month, and as they get more established, grow it even more to have an event for each of the dimensions every month, he said.
"By being a part of University Catholic, I have been able to find people to pray with and be great friends with," said Stacey, a Father Ryan High School graduate. "Last semester, I would pray a rosary with a couple of friends and then go have lunch with them. I am very thankful for that time of prayer and fellowship. I am also very grateful to have found people with whom I can share my love of the sacraments.
"University Catholic is a community of people who love God and love each other," Stacey added. "There are people from most all campus organizations who are a part of University Catholic. Being a part of University Catholic gives people an opportunity to grow closer to God and grow closer to their peers.
"It is incredibly smart for the diocese to try to implement the University Catholic model at all colleges/universities in the area," he said. "Since University Catholic has been around for 17 years, they have been able to figure out what works and what doesn't work.
"Also, there are many ways University Catholic can help a campus take care of small logistical items," Stacey said. "For example, instead of students trying to figure out how to design a worship aid and select music for a Mass, University Catholic can create the worship aid and send it to all UCat schools. It is extremely beneficial to have the wisdom and guidance of people who are trained to do ministry."
At the founding school of Vanderbilt, the group, made up of nearly 100 active members, hosts at least one event per month to correspond with each of the four dimensions, explained Bridget Hall, president of University Catholic at Vanderbilt. Events include things such as an annual 5K for the human dimension; adoration and Stations of the Cross for the spiritual dimension; talks and discussions with guest speakers for the intellectual dimension; and service opportunities for the apostolic dimension.
"University Catholic has completely re-shaped my college experience in the most beautiful way. Through UCat, I have found my very best friends, my home away from home … and most importantly, my identity as a beloved daughter of Christ," Hall said. "I remember being completely overwhelmed by how welcomed and loved I felt at my first Awakening, and this outpouring of kindness has consistently been a part of each encounter I have with UCat as a community. The consistent programming of events and radical availability of the Eucharist has allowed me to come to Christ again and again, and to always have the support, love and friendship of my community.
"This expansion of University Catholic will help the Diocese of Nashville to grow as a hotspot for young Catholics, allowing college students to find vibrant faith communities in their campuses," she added. "If you are looking for an authentic, energetic, and welcoming faith community, UCat is the place for you. We are here to help you learn, grow and live life in community with other Catholic college students."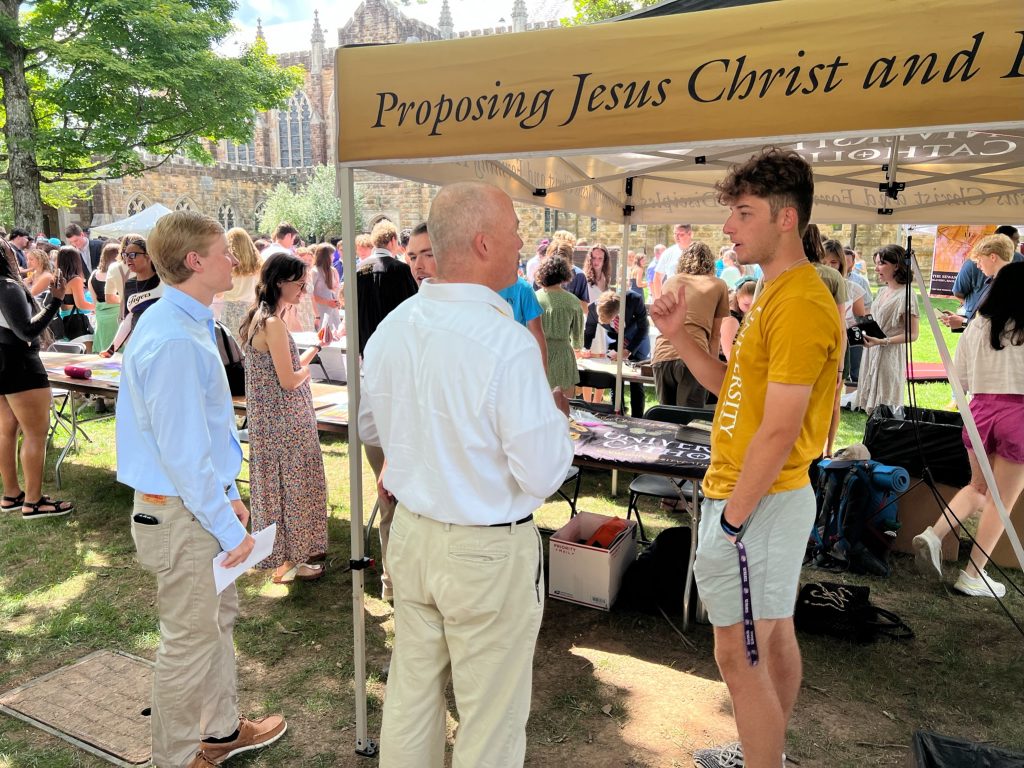 As University Catholic continues its growth and expansion, Father Menezes said its purpose ultimately is to ensure the future of the Church, and community support is a big part of that goal.
"Doing nothing or simply maintaining the status quo would have a devastating impact on our Church for generations to come," he said. "Our young people are the Church. We must actively engage them, continue to form them into faithful followers of Christ, and equip them to bring the Good News to their peers.
"As we continue this big new era at University Catholic, I ask you to please continue to pray for us," he said. "May the Lord send his Holy Spirit upon us so we can go out and proclaim the Good News."
Along with the implementation of the University Catholic model in as many colleges and universities in Middle Tennessee as possible, Father Menezes said the goal is to eventually have a chaplain assigned to each campus. As of now, along with Father Menezes, Father Rhodes Bolster is serving as chaplain of University Catholic/Nashville. Additionally, FOCUS Missionaries (Fellowship of Catholic University Students) will be implemented at more schools. Along with those at Belmont and Vanderbilt, Middle Tennessee State University has also begun implementing FOCUS Missionaries in their program.
For more information, email Father Menezes at frgervan@universitycatholic.org or visit universitycatholic.org.