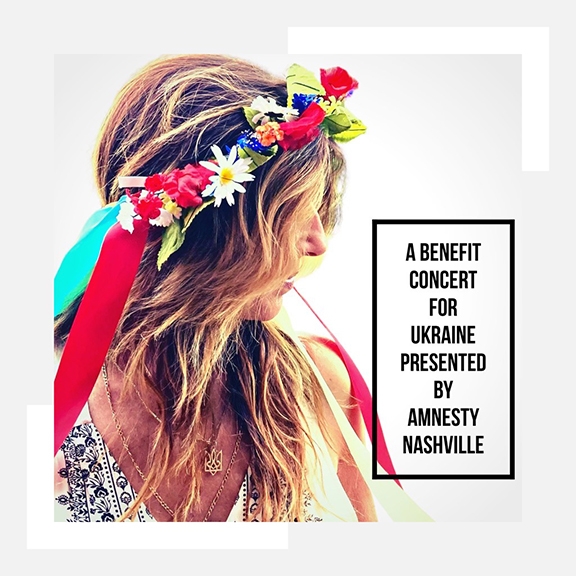 Sonia Cavolo, a parishioner of St. Matthew Church in Franklin, said she would do anything to help her fellow Ukrainians. So, when her friend told her about an upcoming fundraising event to raise money for Ukraine, she didn't hesitate to reach out to Amnesty Nashville, the local sponsoring organization under Amnesty International.
"I reached out to (Amnesty Nashville) and said, 'I'm 100 percent Ukrainian, and if I can help in any way, I'll do anything I can,'" Cavolo recalled. "They were excited that I reached out to them, and they invited me to sing."
Cavolo, known in the music industry as Sonia Lee, will join several artists for A Benefit Concert for Ukraine presented by Amnesty Nashville from 7:30-9 p.m. Sunday, May 29, at 1600 Riverside Drive, Nashville, TN 37216. Doors open at 7 p.m.
"The set list will feature a variety of Ukrainian music, Georgian and Appalachian folk songs, as well as original pieces by the performing artists," according to the event website. "All proceeds will help defend the human rights of at-risk Ukrainians via Amnesty International's Ukraine Crisis Fund, as well as help to provide humanitarian assistance in Ukraine through World Central Kitchen."
Amnesty International, which began in 1961, "is a global movement of millions of people demanding human rights for all people – no matter who they are or where they are. We are the world's largest grassroots human rights organization," according to the Amnesty International website.
World Central Kitchen, which began in 2010, "is first to the frontlines, providing meals in response to humanitarian, climate and community crises," according to the World Central Kitchen website. "We build resilient food systems with locally led solutions."
The event will also include a raffle, petitions to sign, and more.
Although Cavolo grew up in Rochester, New York, with her parents and her brother Andy, her Ukrainian parents, Roman and Nadia Tratch, made a point to immerse them in Ukrainian culture, having come from the western part of Ukraine near the Karpathian Mountains. Cavolo grew up attending Ukrainian School on the weekends, Ukrainian Scouts, learned Ukrainian folk dancing and embroidery, and how to make Ukrainian Easter eggs.
When she moved to Nashville to pursue a career in singing and songwriting, she met her husband, Chris Cavolo, who encouraged her to make a Ukrainian album while her parents were still alive, so they could hear it.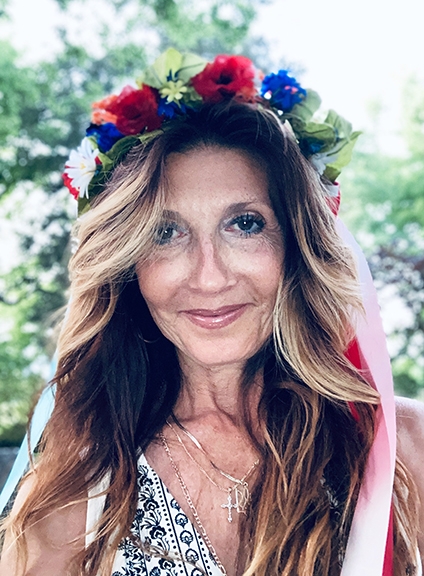 "It was a good concept to do it when they can still appreciate it," she said, completing her Ukrainian album, From the Heart, in April 2005. "As a result (of the album), I started singing at Ukrainian festivals all over the country."
To further spread her desire to help her fellow Ukrainians, Cavolo said she'll be giving away signed copies of her CD to all those who donate $50 or more to the fundraiser.
"I'm just grateful to be able to do whatever little bit I can do," Cavolo said. "It means a lot to me because, all my life, I grew up passionate about my heritage. … I care very much about Ukraine because I've been so immersed in the Ukrainian culture all of my life and still have friends and family there. It really breaks my heart that they always seem to be fighting for their independence. … They get it for a while and then have to fight for it again. It's just not right.
"Every little bit helps and to continue to raise awareness and to let people hear a little bit of the beautiful music" is a great thing, she said. "It's such a beautiful, rich culture, and I'm just really excited to share it."
Tickets are on a sliding scale basis of $10, $25 or $50 per person to make the event accessible for all. Seating is on a first-come, first-serve basis. Unvaccinated guests are asked to wear a mask to stop the spread of COVID-19. Anyone with a fever, cough, chills, runny nose or has been exposed to or tested positive for COVID-19, is asked to remain home.
For more information about the event and to purchase tickets, visit https://www.zeffy.com/en-US/ticketing/da8f2ba1-01a7-4e8c-bca1-4f28a0601cb5.