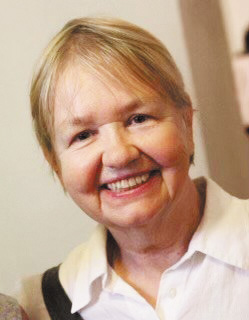 Veronica Strobel-Seigenthaler, the sister of Father Charles Strobel, died on Jan. 1, 2022, her 83rd birthday following sudden heart failure.
She was remembered as "a profoundly loved mother, grandmother, sister, friend and teacher."
A Mass of Christian Burial was celebrated at the Cathedral of the Incarnation on Wednesday, Jan. 5.
Mrs. Strobel-Seigenthaler was born and spent her entire life in Nashville. She descended from German and Irish immigrants and relished her childhood in historic Germantown, within steps of the Church of the Assumption in a close and loving community of family, neighbors and friends.
When she was a tiny child, her beloved father, Martin Strobel, called her "Boo Boo," which became her distinctive nickname throughout her life. It was during her childhood that Mrs. Strobel-Seigenthaler developed her passions for classical music, playing the piano, and singing, which delighted and sustained her throughout her life.
Mrs. Strobel-Seigenthaler graduated from St. Cecilia Academy and attended St. Catharine College in Kentucky before receiving her bachelor's degree from Peabody College beginning her lifelong career as an educator, which included establishing her own kindergarten in her home in the early 1960s.
She began teaching piano at St. Cecilia Academy in the 1970s, positively influencing the lives of young children throughout Nashville for more than 30 years. In 2013, St. Cecilia Academy recognized her as its Distinguished Alumna for her devotion to the school and its students.
In 1961, Veronica married Tom Seigenthaler, also a native of Nashville. Remarkably, Tom had been born just two days before Veronica and claimed that he first spied her in the baby nursery at Saint Thomas Hospital.
This early bond cemented them through a shared love of their large and often boisterous extended families; fascinating friends from all walks of life; ceaseless art and music, travel and adventure. Together they created a lively, welcoming home. On countless nights, Veronica and Tom had a revolving door of neighbors and friends who stopped in for storytelling, laughter, singing, political debates, and games of backgammon that usually lingered well past midnight.
Employing her professional teaching skills, she fostered each of her children's unique talents and passions, going to any length to support their every ambition, hobby or interest. Later in life, Mrs. Strobel-Seigenthaler conferred this same degree of fierce devotion to her 11 grandchildren, shepherding them to ballet and music lessons with snacks in tow, and attending their plays, concerts, sports and school events whether close to home or out of state.
Following her husband's death in 2004, Mrs. Strobel-Seigenthaler retired from teaching and continued to pursue her many interests, including genealogy; historic preservation; recycling; wildflowers and gardening; "the feast days of every possible known saint; and all creatures great and small, including mutts, cats, rabbits and, most especially, border collies," recalled her family. "She remembered every birthday and kept every wedding invitation, program or newspaper clipping that made even passing mention of a relative, a friend, a friend of a relative or a relative of a friend. She also was an unapologetic 'yellow dog' Democrat who daily read the newspaper from front to back."
"Veronica was always happy to see you," remembered her family. "She had a quick smile and a long laugh, was affectionate and kind, loved everyone and had an uncanny ability to find uncommon links between people. Her signature traits were her innate confidence and her remarkable determination. Even during times of enormous strife, Veronica's steely will helped her and others persevere.
"Veronica Strobel-Seigenthaler will be remembered by her family and friends for her inimitable spark coupled with a relentless drive to give her all to her family and friends."
She was preceded in death by her parents, Martin George and Mary Catherine Schweiss Strobel; her husband, Thomas Patrick Seigenthaler; and her granddaughter Mary Catherine Strobel Hayes.
Survivors include her daughters, Katherine (Matt Hayes) Seigenthaler, Elizabeth (Richard) Courtney, Amy (Tim Pierce) Seigenthaler, and Maria (Steve Roses) Seigenthaler; her brothers Martin Jerome "Jerry" and Father Charles Strobel; her sister Alice Strobel (Robert) Eadler; grandchildren Marcella Hayes (Connor Ferguson), Thomas and George Hayes; Adeline and Thomas Courtney; Veronica, Mary Alice and Francis Pierce; and Annabelle and Julia Roses; her beloved Seigenthaler in-laws, nieces and nephews, and cousins.
Memorial contributions can be made to Room in the Inn, Misericordia Heart of Mercy and St. Cecilia Academy.
Marshall Donnelly Combs Funeral Home was in charge of arrangements.