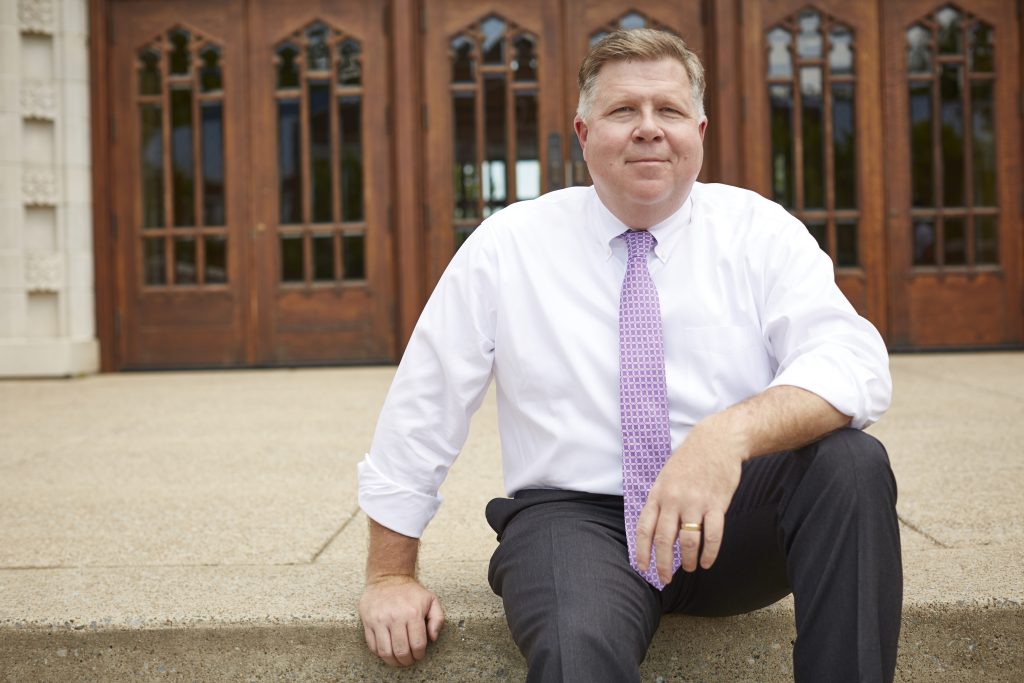 Father Ryan High School President Jim McIntyre will step down at the end of the academic year to become the new president of Lake Highland Preparatory School in Orlando, Florida.
Bill Stejskal, chairman of the Father Ryan Board of Trustees, said McIntyre will continue to lead Father Ryan through the completion of this school year before taking his new position at Lake Highland Prep, an independent private school serving 2,000 students from pre-K to 12th grade. He said a process is underway to identify McIntyre's successor.
"Jim has been a strong advocate for Catholic education and a steady hand at the wheel building Father Ryan High School into a premiere institution," said Nashville Bishop J. Mark Spalding. "I thank him for his dedication and faithful leadership, and I wish him well with this new opportunity."
Stejskal congratulated McIntyre and thanked him for his work on behalf of Father Ryan High School.
"Since coming to Father Ryan in 2005, Jim and his team have led the school in an outstanding manner," Stejskal said. "They have advanced the mission of this school significantly in fundraising, enrollment, academics, alumni engagement, and physical plant expansion, all with the foundation of our Catholic identity and all with a focus on our students, our faculty and staff, and our unique Irish community.
"We are saddened that Jim will be leaving us, but we know that the school is in excellent shape and well prepared to continue its work to form lives of excellence in the Catholic tradition," Stejskal added. "We thank Jim for his leadership and his presence. We congratulate him on this outstanding opportunity, and we wish all the best to him, his wife Amy, and the entire McIntyre family."
McIntyre came to Father Ryan High School as principal in 2005 and was named the first president of the school in the fall of 2007. During his tenure, the school expanded its campus, increased its enrollment, raised more than $40 million, and received regional and national recognition for its programs, its students, and its distinctive events.
"He brought a deep commitment to education, an understanding of our legacy, strong financial management, and an excitement for Father Ryan's future," Stejskal said of McIntyre in a letter he sent to the Father Ryan community announcing McIntyre's pending departure. "With that combination, and his and the school's strong Catholic faith tradition, Jim has led an era at Father Ryan that is remarkable in the scope of accomplishment and true to our historic mission.
"Those accomplishments are on display in the first on-campus stadium in school history, an expanding and enhanced curriculum, the introduction of our House System and our STEAM Lab, our investment in technology, and the record amount of scholarships earned by our students," Stejskal said. "They present themselves with each survivors' walk at Relay For Life, with every trip to D.C. to March for Life, in every service trip, and in every Veterans Breakfast. Each has been a significant addition to the campus. Every one of them has made this school better.
"Yet each of those tangible measurements is rooted in something very intangible – Jim's unwavering commitment to the promise Father Ryan School makes to every student, every faculty and staff member, every parent, every alum. You will be known and you will be loved," Stejskal added. "Jim brought together a talented leadership team to complement our caring and gifted faculty and staff, and together they continue to deliver on that promise."
In June, McIntyre will complete 17 years as the head of school at Father Ryan, the longest serving head of school in its history. He thanked the community for its welcome and for its support since his arrival.
"When I was given the opportunity in 2005 to lead this historic Catholic school, I was excited to bring my ideas and energy to this outstanding educational institution and the Irish community," McIntyre said. "However, it was I who received the education. This community has taught me daily about leadership, faith, hope, and love. We are forever grateful to this community for placing its imprint upon our family and for knowing and loving us."
He went on to say, "I have had the privilege of serving alongside outstanding educators and leaders who have made the success of the past 17 years a reality. Working with Principal Paul Davis, Academic Deans Sara Hayes and Jennifer Anton, Chief Financial Officer Connie Steinmetz, Director of Advancement Brooke Reusch, and a caring and talented faculty and staff, we have remained true to our mission to be an experience of the living Gospel, and in the process helped make Father Ryan High School the national standard in Catholic education. I will miss this community greatly, and I will always be thankful to everyone for making me Irish for life."
In a letter to the Father Ryan community, McIntyre wrote: "I have often said that 'Father Ryan' is not a specific group of buildings or on a specific campus. Father Ryan resides in all of us, none more so than our dedicated faculty, staff, and incredible students.
"Today, Father Ryan's mission and traditions are just as vital to our world as they were nearly 100 years ago. There is no group of people better poised to carry that mission forward than our students, faculty, staff, parents, alumni, Board of Trustees, and our leadership team," he added. "Knowing the depth of conversations that have taken place over the last several years, and what remains to be accomplished in the current strategic plan, I firmly believe that Father Ryan's best era will unfold over the next 100 years."
McIntyre came to Father Ryan from Cardinal Newman School in Columbia, South Carolina, where he was principal from 2000 to 2005. Prior to that he was at his alma mater, Bishop Lynch High School in Dallas, Texas, from 1992 to 2000, where he served as a teacher, advisor, and coach before becoming assistant academic dean in 1996.
McIntyre received his bachelor's degree in History from the University of North Texas in 1991 and earned a master's degree in Educational Administration from Texas A&M University-Commerce in 1996. He was a member of the Leadership Nashville Class of 2015 and served as president of the Board of Directors of the Tennessee Association of Independent Schools from 2018 to 2020.
Father Ryan High School, founded in 1925, is a coeducational diocesan Catholic high school serving more than 875 students in grades 9-12. It is one of two diocesan high schools in the Diocese of Nashville.