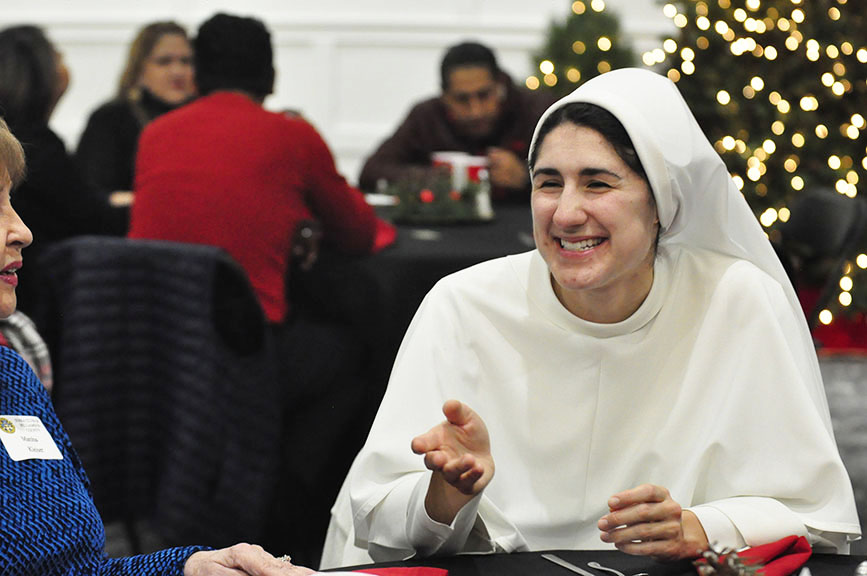 The Serra Club of Nashville hosted seminarians for the Diocese of Nashville and sisters in formation for the Dominican Sisters of St. Cecilia at the annual Vocations In Progress dinner on Tuesday, Dec. 21.
Special guests for the event were members of the board of Serra International, which held a meeting and board retreat in Nashville before the dinner.
"We wanted to do it in conjunction with the VIP event," Serra International President Michael Bragg said of the board's meeting held Monday and Tuesday, Dec. 20-21, at the Catholic Pastoral Center.
"This is what we do, supporting vocations to the priesthood and religious life," Bragg said of Serra International, an international organization dedicated to promoting vocations to the priesthood and religious life.
Local clubs around the world sponsor events similar to the VIP dinner to promote vocations, said Bragg, of Toledo, Ohio. Many are working with their parishes to help young men and women to hear their call, Bragg said. Serra members also serve as prayer warriors, working with vocations directors, bishops and pastors to support men and women in formation, he added.
"We kind of have a dual purpose," Bragg said. Besides promoting vocations, the organization is devoted to helping its members grow in holiness. "Otherwise," he said, "nothing we do on our own will be fruitful."
During the dinner, which was held in the Bishops Hall at the Catholic Pastoral Center and followed Mass at Sagrado Corazon Church, Tripp Guthrie of St. Philip Church in Franklin was presented with the Face of Serra Award, which is given to the top District Governor in the Southeast Region.
Guthrie is the District Governor for Tennessee, which includes clubs in Nashville, Williamson County, Memphis, Chattanooga and Knoxville.
Members of the Serra Club of Nashville also presented a gift to outgoing President Jim Walton, a parishioner at St. Henry Church in Nashville, in recognition of his long years of service to the club.
The Diocese of Nashville has 20 seminarians in formation, including transitional Deacons Nonso Ohanaka and Brent Thayer, who are scheduled to be ordained to the priesthood on Saturday, May 28, 2022, at the Cathedral of the Incarnation.