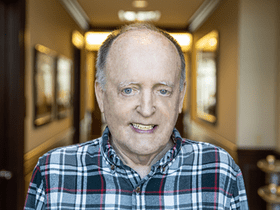 In his 44 years as a teacher at Father Ryan High School, Richard Chambers had the privilege of interacting with students from many different walks of life, including those with learning differences and special needs.
Now, several years after retiring from his teaching career, he has joined the Board of Directors of Springboard Landings, an organization that is working to build a residence specifically geared toward helping high functioning adults with mild disabilities maintain their independence.
One of his former students directly influenced his decision to join the planning committee for Springboard Landings.
Susan Cooper, who is now 46, was diagnosed with encephalitis when she was 5 years old. This left her susceptible to grand mal seizures, which prevented her from having an active social life and going to college.
Her parents, St. Matthew parishioners Pat and Charlie Cooper, are one of the families who came up with the idea to build Springboard Landings. Their son John is also on the Board of Directors.
"Susan's family started Springboard Landings with a goal of creating affordable and supportive housing for individuals with developmental differences who will likely never be able to live independently without some support," Chambers said. "This becomes a very real concern as their parents eventually may become unable to provide assistance to their children.
"I joined Springboard Landings and eventually was asked to accept a position as a member of the board of directors."
Springboard Landings is still in the planning stages, with the committee searching for a suitable piece of land to start construction.
"We have been grass-roots fundraising since 2010 to acquire land in a safe community-centered environment within close distance to shopping, entertainment and employment opportunities," Chambers said. "Our primary focus at this stage is obtaining land and continuing fundraising. We have raised over $2.2 million to date.
"Once we obtain the building site, this will open the door to more grants and help us fulfill our mission," Chambers added.
There are many day programs and group homes in Nashville and nation-wide offered to individuals with more severe disabilities. But there aren't too many places that are a suitable fit for Susan and her peers.
Springboard Landings is geared more for people who are largely capable of caring for themselves, but still need some help with living independently.
When construction is finally complete, it will be a small apartment complex with 12 individual living spaces. There will also be a common area to encourage socialization.
"It wasn't until 2000 when Tennessee passed legislation that finally recognized this population with mild developmental disabilities as having a different set of needs than the population of intellectual disabilities. Prior to that, they were all lumped together," Chambers said.
"All our residents will be expected to have a job or do volunteer work. Some have their driver's license and others user ride share services," he added.
"They're not likely to get ahead financially and are a more vulnerable population," Chambers said. "They may occasionally lack the maturity of judgement to safely make the types of decisions that come with life. Some light supervision and the right environment can help them reach their full potential.
"We're answering their question: What happens when my parents are no longer available?" Chambers said.
"In terms of programming, our goal is building affordable housing that encourages socialization in a safe environment," he said. "We'll have a resident manager that will be there to guide as needed, but we won't be providing services directly.
"Most importantly, we'll establish a hub that can bring in volunteers and support social services for individuals with the goal of consistently embracing and bringing out the best in our residents," Chambers said.
Chambers thinks it is important for the Catholic Church to care for individuals with special needs and credits his Catholic faith for influencing his involvement with this organization.
"The Catholic Church is the originator of hospitals," he said. "In the fourth century, rather than taking horse and carriage around to individual houses to give last rites and tend to the sick, doctors established a building that housed the sick. This made it more efficient to tend to more people, for families to gather and to bring in services.
"Our vision is similar for Springboard Landings," Chambers said. "But rather than focus on the sick and dying, we're focused on adults with developmental differences living life to its fullest."
Those who are interested in learning more about Springboard Landings and how to support its community can go to springboardlandings.org for more information.