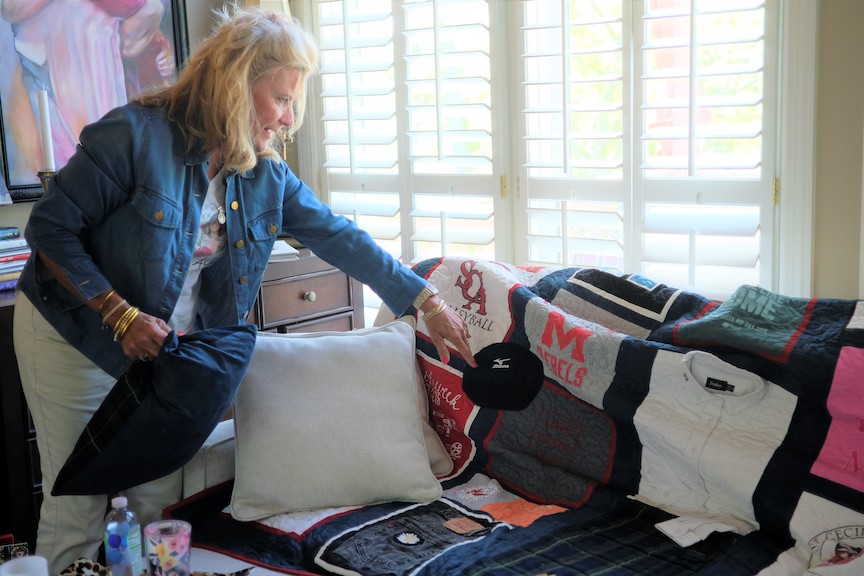 Shortly after midnight on Friday, June 19, 2020, Brad and Gina Miller received the phone call that no parent ever wants to receive. Their 20-year-old daughter, Anna Grace, had been involved in a serious car accident.
Upon finding out that she was transferred to Vanderbilt University Medical Center, the news only got worse when they were told by the doctor that Anna Grace did not survive.
But even in the tragedy and loss, the Millers, who are parishioners of St. Matthew Church in Franklin, said God has granted them the gifts of healing, purpose, and love through the most unexpected bond with the man responsible for their daughter's death – Christopher Dennis.
'Handing our baby girl over to Christ'
By June of 2020, Anna Grace Miller, a 2014 graduate of St. Matthew School in Franklin and a 2018 graduate of St. Cecilia Academy, had just completed her sophomore year at the University of Mississippi, and had started a paid internship with Crowe Consulting, Gina Miller explained. Anna Grace was the youngest of four with two older brothers, Todd and Grant, and one older sister, Katelyn.
Because of the COVID-19 pandemic, Anna Grace had been taking classes remotely and interning at home since March of that year.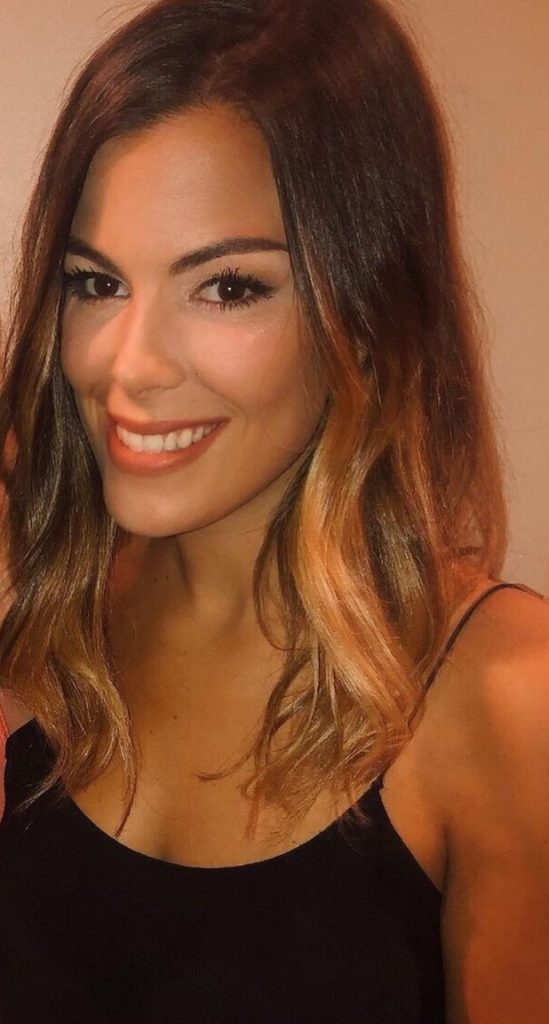 "Looking back, the pandemic was actually a blessing in disguise because she was able to be here every day, and Brad was working from home, too, so we all got quality time with her," Gina Miller said. "It was a gift, those four months."
The night of the accident, Gina Miller said Anna Grace had left to meet a friend at a Bellevue restaurant after receiving her first paycheck from the internship. The accident occurred at the intersection of Highway 100 and Temple Road, less than two miles from their house. At that time of night, Anna Grace sat at blinking red lights, while the other car, driven by Dennis, heading west, had blinking yellow lights.
Surveillance video from the Zaxby's restaurant at the corner revealed that Anna Grace had done everything she was supposed to, stopping at the light, but the other car was coming at a high rate of speed to where Anna Grace didn't have a chance to see it and react before it hit her on the driver's side.
Upon finding out about the accident, which came from their son Grant and not the police, the Millers said they headed to Vanderbilt. On the way, they came upon the site of the accident, which had now been blocked off. After talking to police officers, who confirmed that this is where Anna Grace was and that she was at Vanderbilt, they continued on to the hospital.
"We got to Vanderbilt, but because of COVID, we couldn't go in immediately," Gina Miller said. When they did go in, she said, instead of going to the intensive care unit where she thought, they went into a side room where they were given the news that Anna Grace did not survive.
"It was horrific. I thought, 'I can't believe this. Is this real?'" Gina Miller said. "I said, 'I want to see her. Where is she?'"
Undeterred by the warning that Anna Grace would still be attached to tubes, the Millers went into the room.
"She looked absolutely beautiful, so peaceful," Gina Miller said. "She left with full makeup and that night she had her hair back in a ponytail, which was unusual because she usually wore it down, and there was not a single scratch on her precious face."
That night, Father Mark Beckman, former pastor of St. Matthew Church, and Father Mark Sappenfield, then-pastor of St. Matthew Church, met them at the hospital to deliver last rites.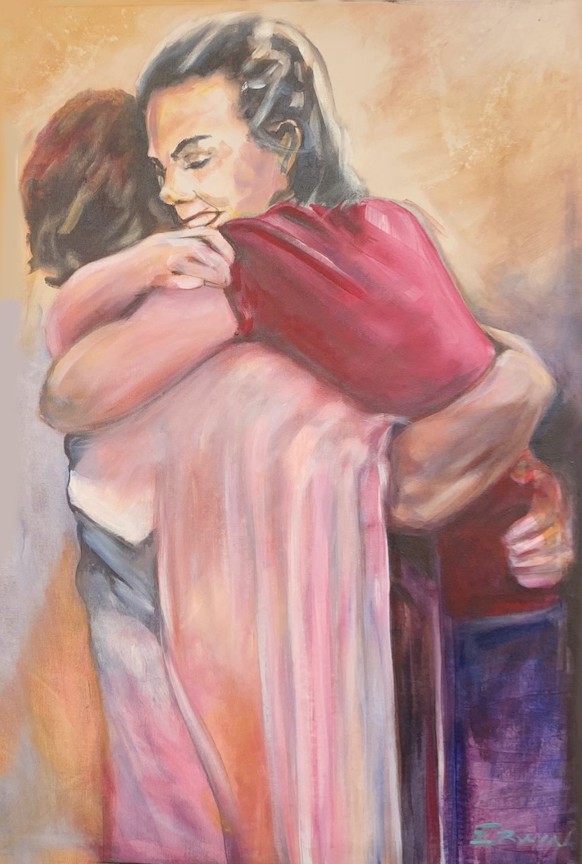 "We prayed, sang, laughed, and cried," Gina Miller said. "It was like we were handing our baby girl over to Christ. It was the hardest moment yet the most beautiful moment because she was at peace.
"We stayed all night long, and it was just beautiful," she continued, noting how they sang "Kumbaya" at the request of her son, Grant, and "Amazing Grace."
The beauty in the wake of tragedy only continued as plans for the visitation and funeral were made, the Millers said. The visitation was held at the Pavilion At Harpeth Hills Memory Garden in Nashville.
"All the sisters (from St. Cecilia) came, and we did a rosary outside," Gina Miller explained. "I wanted an open casket because, as I said, God spared her face, and I wanted young people mainly to see that life is temporary, so don't have regrets and live each day like it's your last."
The funeral was held at St. Matthew Church, concelebrated by Father Beckman, Father Sappenfield, and Father Nick Allen. Burial followed at Harpeth Hills where music was at the center of the moment, once again.
"We waited at the graveside until every last piece of dirt was on the casket," Gina Miller said. "Every single person on that site that could took a rose and put it on the grave, and we sang 'Amazing Grace' for half an hour. It was the start of healing, of peace, of grace, of love, and forgiveness."
'Why not me'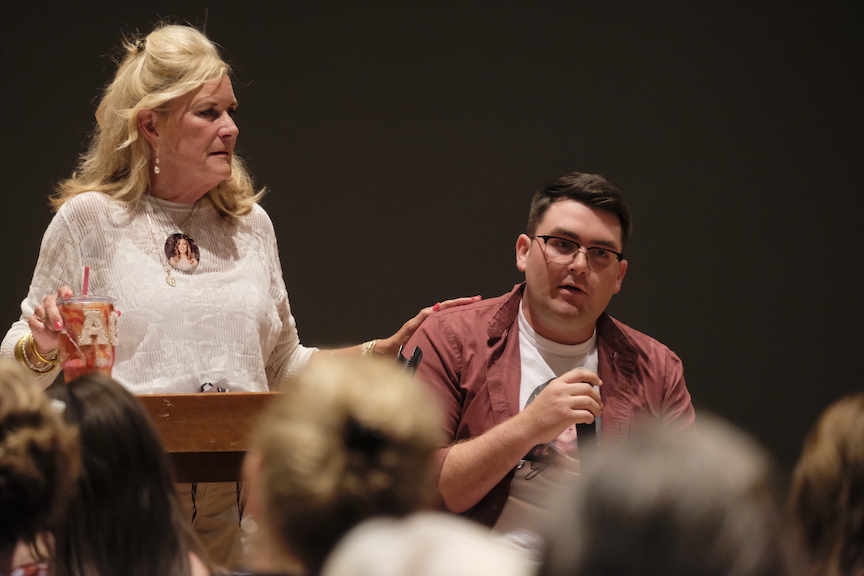 For Christopher Dennis, the lead up to the night of the accident had already been a rocky journey.
"I was born to what people would say is a broken household," Dennis said, noting the earliest memories he had of his parents were of them fighting before his father ultimately left when Dennis was only 7 years old, leaving him, his older brother and younger sister with their mom who had bi-polar disorder.
Things remained rocky for the next year with his mom not very present. Then, when Dennis was 8 years old, he and his siblings moved back in with his father and future stepmom, whose parents would later be the first to introduce Dennis to God.
"They showed me love that I had never felt," Dennis said. "While my mom left us without one word for four years, choosing drugs and random men over us, my father was an alcoholic and workaholic, so we never saw him except on Sundays, but we went to church, and he stayed home."
Fast forward to his graduation from Hillwood High School in Nashville.
"I had developed some bad habits of trying to find comfort in friends and would do whatever they were doing even if I knew it was bad. That is when I started using substances," Dennis explained. But when his cousin died of a heroin overdose in 2018, he said he knew something had to change, and he checked into Hope Center Ministries in Dickson, where he stayed for eight months.
"It is there where I got sober and gave my will and life over to the care of God. I was saved in September of 2018," Dennis said. "There, I left on fire, but kept slipping up in my old ways. I never stopped trying until June 19 of 2020 when I got behind the wheel of someone, I thought, was a friend's car. I was driving too fast because I had never driven a Mercedes.
"I wrecked into the car of Anna Grace Miller at Temple Road and Highway 100. I got out of the car and proceeded to call 911. I ran up to her car, but she was unconscious," he said. "She later died on the way to the hospital. I thought my life was over. I thought, 'Why not me? Why couldn't God have just taken my life?'"
But God had a different plan, turning a story of tragedy into one of redemption.
'God had a seating assignment'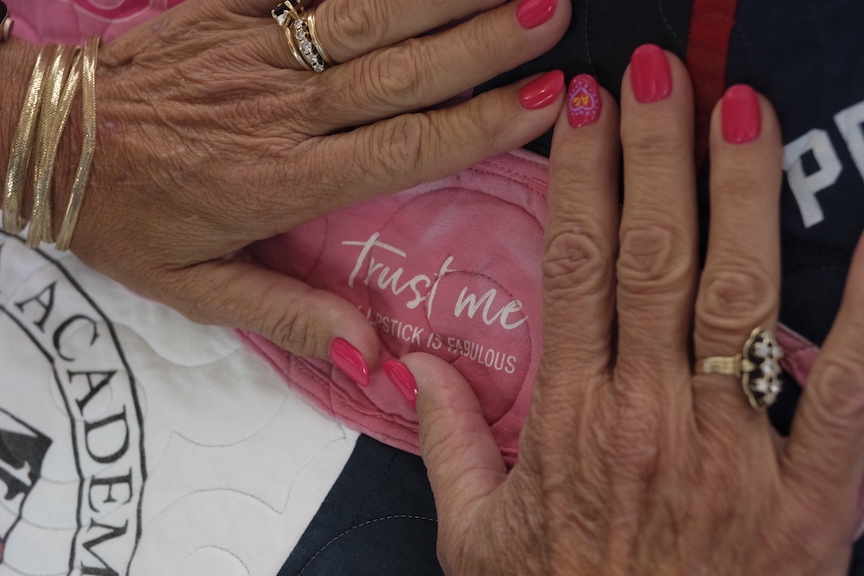 After more than a year of delays because of the COVID-19 pandemic, the first hearing for Dennis after determining his fault in the accident came on Feb. 25, 2022.
Gina Miller said that, before leaving, she grabbed a copy of the bookmark and thank you card they had made, featuring a painting by Jason Erwin depicting Anna Grace's first day in heaven, and asked God for guidance.
"I said, 'Lord, guide me to whoever you want me to give this to. If you want me to meet Christopher face-to-face, give me the words and let the Holy Spirit be with us,'" Gina Miller recalled.
As it turned out, "God had a seating assignment that day," she continued, noting how she felt a warmth behind her where Dennis sat. Upon being made aware that it was him, she didn't hesitate to turn around.
"I turned around and said, 'Christopher, I'm Gina Miller, Anna Grace's mother.' And this young man just starts sobbing. I start sobbing. Brad starts sobbing. And I said, 'I just want you to know that we've forgiven you,'" she said.
"He kept saying, 'I'm so sorry. I wish it had been me.' I said, 'I know. This day is going to be one of the hardest days of your life. But it's going to be the most important day of your life. You've got to tell the truth,'" Gina Miller continued, noting that fear had initially led Dennis to lie about what happened that night. The surveillance footage revealed the truth and led to his arrest for vehicular homicide in August 2020.
"I told him, 'Anna Grace is good. She is complete, and she is in heaven. I know you didn't wake up that morning saying, 'I'm going to drive a car too fast and kill somebody,'" she recalled telling him.
Then, pulling out the bookmark and thank you card, she continued. "'I asked God to put you somewhere, so I could talk to you, and I want you to have this.'"
"It was the most beautiful moment ever," she concluded.
Dennis said he will always remember that moment.
"We just cried together, and it meant a lot to me for her to say those things," Dennis said. "I still just felt so bad, and I didn't want her forgiveness for a very long time because I felt I didn't deserve it."
Thinking about his young son, "It opened my eyes more. I don't know if I could forgive someone if I was in their shoes talking to the person responsible for the death of my child," he said. "That showed me what being a Christian truly meant because that's how Christians are truly supposed to act."
Then, referring to the thank you card and bookmark, which he kept in his pocket during the hearing, "I still carry it. It's in my car every day, so I have access to it. It meant a lot to me because normally, in a situation like this, people will write you off, but they were including me and letting me know they cared and making it more personal."
Giving 'full forgiveness'
The Millers didn't just let Dennis know that they forgave him privately, but they forgave him publicly one year later at the final hearing on Jan. 25, 2023, as they delivered their victim's advocate statement.
During which Gina Miller said, "Christopher, when we met last year, here in this courtroom, you were very transparent, vulnerable, and remorseful. I saw your heart. It is by God's grace and mercy that we have in our hearts, for you, full forgiveness," she said. "Christopher, you too are an amazing young man, son, father, and friend. We pray you have learned from this mistake and that your future is full of hope. We pray that you always seek the truth and have the courage to make a difference in this world by God's amazing grace."
Brad Miller followed up his wife's words with the reading of the St. Francis prayer. By the end, she said everyone, including the judge, was in tears.
"She said, 'I haven't been a judge for very long, but I've been in this courtroom most of my whole life,' and she said, 'To experience this forgiveness and truth and healing and peace and grace is unbelievable,'" Gina Miller recalled. "'I want to thank you for that gift because you don't get much of that in this room. Chris, I hope you realize the gift they're giving you and take that and do something wonderful with it.'"
And Dennis is.
Community talks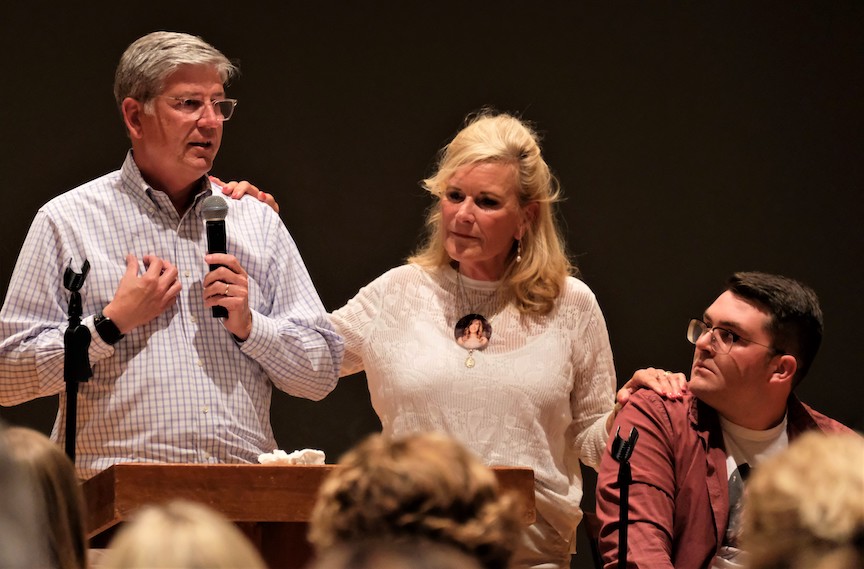 Upon receiving a sentence of three years probation after the Millers requested that he receive no jail time, part of Dennis' community service is to join Gina Miller for talks around the Diocese of Nashville, the first of which was given to Father Ryan High School juniors during their March retreat at the Catholic Pastoral Center.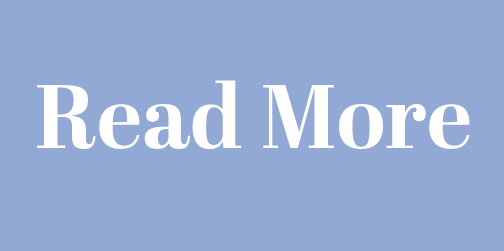 "We want Anna Grace's legacy to live on and her love for people to live on, but also for people to know that forgiveness and giving grace and mercy is just so important," Gina Miller said of the purpose of the talks.
"It's scary and it's still scary, and I'm nervous about doing this stuff," Dennis added. "Every fiber of my being wants to turn these speaking engagements down, but in the long-term, it's good."
Noting his broken childhood, "I wanted to be the one, if I was sitting in that crowd coming from my situation, letting them know that there are people that deal with it because back then, everything was kept behind closed doors. But I feel like it's better to talk about mental health and all that out in public and let the kids know that they're not abnormal for feeling a certain type of way or for making bad choices. That doesn't define who they are," he continued. "Choices don't define you. You can always change, and that's the focus on this whole talk. Redemption."
'We're all in need of forgiveness'
Gina and Brad Miller have had many people ask them how they could find it in their hearts to forgive Dennis, and they have one answer – by the grace of God.
"I couldn't heal myself until I forgave," Gina Miller said. "Until I met Christopher, it was hard, but he showed me his heart."
"We're all in need of forgiveness, but you have to give it to receive it," Brad Miller added. "Forgiveness is the source of our freedom, our peace. If you don't give forgiveness, it just eats away at you.
"Every time we go to confession, we're forgiven, and just like in that moment, the weight is lifted off of you," he added. "It's a sacrament and we pass that forgiveness on to others."
They also said forgiving Dennis is what Anna Grace would've wanted, too.
"She loved everybody, and she always tried to include everybody, and she never saw a stranger," Gina Miller said. "She just always loved people, and she loved sharing her heart, and she would've loved Christopher."
'Gifts from God'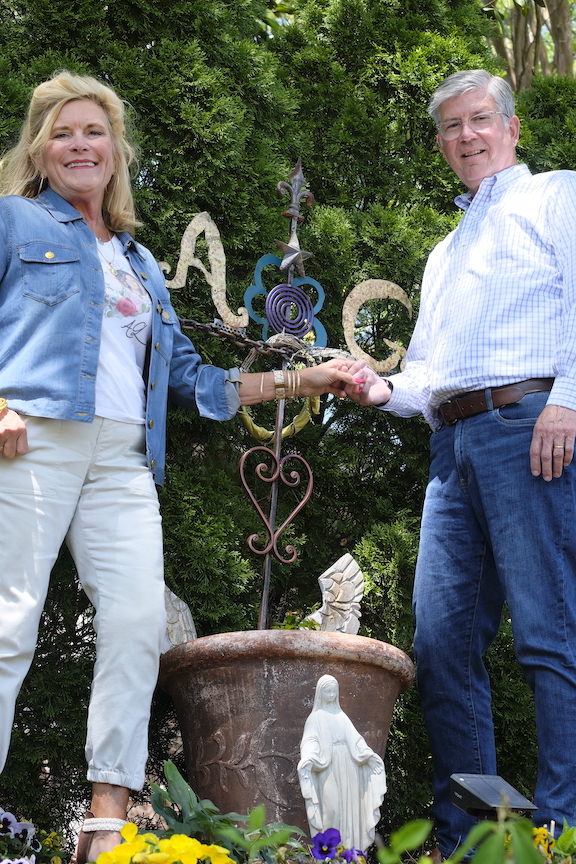 The Millers said they also wouldn't be able to get through the pain of losing Anna Grace without their faith.
"I can't imagine God not loving me even though I don't deserve his love. The only guarantee in life is that God will never leave me," Gina Miller said. "Christmas day and Easter Sunday, Good Friday, they all mean so much more now. I wouldn't have the hope in heaven and the faith that we would see Anna Grace again if we didn't have Good Friday and the Resurrection."
In light of Mother's Day and May being the Month of Mary, she also noted how much closer she feels to Mary through this.
"I relate to her a lot better than I did because I can see her at the foot of Christ's cross and the suffering that she had to watch him go through," Gina Miller said. "God protected me from that. I didn't have to watch Anna Grace suffer.
"For that, I appreciate Mary a lot more than I gave her credit for, and she is the one I turn to when I say, 'I'm not sure I can do this' or just say, 'Take care of Anna Grace and tell her I love her,'" she said. "Through Mary, Anna Grace has a mother to look out for her in heaven, too."
Brad Miller said he frequently visits his daughter's grave in the afternoon and when "Amazing Grace" is played over the sound system, his eyes well up with tears.
"They're tears of joy and peace and happiness because without His amazing grace, I'd be curled up in a corner somewhere struggling to survive with no hope of seeing Anna Grace again. But I know I will and his grace truly is amazing," Brad Miller said. "In the Gospel of Matthew, chapter 6, Jesus teaches us how to pray when he gave us the 'Our Father.'
"That is a very complete and perfect prayer. We say it at every Mass. Towards the end of that prayer are these words: 'forgive us our trespasses as we forgive those that trespass against us,'" he continued. "I was struggling with the forgiveness part of this great prayer after Anna Grace's death, but Father Mark Sappenfield gave me great advice. He told me to ask God for the grace that I needed, so I could forgive Christopher."
And the Lord answered that prayer.
"In this story, the Miller family plays a very small role. In our agony and suffering, we turned to God, and we told Him we couldn't survive this on our own; that we need His amazing grace and divine mercy and that we trusted in Him, and from that point on, He did all the heavy lifting," Brad Miller said.
"This is a tragic story, but there are good things that have come out of it. There's been healing, which is an ongoing process, forgiveness, and love," he said. "Those are all gifts from God to our family and to Christopher Dennis and his family. I miss Anna Grace every day. I think of her always, but our faith teaches us that we'll be reunited again in glory, and for that, I say, 'Thanks be to God for His amazing grace.'"