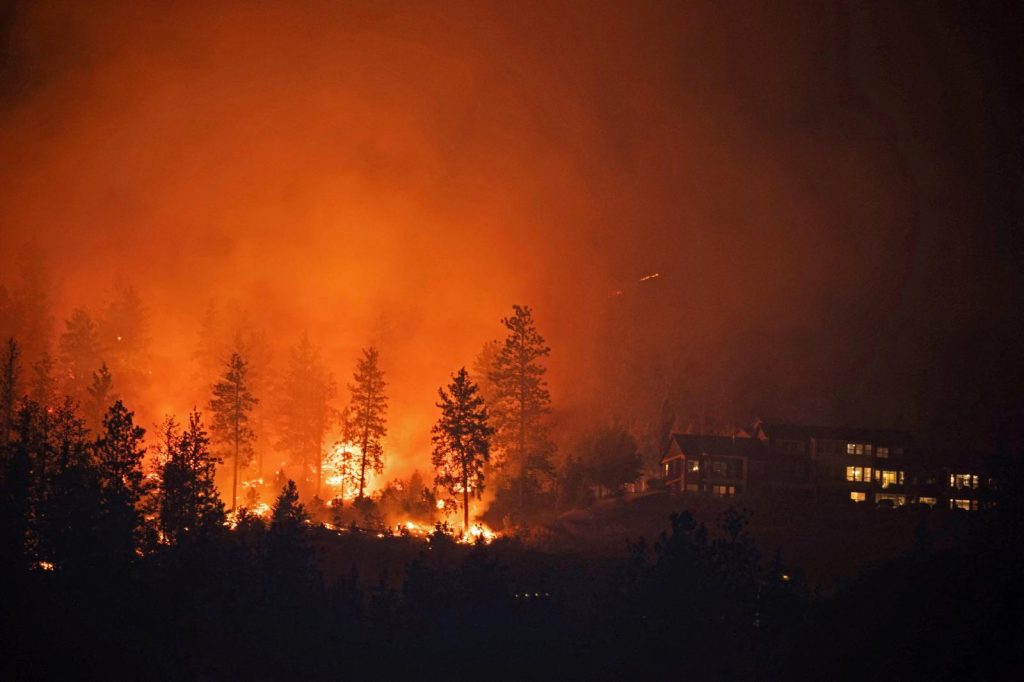 TORONTO. Wildfires wreaking devastation across British Columbia and the Northwest Territories of Canada have apparently spared Catholic churches, though the same thing cannot be said for numerous other buildings.
As of Aug. 22, more than 50 structures were confirmed to be destroyed or partially destroyed in West Kelowna in British Columbia. Most of the village of Enterprise in the Northwest Territories was destroyed.
The Catholic Register, a weekly newspaper based in Toronto, had been in touch several times with Bishop Jon Hansen of the Mackenzie-Fort Smith Diocese, and each time Bishop Hansen indicated he had not yet heard of any parishes from the six pastoral regions he oversees experiencing damage.
However, considering that over 30,000 people throughout the territory – including all 20,000-plus citizens of Yellowknife, where the diocese has its headquarters – were ordered to evacuate, it is nearly impossible for Bishop Hansen to have live updates about the churches.
As of Aug. 22, he was sheltering in Grande Prairie, Alberta, with his brother and niece and avidly logging on to cabinradio.ca, a news website, to keep up to date with the firefighting effort. Firefighters were making good progress in their battle with British Columbia fires, and a fire that forced the evacuation of Yellowknife, capital of the Northwest Territories, was being contained by firefighting tactics.
Bishop Hansen provided the email update he sent to parishioners Aug. 18, the day after he completed his 12-hour evacuation drive from Yellowknife to Alberta. He recounted the devastation he saw driving through Enterprise, a village described as 90 percent gone following the fiery destruction. Around 105 people live in Enterprise.
"I drove through there yesterday and it was the closest image to an apocalyptic wasteland that I have ever seen," Bishop Hansen wrote.
Meanwhile, over 35,000 British Columbians are affected by evacuation orders due to over 380 wildfires currently raging in the coastal province under a state of emergency. Some of the front-line locations of the fiery battle there include Shuswap Lake and Lake Country as well as West Kelowna.
On Aug. 21, West Kelowna Fire Chief Jason Brolund grimly described what unfolded the night before as "100 years' worth of firefighting in one night."
Heather Wipfli, executive assistant to Bishop Gregory Bittman of the Nelson Diocese, said only one parish in this volatile region was on evacuation alert over the weekend of Aug. 19-20: St. Edward's Church in Winfield, British Columbia, which is a neighborhood of Lake Country. However, the order had been lifted as of Aug. 20.
Father Obi Ibekwe and Father Biju Anthony transported the Blessed Sacrament and the holy oils Aug. 19 to St. Pius X Church in Kelowna. Father Ibekwe is the senior pastor of both St. Edward's and St. Pius.
Father Ibekwe wrote in the Aug. 20 St. Pius X bulletin that "the fires have come upon us so swiftly. Please know that Father Biju and I are praying for you: for your safety and protection and that our dear Lord may bring an end to the fires. We are thinking of you."
The priest also shared the anecdote of how he experienced a joyful, spiritual encounter with God and Our Lady of Guadalupe while in Mexico at a low point in his life. He relayed this personal story to remind his flock that even though it is hard "to experience the presence of God at the time of loss. God is always there. … He is still working. He is working for my good. His goodness is running after me."
Bishop Hansen said despite the hardships he has witnessed the best of humanity amid despair. During his drive, he saw many farmyards in northern Alberta that "were freshly mowed and had big, hand-painted signs, offering free camping to all those equipped with tents and RVs."
"The next few days are now just a matter of waiting to see what will happen next," Bishop Hansen wrote. "All our staff and clergy are safe and accounted for, although they have been scattered to the wind by plane and by road. Keep the prayers coming as we ask for the miracle of rainfall in abundance for our parched land."
Firefighters are being hailed as heroes in Canada as wildfires have consumed large parts of the country throughout the summer. At a press conference Aug. 20, Lake Country Fire Chief Darren Lee of West Kelowna said with his voice breaking with emotion: "For thousands of years, just regular people step up to be warriors, to protect their villages, protect their neighbors, and you know, there's people out there working 36- to 48-hour shifts and they take an absolute beating."
Residents of the town were bringing food and drinks for the firefighters in overwhelming amounts, so Brolund asked them to put a thank-you note on social media instead for those risking their lives to save the region's towns and villages.
"Thank the firefighters that are out there kicking ass. Make them know that you understand what they're doing and put it out there," he said. Aug. 21.