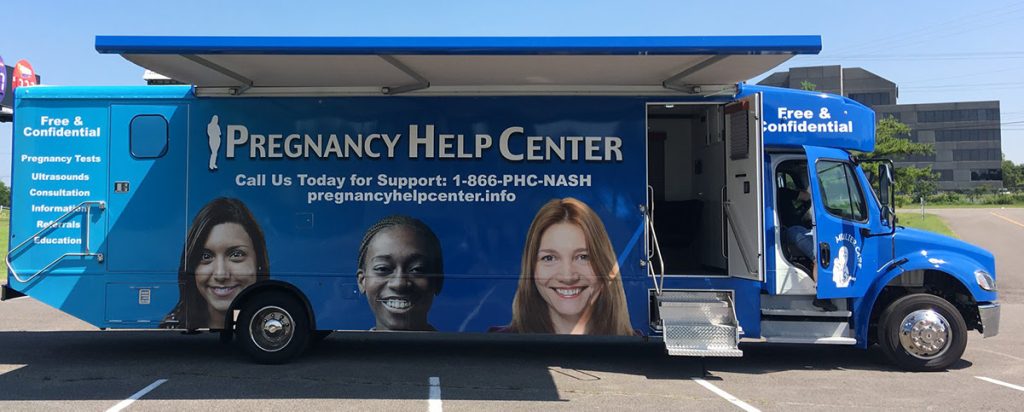 Nashville's pregnancy care providers have continued to grow and find new support since the U.S. Supreme Court's decision in the Dobbs case that overturned Roe v Wade.
"We've seen an increase in patients and caseloads," said Jessica Johnson, executive director of Mulier Care, which operates a mobile clinic for women experiencing a crisis pregnancy. "It's been a beautiful speedbump in the road where women are having to take more time to think things through. It created an opportunity for us to help them."
Christmas Eve marked six months since the Supreme Court struck down federal protections on abortion, allowing 13 states to ban the practice, including Tennessee, which has one of the strictest abortion laws in the nation. It is illegal from the point of conception, and there are no exceptions.
This hasn't fully stopped women from seeking abortions though, according to Johnson and Kailey Cornett, chief executive officer of Hope Clinic for Women. Thousands of women are traveling out of state to Georgia, Indiana, Illinois, and other abortion-friendly states, they said. North Carolina has seen a 37 percent increase in abortions performed.
Well before Dobbs though, women's health clinics played a vital front-line role in supporting Tennessee women and helping them to find alternatives to abortion. Hope Center for Women is approaching its 40th anniversary in Nashville this spring and Mulier Care is nearing seven years of operating as a mobile clinic. 
After Roe vs. Wade was overturned, there was some concern that donations for women's health care were about to dry up as people reduced their support because the battle in the courts had been won, Cornett said.
But the need to help women experiencing a crisis pregnancy has continued. Several local women's clinics have seen an uptake in clients as women are seeking out anyone who can help them. 
"It's wonderful but it's emotionally taxing as 95 percent of the women who pass through our doors are abortion determined or likely to choose it," Johnson said. "We see the hardest of the hard cases. We see about 12 women per week and only about one of them wants to remain pregnant.
"Approximately 50 percent of women seeking an abortion to end their pregnancy are changing their minds to parent after our time with them," she added. "The reason for this is that they no longer feel their circumstances are hopeless. … We are working with them to find jobs, insurance, material help, housing assistance, and more."
"We are here to walk alongside them, guiding them to find the resources they never knew how to find," Johnson said. "It makes a huge impact on their decision.
"Seeing their baby on ultrasound in our clinic is also having a huge impact on changing their decision to a decision to carry the baby," she said. "We are honored to be here to support these women and speak truth into their lives."
"We're getting a lot of women that would've gone directly to abortion clinics had it been legal,"
Johnson continued. "They're saying they want abortions but they need ultrasounds first. They're with us through laying out their options, and educating what abortion really looks like."
Cornett also has seen an increase in clients but has been surprised by the volume of donations her clinic is continuing to receive. Hope Clinic ended its fiscal year hoping to raise $1.35 million and successfully raised $2 million.
The agency hosted its annual Cider Carols fundraiser on Friday, Dec. 9, which included a virtual silent auction and a small in-person event at Harpeth House in Franklin. Even with a lower fundraising goal, the event still exceeded it and raised $30,000.
"We've got a lot of continued support from the community," Cornett said. "New church partners have stepped up. Clients are still struggling, and we're trying to meet those needs as best we can, knowing they're complex. People aren't just pregnant; they're unemployed or in an unsafe relationship."
It helps Mulier Care and Hope Clinic For Women that Nashville has strong financial and emotional support available for women going through crises. Both clinics are well plugged into city programs and charities to help provide whatever care their patients need. 
"We're so blessed that Nashville has a wide array of resources for women to jump into that help financially," Johnson said. "The majority of the time, if financial circumstances were different, they'd make a different decision."
Even though overwhelming support has still been garnered, not everyone appreciates the work both clinics are doing. Hope Clinic For Women faced an attempted vandalization on June 30 when an unidentified individual tried to firebomb its office. The Molotov cocktail did not ignite, and the broken front window was replaced within hours. The FBI has not been able to identify a suspect.
Though nothing of that nature has faced Mulier Care, it has faced its own logistical challenges. "We feel we've been protected but there have been crazy things that we know Satan is doing to attack us, like a car rear-ending our unit and putting us out of commission," said Johnson. "Small little things like that make us think Satan is trying to get in the way, but there have been no direct threats."  
Abortion rights activism continues to hold strong in Nashville, with many organizations helping to subsidize women's travel to other states for their abortions, Johnson said. Other women save up money for out-of-state travel or purchase drugs on the internet to perform a home abortion.
"What we have to offer is needed in this city, and we need more of it," Cornett said. "I don't know what that looks like but there are women who don't know we exist. I have my eyes set on growth over the next 10 years, which means more staff, space, and donations. All the reasons for someone wanting an abortion still exist but we're hoping that the people who didn't know we exist get to know us."
Johnson and Cornett are both thankful that the overturning of Roe v. Wade has helped put more women in the paths of their ministries and that it is creating more opportunities to save children who might otherwise be lost if abortion were still legal in Tennessee.
"We get the opportunity to pray with these women, to learn of their religious background, to learn if their religion even affects their decision, and it's overwhelming that their faith does not affect their decision," Johnson said. "It is heartbreaking to watch women we've counseled walk off our unit but we have to let them walk off, knowing we may not be able to help them. We try to love them and speak difference into their lives though, showing them that God is in control."