Click here for videos of the three testimonials from Fr. Imbarrato, Pastor Hord, and Rebecca Kiessling at the rally.
Thomas and Mary are the two reasons Father Stephen Imbarrato started his pro-life journey in the mid-1970s, decades before he became a priest.
"It was an abortion that I found out decades later took the lives of … my two children. I believe that was the beginning of my pro-life journey, repentance and conversion," Father Imbarrato said. "About 10 years later, I adopted my son John in 1987 (as a single man). He led me into the pro-life movement by me trying to be an example for him. And he blessed me with four grandchildren, and my oldest granddaughter blessed me with three great grandchildren."
Father Imbarrato, who went into the seminary in 2000 and was ordained in 2005, was one of three to share their story during the opening rally of the Nashville 40 Days for Life: The Beginning of the End of Abortion campaign Wednesday, Sept. 22, on the sidewalk in front of Planned Parenthood, 412 Dr. D.B. Todd Jr. Blvd, in Nashville.
The campaign, which started at 6 a.m. Sept. 22 will hold a vigil of prayer from 6 a.m. to 6 p.m. daily through Sunday, Oct. 31.
Since the 40 Days for Life campaign began in 2007, more than 19,000 children have been saved from abortion, more than 221 abortion workers have quit their jobs, and more than 110 abortion facilities have closed, said Courtney Hayden, 40 Days for Life Nashville leader.  
Bringing the Sacrifice of the Mass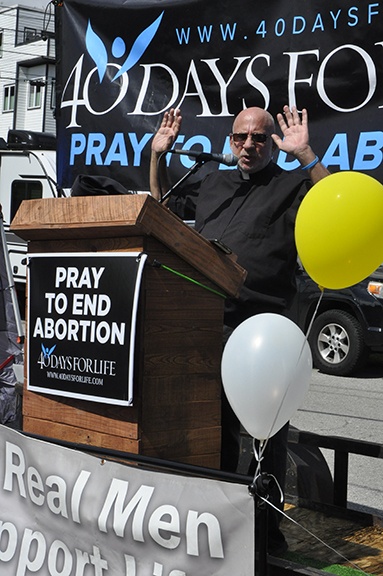 Father Imbarrato, founder of lifeministriesUS.org, travels to abortion clinics throughout the country holding private Masses to help end abortion, and he is the first male to give his testimony to Silent No More.
It was following his retirement from active priesthood that Father Imbarrato said Jesus called him to do this, after quoting Msgr. Philip Reilly, founder of the Helpers of God's Precious Infants, who called abortion clinics a "modern day Calvary."
"That's why our Lord instilled in me … to bring the holy sacrifice of the Mass," Father Imbarrato said. "Christ has conquered death by dying on the cross. The holy sacrifice of the Mass is the cross, that sacrifice, made present, so it would make sense that we would bring Christ who has conquered death here when the sacrifice of the evil one is being performed every day."
"I've been arrested five times by going into abortion mills trying to save babies. My journey started being complicit in abortion to the point where now I go around to abortion mills celebrating Mass and even getting arrested when the Holy Spirit moves me to do so," he continued. "I'll tell you the secret of that daily conversion. It's waking up each and every day and saying, 'Lord, what more can I do today to unite myself to you on the Cross? What more can I do today to save even one baby's life?'
"We're not going to see dramatic results in our lives, but God-willing through His mercy, through His justice, we will look back in a month, six months, one year, and we'll see the grace that we cooperated," he concluded. "Indeed, my brothers and sisters in Christ, through our cooperation with our Lord's grace, we will bring this scourge of abortion to an end in our cities, our state, our country and our culture."
Missionary for the Unborn
Jakolby, Genesis and Silas are just three of more than 300 babies Pastor Scott Hord has helped save from death by abortion in his daily ministry outside Planned Parenthood.
Upon retelling the parable of the Good Samaritan from Luke 10, he asked onlookers: "Which one are we of those three?" The priest, the Levite or the Samaritan?
"What good is our prayer, what good is our worship, if we're not willing to fight for the most vulnerable people of our culture? Yesterday, five children died. There were at least five surgical abortions right here," Hord said. "I met a young man on the fence. He came up to me with tears in his eyes, and he said, 'The love of my life … is being pulled apart right there, right now at 10 weeks old.' That's the reality of what is happening here every day.
"We are called to have compassion and be a neighbor," he said. "It is the Church's responsibility."
Hord said he is grateful for 40 Days for Life but wonders about the other 220 days of the year when Planned Parenthood is open.
"I love 40 Days for Life. I love what it represents. I love the rescues that have come from it. I love the salvations that come from it. I love the employees that have left, and the facilities that have closed because of it," he said. "When we show up, hear me, babies live and when we're not here, babies die."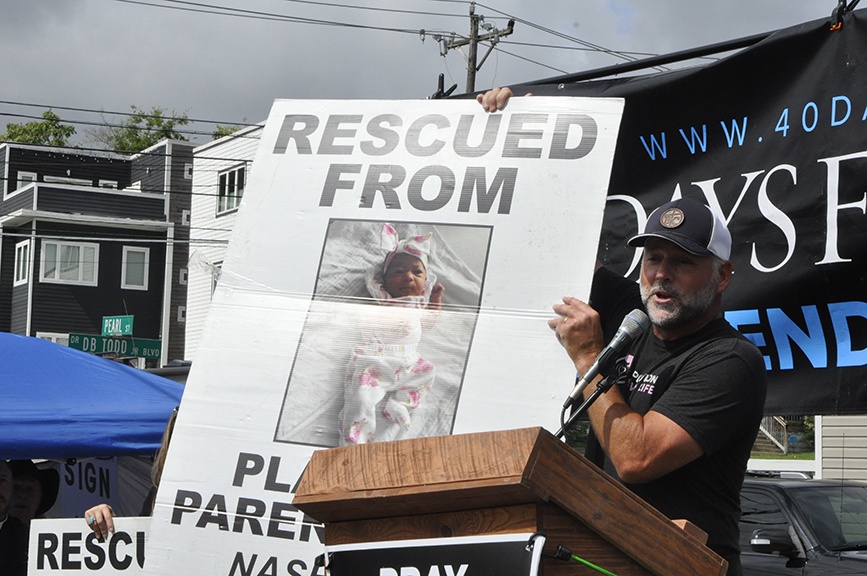 "When one person is here, the thousands of cars that drive by see that one person, and they have to ask the question: 'Am I in agreement with that person or am I against that person?' Hord said. "'Am I for that place or am I against that place?'   
"If there is nobody here, it screams to our society that this is OK," he said. "It is not OK. So, I hope you're encouraged today. I want you to be convicted. You being here matters.
"Even if you're here in the quietness of your spirit, your presence matters."
Debunking the myth
Rebecca Kiessling, president of Save the 1, was conceived in a violet attack on her mother at the hands of a serial rapist. And, in fact, her birth mother tried twice to abort her life by illegal means, but the circumstances surrounding those illegal means caused her to back out.
"I know the time, place, manner, how much money was on my head, all the details of my impending death," Kiessling said.
The means of the second illegal abortion her mother attempted were portrayed in the 1992 documentary "Back-alley Detroit: Abortion Before Roe v. Wade."
"I could watch this video and see these men who were going to take my life," she said of the film. "For some people, their near-death experience is waking up out of a coma to find out they were almost killed in an automobile accident. For me, this was my life-changing near-death experience."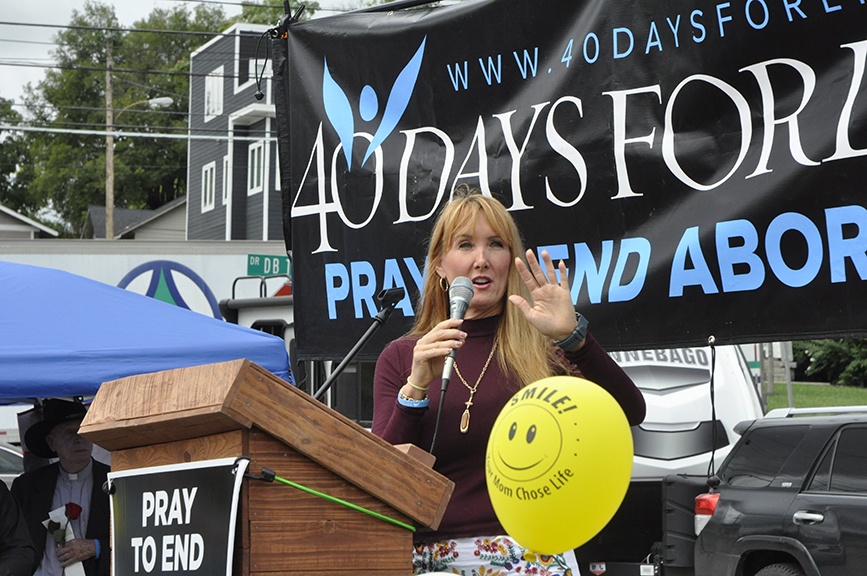 Although Kiessling was put up for adoption following her birth, she did eventually meet her birth mother who shared her attempted abortion experiences with her.
"My birth mother was pro-choice when we met. She told me, 'It should've been my right,'" Kiessling recalled.
Fifteen years later when her birth mother's mother died on Kiessling's birthday, Kiessling said, she and her birth mother had a "heart-to-heart" on the phone.
"We were about to hang up, but she stopped me, and she cried out, 'Rebecca, I just want to say, I'm so glad I had you,'" Kiessling said. "Best birthday gift ever, more than four decades after she sought to end my life, and more than two decades since she told me 'It should've been my right.'
"So just know that when you are out here, this is not a theoretical concept of maybe we might save babies," she concluded. "Just know that because of your presence here and your prayers, there will be mothers in your community who will one day be able to say to their children, 'I'm so glad I had you.'"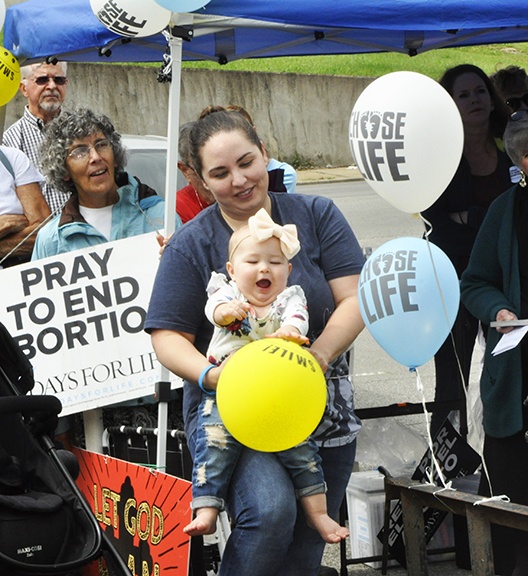 The testimonies of Father Imbarrato, Hord and Kiessling were heard by more than 100 people during the opening rally including Brianna Arachtingi, a parishioner of St. Edward Church in Nashville. She said the effort to end abortion seems even more important now that she has her 1-year-old daughter Clara.
"I feel like a lot of our Catholic churches aren't really speaking about this from the pulpit and this needs to be more widely spread across the diocese and the world," Arachtingi said. "Especially now that I have a little one, I feel like it's even more important to show the humanity of a child and that their life matters from conception to natural death."
Along with the constant vigil of prayer, there will be three other events throughout the campaign.
The Jericho: March for Life is at noon SThe Jericho: March for Life is at noon Saturday, Oct. 9, where participants will pray as they march seven times around the block of Planned Parenthood inspired by the Old Testament story of Jericho.  
The Rosary Rally Nationwide is at noon Saturday, Oct. 16.
The closing ceremony is at noon Saturday, Oct. 30, and will include a Lift High the Cross Procession from the parking lot of the Cathedral of the Incarnation to Planned Parenthood where the Stations of the Cross will be prayed. 
Additionally, churches, groups, organizations, schools and individuals are encouraged to sign up for an hour of prayer. To sign up, visit www.40daysforlife.com/Nashville.
For questions, e-mail Hayden at Nashville40days4life@gmail.com.