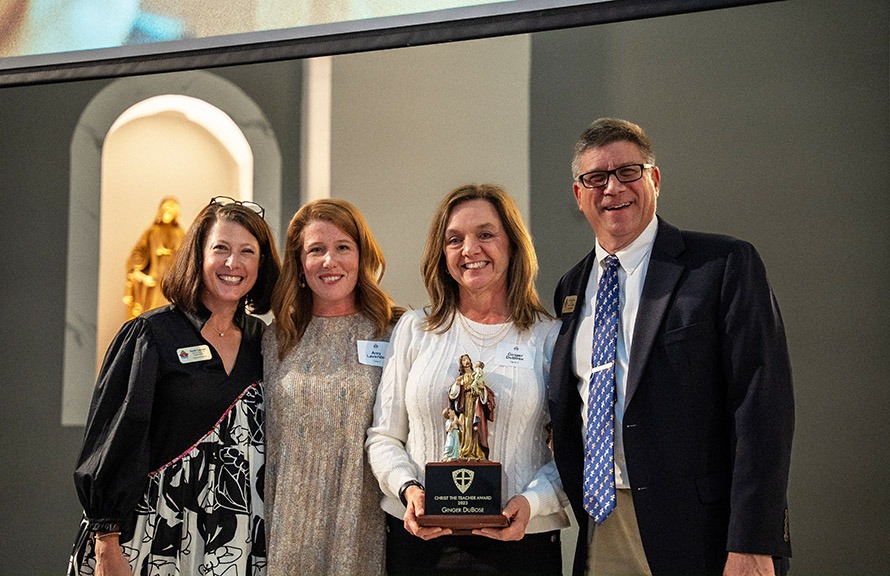 For outstanding leadership, dedication, and commitment to Catholic education, Ginger DuBose, a pre-kindergarten 4 teacher at St. Joseph School in Madison was honored with the annual Christ the Teacher Award during the eighth annual Advancement of Catholic Education (ACE) Dinner on Thursday, Nov. 9, in the Catholic Pastoral Center's Ascension Auditorium.
DuBose was nominated for the award by Amy Lavender, principal of St. Joseph.
"I'm just thrilled that she was selected because she has worked so very hard," Lavender said. "She has done so much for the diocese in her pre-K world, and so many other pre-K programs have gotten her help and her advice, so I'm so excited for her to be honored for all that she does."
DuBose is not just a product of Catholic education herself, but of a St. Joseph School education, having graduated in 1982. She came on staff 23 years ago, first serving as a long-term third grade substitute teacher and kindergarten teacher, before joining the pre-K staff 21 years ago.
Not only has she been instrumental in her own efforts as a pre-kindergarten teacher, but she has also been instrumental in the Pre-K Rocks Symposium, which has been offered for pre-K teachers throughout the diocese for the last four summers.
"I feel honored to have received this award because Christ is my ultimate role model as a teacher," DuBose said.
"I'm just a brick in the wall at St. Joseph. I just feel like it's my life, it's my passion, it's who I am. So, to be recognized for what I've done is a humbling experience because I see it as a pleasure and joy for me to do what I do every day," DuBose continued. "For Pre-K, this is their first experience at school, so you want to bring them an experience that will carry them through their education.
"What's even better at St. Joseph is it's not just teaching them math or reading or letters," she added. "We're able to bring the faith into everything that we do."
And it's that lesson that she said she hopes her students remember most at the end of each year.
"More than anything, I want them to know that they are loved beyond anything else and that they've grown in their relationship with Jesus in that year," DuBose said. "I tell them all the time that no matter what they do for the rest of their lives, Jesus loves them."
With that message given to her students, she said, nothing becomes more rewarding than being able to watch students grow in their faith, particularly those that continue their education at St. Joseph. With that in mind, she noted the special letters she'll sometimes receive from the eighth graders who write letters to a teacher who had an impact on them.
"Every single time they say, 'I knew how much you loved me,'" DuBose recalled emotionally.
"It is my joy to be able to teach our youngest children about Christ and His unconditional love for them," she concluded. "My hope is that Christ reached my students and their families through me."