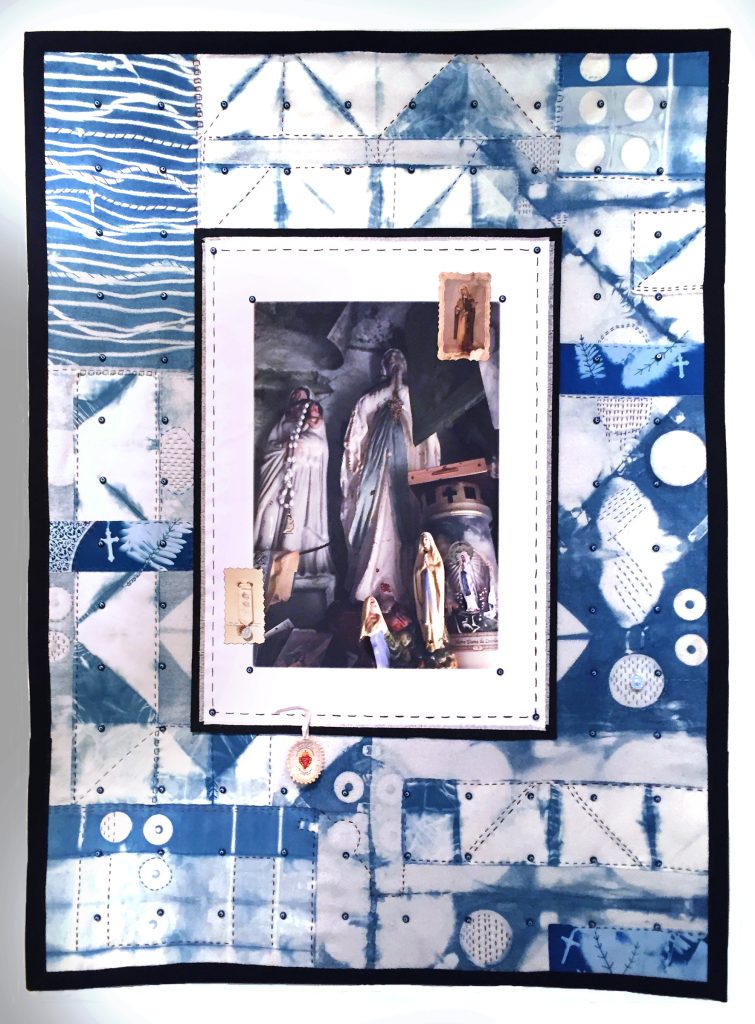 What started as a trip to St. Brigid's Well in County Clare, Ireland, while on a tour of the country in July 2017, turned into a 10-piece quilt art series for local artist JoEl Levy LoGiudice. One of the pieces, titled In Memory, is featured in the Best of Tennessee Craft biennial exhibition at the Tennessee State Museum until Feb. 20.
"I was moved by the raw beauty that I encountered on my visit to this holy well," LoGiudice said.
The well is one of thousands located in Ireland, but "few compare to this serene holy well that is located between Liscannor and the Cliffs of Moher," LoGiudice wrote of her experience visiting the well. "Regarded as a place of healing, the well … is a spiritual place where all kinds of people – young, old and everything in between – come to find solace in their times of need and seek blessings from the saint for their loved ones.
"Ireland is known for its roadside shrines and mysticism, but for me St. Brigid's Well is a special site with all its natural beauty and mysterious pull. I believe in the healing powers that reside within this grotto," she continued. "One cannot help to be moved by the multitude of notes, mementos, rosaries, pieces of clothing, photographs, tokens, and religious objects placed there in prayer. It is an enduring symbol of peace and serenity that is both hopeful and heartbreaking."
St. Brigid is one of the patron saints of Ireland. St. Brigid's Well is said to have healing powers and is considered one of many holy wells recognized by Irish Catholics. She is also the patron saint of dairymaids, cattle, midwives, Irish nuns and newborn babies. Her feast day is Feb. 1.
Creating the pieces
Upon return from her trip to St. Brigid's Well, LoGiudice said it took two years for her to complete the 10-piece collection, which features 10 photographs surrounded by various quilted backgrounds.
"The color photographs depict the honesty and strength of the people who visit St. Brigid's Well offering prayers of hope and healing. The photographs were printed on canvas and stitched to backgrounds of dyed and embellished fabric," LoGiudice said. "The variety of fabric techniques employed and obsessive stitching echo the environment at St. Brigid's Holy Well."
The pieces were first exhibited at the Vanderbilt University Sarratt Gallery, then as a solo show at the Appalachian Center for Crafts Gallery in Smithville, Tennessee.
Additionally, individual pieces have been featured at various museums and galleries across the Southeast, LoGiudice said.
A Catholic influence
Although LoGiudice said she is not currently active in a Catholic parish, her Catholic upbringing as the eldest of eight children in Toledo, Ohio, has influenced several of her pieces.
"My parents were very devout Catholics and held leadership roles in our parish. My parents and grandparents placed a high priority on Catholic education, so myself and all my siblings were blessed with the opportunity to attend 12 years of schooling at Catholic schools," LoGiudice explained. "My Catholic upbringing has influenced this piece in addition to many other mixed media works that I have created over the years. The 'St. Brigid's Well' series included many cherished and revered Catholic relics from my childhood (including) holy cards, religious medals and rosaries."
Artistic inspiration
LoGiudice said her interest in pursuing art began in high school.
"I was definitely inspired by my drama teacher, Sister Teresa and my art teacher, Sister Mary Genevieve. These women along with my family members supported my creative spirits," she said. "As a result, I pursued a double major in college – theater and art – and went on to direct plays and teach art at the high school and college level."
Thus began an eventual 50-year career as an active artist.
"My career as an artist has been devoted to a constant exploration of various craft and mixed media techniques. I enjoy manipulating various materials and am especially intrigued by the element of surprise," LoGiudice said. "My works are a journey that draw on a rich repertoire of experiences. They are about places I have been, people I have met, and pastimes I hold dear.
"There is at times an element of spontaneity in my approach and on some occasions a specific object or theme will drive the direction I take," she said. "It is all about listening and being open to the inherent qualities of the materials."
Being chosen
LoGiudice is one of 56 artists featured in the Best of Tennessee Craft exhibit, which features contemporary artists from across the state and a wide range of artistic mediums, including mixed media, woodturning and fiber art.
"In the jurying process, (Peter Baldaia and I) thought about the connection between long-held craft traditions and the directions in which contemporary craft is moving today," explained Annabeth Dooley, curator of Decorative Arts at the Tennessee State Museum, who served as co-juror for the exhibit along with Baldaia. "In reviewing these pieces, we thought about how artists both embraced and bridged these perspectives and how that invoked a response in the viewer.
"JoEl Levy LoGiudice is one of the best fiber artists in Tennessee. As seen with her piece In Memory, she demonstrates both incredible craftsmanship and her keen ability as a storyteller," Dooley said. "By surrounding an image of St. Brigid with the artist's careful stitching, hand-dyed fabric and fiber embellishments, this piece becomes its own place of reflection while appearing to be the artist's personal offering to the saint."
"I was extremely honored to be included in this exhibit that spotlights the incredible and diverse talents of Tennessee craft artists," LoGiudice said. "The museum staff mounted a very exquisite professional display that honored the artists.
"It is always my desire that viewers are moved and inspired by the work," she added. "My hope is that (the piece) leads to meaningful conversations on the spiritual nature of our lives."
For more information about the exhibit, visit https://tnmuseum.org/temporary-exhibits/temporary%20exhibits/bestoftennesseecraft.
The Tennessee State Museum is open 10 a.m. to 5 p.m. Tuesday through Saturday and 1-5 p.m. Sunday. Admission is free.
LoGiudice and her husband Simon Levy, who also has art featured in the show, currently live in Ashland City, Tennessee.