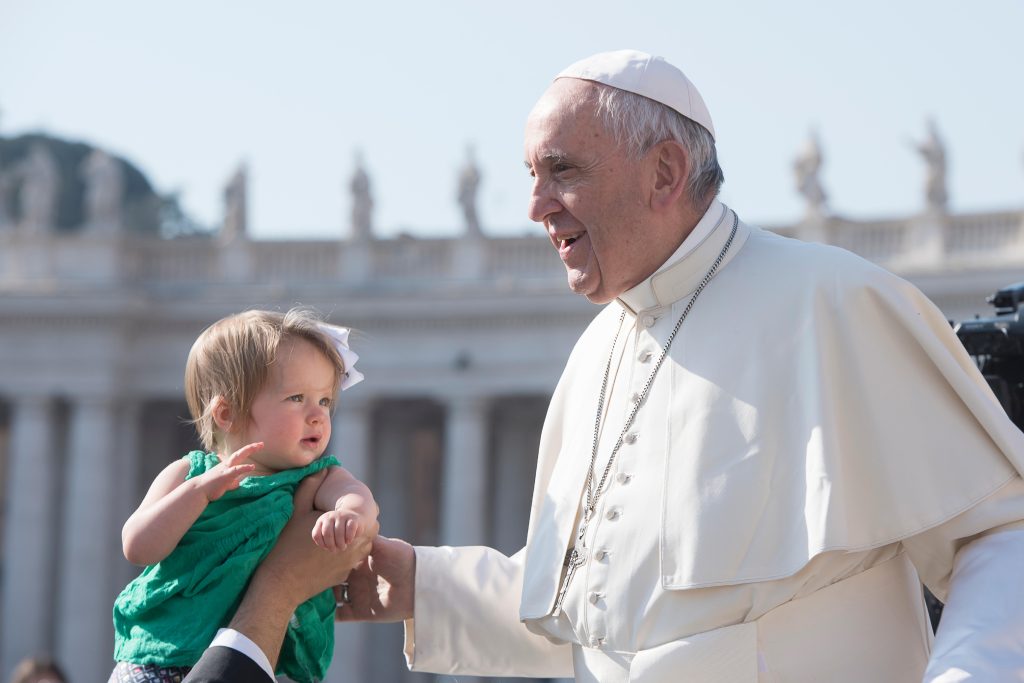 PJ Anderson was 15 and in Rome with a church group that included his pastor and his parents. He remembers being in awe of everything on that trip but also of being told beforehand to pack some nice clothes because something might happen.
Something did. His group was going to have an audience with Pope John Paul II.
"I thought the audience was going to be tens of thousands of people," said Anderson. However, he soon found himself face-to-face and shaking hands with the pope, then nervously bending to kiss the pontiff's ring. "When he shook my hand, he called me 'a good boy,' which I, of course, used against my parents for the rest of my life."
It was the story of a lifetime, or so he thought.
Since that blessed visit in the mid-1990s, Anderson and his wife Rachel have somehow managed to complete the near-impossible task of having all four of their children kissed and blessed by Pope Francis.
First up were Trey and Claire in 2014, then Ellie in 2017 (and again in 2019), and finally Luca in 2022. All the kids were under the age of 3, and the Andersons, who have lived in Nashville since 2012 and are parishioners at St. Joseph Church in Madison, have images with Pope Francis and the children to document the feat.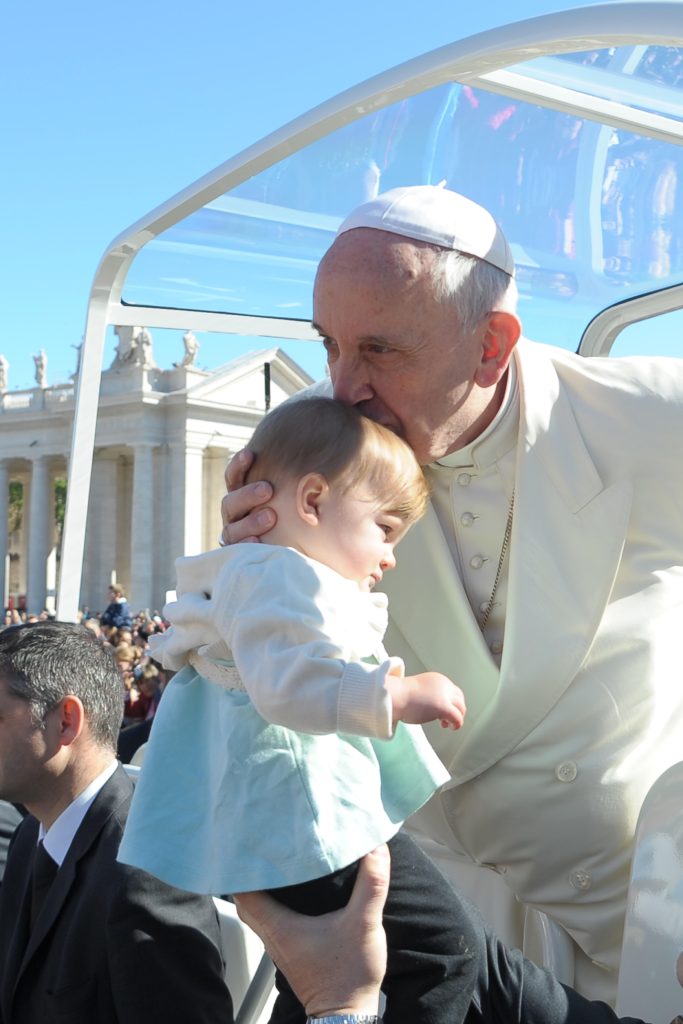 Anderson, a professional singer-songwriter who uses the term "worship artist" and is a popular performer and music leader at Catholic retreats and events, did not have an "in" at the Vatican, but was creative enough, he said, to put himself in the right place at the right time.
"I came home after getting Luca kissed, and I was with my band, and I told my guitar player we were four-for-four. He said to me, 'Do you realize how few people can say that?' When he said it out loud, I'm like, yeah, there is probably not many people whose four kids have all been kissed by the pope."
To learn how Anderson made this happen, one has to circle back to that first visit as a 15-year-old. That trip solidified his love of Rome, he said, and when it came to college, he looked for schools with study abroad programs in Italy. After graduating, Anderson was hired to lead a church youth group in his hometown of St. John, Indiana, and his first mission trip was to Rome.
He led many youth trips before the adults "called a timeout," remembered Anderson. "They said you are taking all the kids; we want to go." Rachel, who was a member of the church and dating PJ told him, "We could start a business," and Ciao Roma Travel was born.
Ciao Roma is designed to provide travelers – pilgrims as the Andersons call them – with a balance of spiritual and historical elements, and includes adventures outside of Rome, including Assisi, Orvieto, and other locales. During the first official company trip in 2009, PJ proposed to Rachel on a mountain above Assisi.
She said yes and a wedding, more trips to Rome, four children, and still more trips followed.
All of the trips allowed more opportunities to see the pontiff on his regular Wednesday Popemobile rides in St. Peter's Square, and Anderson started studying the best spots to lift up a child to get them blessed.
"I had seen it many times, I figured it could work," he said. He studied the barricades, the positioning of the Carabinieri (police) officers, the corners where the Pope makes two passes, and the time of day best suited to make the near-impossible possible.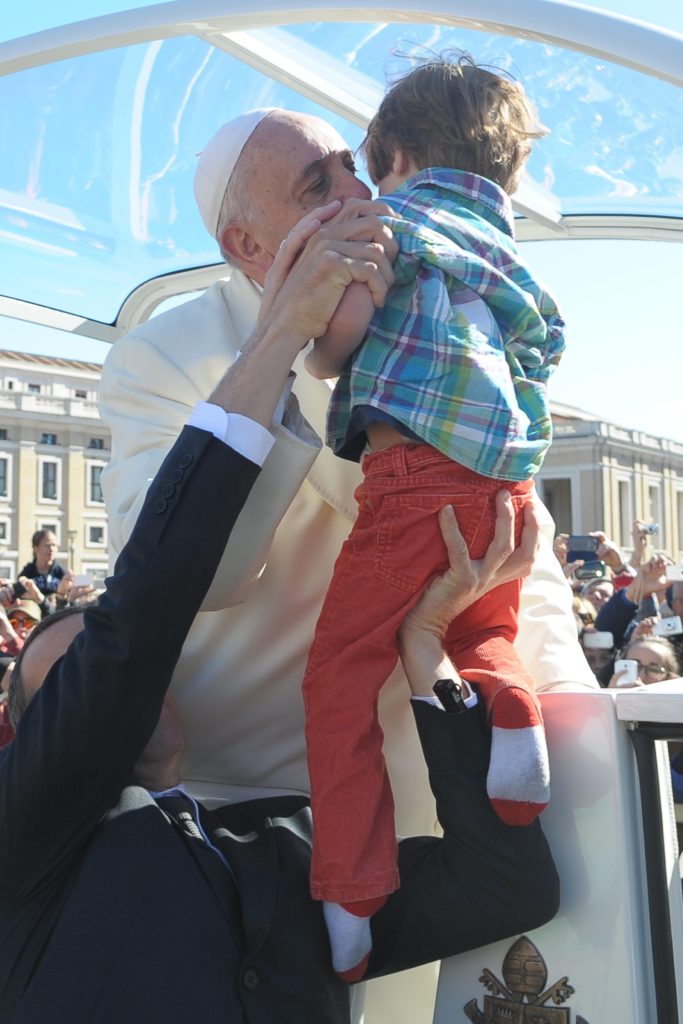 "I know papal audiences and I learned the good spots to go to," Anderson said. "If you go too early, the Carabinieri won't let you linger. Honestly though, if you get close and people see (your) baby, they will let you get up a little closer."
The Ciao Roma pilgrims never complained about Anderson and his quest for kisses. Instead, it is another benefit of the travel service, he mused.
"They will have a great opportunity to be seen by the pope as well. I tell people if you bring a baby on the trip, we will get them kissed," he said. "I joke with the pastors like, 'Father, we can lift you up and get you kissed by the Pope.' But that hasn't happened. I am zero for zero on that one."
Anderson acknowledged that there are few instances in life where he would just hand one of his kids to a stranger, but that is what he does when the pope's handlers come by and request a child. PJ remembered a time when Pope Francis was at least 10 yards away and he thought he had missed his chance. But one of the security guys came over to him and said, "Give me the baby."
"Now, there's not too many situations where I would be like 'OK, here you go,' but I did," said Anderson. "When Ellie was blessed a second time, a guard came over and said, 'Lift her up like 'The Lion King,'" and off she went."
Rachel has been on hand for all the blessings, and PJ's parents were there in 2022 for Luca. They were greeted with a little fist pump from His Holiness. The family has gotten nods, waves, thumbs-up gestures, and fist pumps. So, do the Andersons think that Pope Francis recognizes them?
"We do," laughed PJ. "We are both like 'He knows us!,' but he probably doesn't."
With all four children blessed, Anderson is spending more time on his music. With five albums under his belt and a sixth due in October, he remains tirelessly busy. He has a new single out on Spotify, "All I Want is Jesus," with "You and You Alone" soon to follow.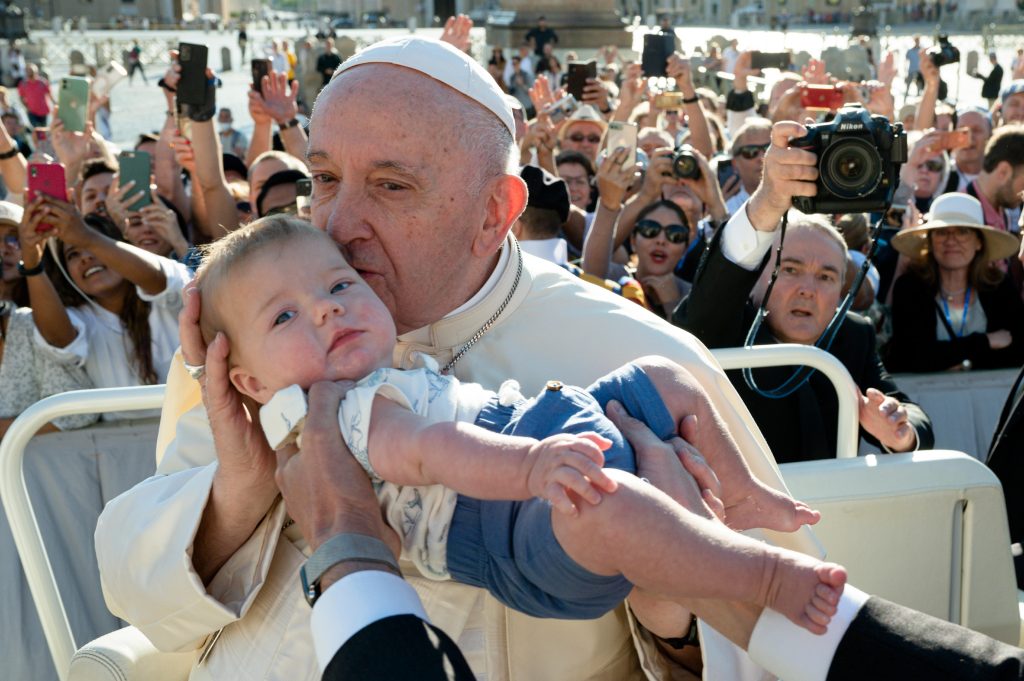 "I feel like my job is first as a songwriter, writing songs that are mainly prayers that I can pray with, and hopefully others can pray with them as well," Anderson said. "I am just trying to bring real life faith to people, because that is what I am searching for as well, so people don't think like 'Oh, all PJ's kids have been kissed by the pope, so his life is perfect, and everything falls in line for me. It doesn't."
Anderson said that he and his family are "blessed on so many levels," but that there are struggles as well, and with many people struggling in this messy world, his song prayers are a way to help everyone fight through them. "I try to use the creative abilities that God has given me to write those words and those melodies and those prayers."
For more information about Ciao Roma Travel, visit ciaoromatravel.com or email info@ciaoromatravel.com.