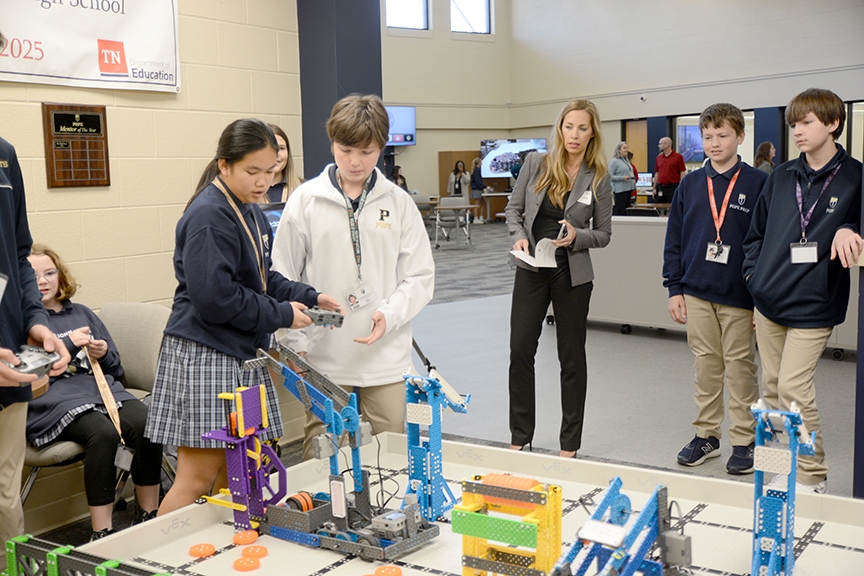 At Pope John Paul II Preparatory School, students are using Apple technology to unleash their creativity.
"The technology is not just 'let's do a project because we need to use technology,'" said Jennifer Dye, dean of faculty and instruction at Pope Prep. The technology, instead, is used "to find ways to move beyond the ways we've always been doing things in class and to think about it deeply."
The students' creativity was on display on Tuesday, Nov. 29, when Pope Prep celebrated its designation as an Apple Distinguished School for 2022-25.
In the school's Center of Innovation and Entrepreneurship, students set up displays to showcase how they are using Apple technology in every subject area. The displays included: satirical videos created for an English class; graphic design and animation; musical instrument tuning; images created with mathematical equations for a math class; a sports medicine internship during which students study the human anatomy to understand injuries; robotics; a business model developed for a theology class for making sandals from recycled plastic to give people in Haiti a business opportunity; a Spanish language video developed for a class in the foreign language department; an experiment for a science class to measure the forces exerted in a collision of two carts; and others.
Most of the projects were developed as class assignments, Dye said. "But I think what makes this unique is that the projects don't end up all the same. There is enough opportunity within assignments that are given for some students to be expressive, to be free to design things that are unique to them. …
"When you say, 'Here is what the project needs to look like,' then you typically don't have kids who innovate beyond it," she said. "When you provide guidelines of these are the tools, these are the ways in which you can create with this, here's your kind of minimum, then students will often create beyond it. That's what our teachers do pretty well. They create situations for students to really be creative within the context of an assignment."
To earn an Apple Distinguished School designation, a school must establish a one-to-one program providing every student with an Apple product, show an innovative use of an Apple product, have a faculty proficient in using Apple products, and show documented success.
Pope Prep is the second Diocese of Nashville school and the third Middle Tennessee school to be named an Apple Distinguished School, joining St. Matthew School in Franklin and Clarksville Academy. There are only 732 Apple Distinguished Schools in 36 countries around the world.
"Creativity and collaboration are their two big hallmarks of what they expect good learning to look like," Dye said of Apple's criteria.
"It's important for us to step back and recognize our students and our faculty when they're doing great things, and Apple provides an opportunity to do that with technology," Dye said. "We're already doing those things really well, but stepping back once in a while to celebrate that really matters."
Apple Distinguished Schools "get access to high quality professional development," Dye said. "Some of that can be in person, they'll send Apple people out to our school, but it can also be a really high quality online learning. And it's not just for teachers in the classrooms, but it's even for administration."