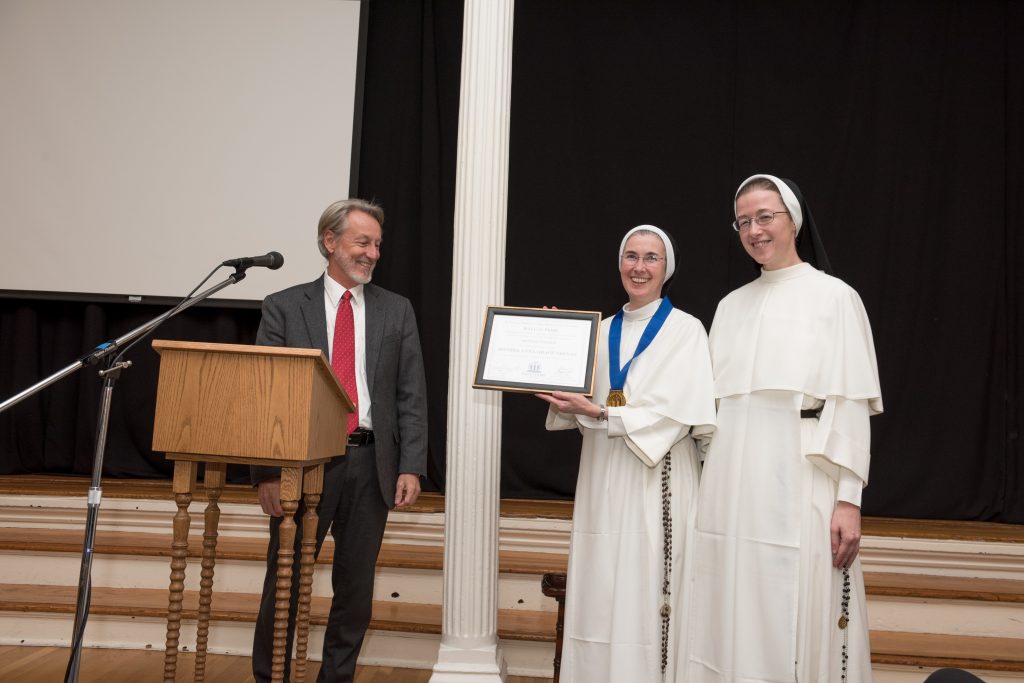 Mother Ann Grace Neenan, OP, of the Dominican Sisters of St. Cecilia Congregation has been included in the third class of Hall of Fame inductees for the Tennessee Independent Colleges and Universities Association (TICUA).
Mother Anna Grace is a 2002 graduate of Aquinas College, which is owned and operated by the St. Cecilia Dominicans and a member of TICUA.
TICUA and its member institutions selected the latest class of inductees, highlighting their contributions to the state, country, and world in a variety of disciplines. Tennessee's independent colleges and universities have helped shape some of the nation's most distinguished and impressive citizens, from Nobel laureates and Pulitzer Prize winners to faith leaders, entrepreneurs, and elected officials.
"The TICUA Hall of Fame's Class of 2022, once again, demonstrates the incredible value a liberal arts education provides throughout a person's lifetime," said TICUA President Dr. Claude Pressnell. "We are proud to recognize this impressive group of alumni who have made significant contributions to their institutions, communities, and society."
As Prioress General of the Dominican Sisters of St. Cecilia Congregation, Mother Anna Grace presently serves as Chair of the Board of Directors of Nashville's Aquinas College.
Mother Anna Grace entered the Dominican Sisters of Saint Cecilia in 1996. She earned her bachelor of arts degree in liberal arts at Aquinas College in 2002, and a master of science degree in educational leadership from Christian Brothers University in Memphis in 2007. In addition to her initial theological formation, she spent a year pursuing studies in spiritual theology at the University of St. Thomas Aquinas in Rome, and is currently working toward a master of arts degree in Thomistic studies at the Pontifical Faculty of the Immaculate Conception in Washington, D.C.
For more than 20 years, Mother Anna Grace has served her religious community of St. Cecilia in leadership roles, which have involved not only classroom teaching and school administration, but also responsibilities in the early formation of the young women in the community's novitiate program.
Mother Anna Grace assumed her responsibilities as board chair as Aquinas College was implementing the decision to discontinue a number of its program offerings, in order to fully concentrate its efforts on the preparation of educators.
In a recent message marking the 60th anniversary of the College, Mother Anna Grace wrote: "Veritas et Caritas. Truth and Charity. Under this guiding theme, Aquinas College has maintained for the past 60 years a consistent central focus … forming individuals to be witnesses to truth and charity."
The 2022 class of inductees includes civil rights activists, veterans, civic and faith leaders, medical pioneers, sport and business professionals, and passionate philanthropic and humanitarian leaders, all hailing from Tennessee private non-profit institutions.
In addition to Mother Anna Grace, other inductees include civil rights pioneer W.E.B. DuBois; former Tennessee governor Frank G. Clement; Dr. Mildred Stahlman, creator of the first neonatal intensive care unit; and more.
Read more about each inductee in the 2022 Hall of Fame website or in the TICUA 2022 Hall of Fame publication.