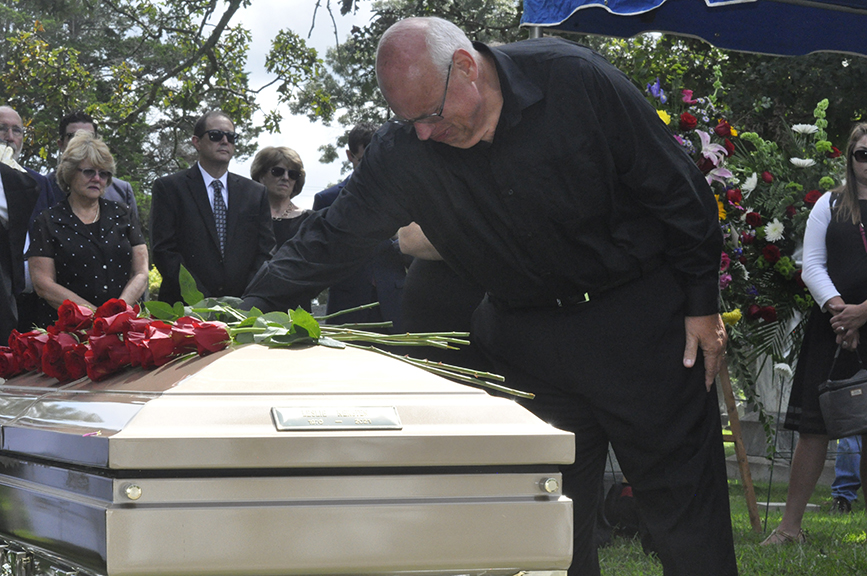 Leslie Kersten left a lasting mark on St. Patrick Church in McEwen, as Father Zack Kirangu donned a special chasuble for her funeral Mass on Saturday, Aug. 28.
The black chasuble, embellished with stripes of gold, was hand-sewn by Kersten before her death on Aug. 21 when flash floods hit Waverly.
Father Kirangu, pastor of St. Patrick, said it fit him well because Kersten wore it as she sewed it.
"I've never had a chasuble which a woman had worn," he said at the beginning of his homily.
Kersten also made Father Kirangu a rose-colored vestment, which he wore for the first time last November for the All Saints Day Mass.
During the homily, following readings from Wisdom, Psalms, First Thessalonians and the Gospel of Mark, Father Kirangu said that while "Jesus calls death a thief robbing us of something precious … there are some things in life which death can never touch or rob from us: love … and hope."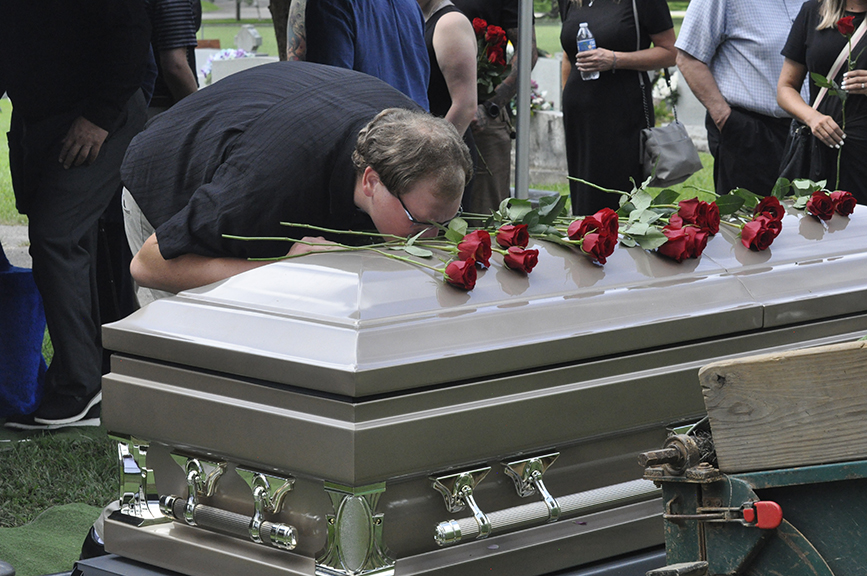 "As a family, you have built a relationship with your mom throughout these past years. She is part of many of your memories. That relationship of love survives death. Not only is your mom alive in your memories and alive in your heart, but she is alive in heaven," Father Kirangu said. "Through God's love and mercy, Leslie looks down on you and is praying for you.
"For those of us men and women of faith, death can never rob us of our hope. We hope that Leslie is with God this day in heaven rejoicing in the gift of everlasting life, which the Father promised to her at her baptism," he continued. "And we hope that we will join her in that place of eternal joy and happiness where death can no longer touch us."
In the face of tragedy like the Waverly flood, it is faith in Jesus Christ that allows love and hope to endure, Father Kirangu said.
"(Jesus Christ) faced death on a cross out of love for us and out of hope that the Father would raise him up again. In doing so, he showed us that faith, hope and love are stronger than death," he said. "Though this death was unexpected, it was not unprepared for. On the day of Leslie's baptism, a seed of faith was planted within her. The hope of everlasting life in heaven began to grow within her heart.
"Every prayer she said, every Mass she attended, every good thing she ever did, and every sin she confessed and found forgiveness for, prepared her for this day when she would meet her Lord," Father Kirangu continued. "She may not have always spoken of it, but it was real, and we can believe that, today, God sees it and that God richly rewards her in faith and in readiness.
"Together we pray that Jesus will bring her to the heavenly home for which she longed. If we want one day to join Leslie in her heavenly home, then let us pray that God will help us to see his Church as our home. The promise that we received at our baptism, the promise of everlasting life, then will be ours along with all those who believe in Jesus Christ."
Before the Mass ended, Henry Kersten thanked those in attendance for their support since his wife's passing and shared a similar message as Father Kirangu.
Leslie's favorite Bible passage, he said, was 1 Thessalonians 5:16-18: "Rejoice always, pray without ceasing, in everything give thanks; for this is the will of God in Christ Jesus for you."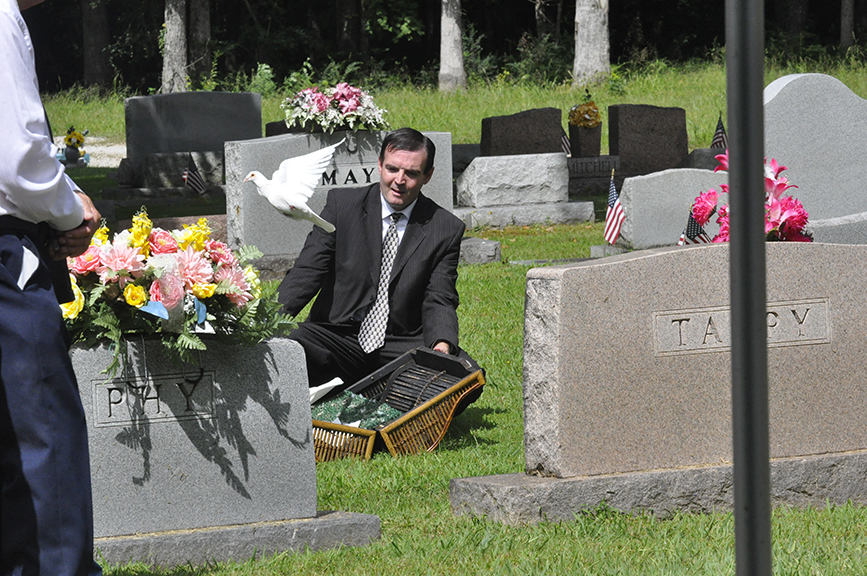 "Is it hard to understand why Leslie is not with us here, today? Yes. But she believed in this," Henry Kersten said. "That would be the answer that I have for today. It is God's will.
"Do I know why it's God's will? That's not for any of us to say," he continued. "All I know is that Leslie always accepted whatever God gave us.
"This week, I felt so much love; love like I have felt every day that I walked with Leslie on this earth. If I can take away one thing, it's that word: love. Leslie was and is love."
Following a graveside ceremony at St. Patrick Cemetery, which included scripture readings, the laying of red roses on the casket and a release of doves, family and friends gathered in the gym of St. Patrick School for food and fellowship. There, friends and family alike shared memories of Leslie including her co-workers from FirstBank in Waverly.
"Leslie has been an employee of FirstBank for six years. She was so loved and admired by co-workers, customers, friends and family," said co-worker and friend Lynn Lagan. "We just loved Leslie."
Other co-workers including Brenda Palk, Melissa Wilson and Megan Murphree, recalled her love of musicals.
"She would break out into song and dance at the most inopportune times at work," Palk said. "But she had a lovely singing voice."
"Leslie could sing any song," Wilson added. "She knew all the words."
According to Murphree, "Hamilton" was Kersten's favorite.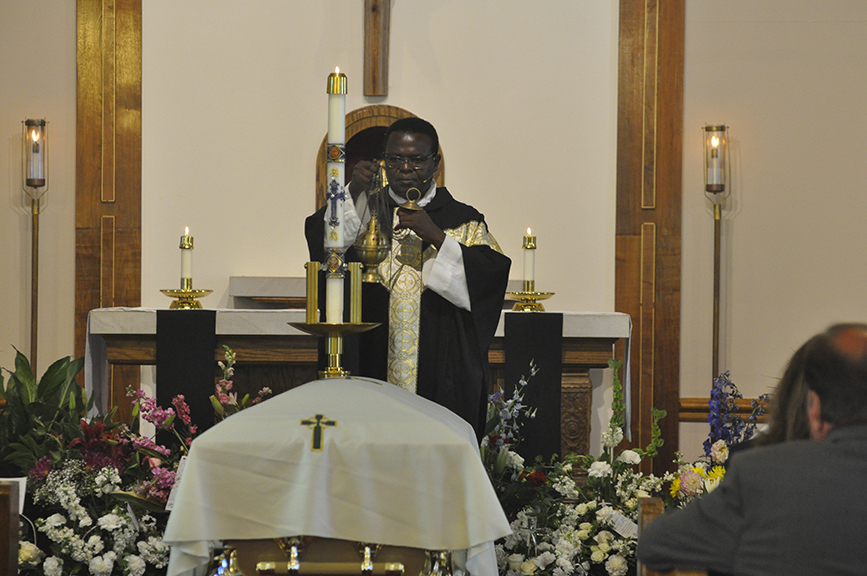 "We had to listen to her rap for months," she said with a chuckle.
Kersten's craft and sewing skills came out again during the COVID-19 pandemic, too, Wilson said.
"The men didn't shave, so the bank did the 'best beard' contest. Leslie didn't think it was right that us ladies didn't get to participate in that," Wilson recalled. "Leslie was the craftiest person, and she came in the next day with her full Willie Nelson yarn beard."
"She got an honorable mention, too," Palk added.
However, it was Kersten's loving spirit that was still recalled the most.
"She was just the kindest, sweetest soul there ever was," Lagan said. "Without a doubt, God has welcomed her with open arms."