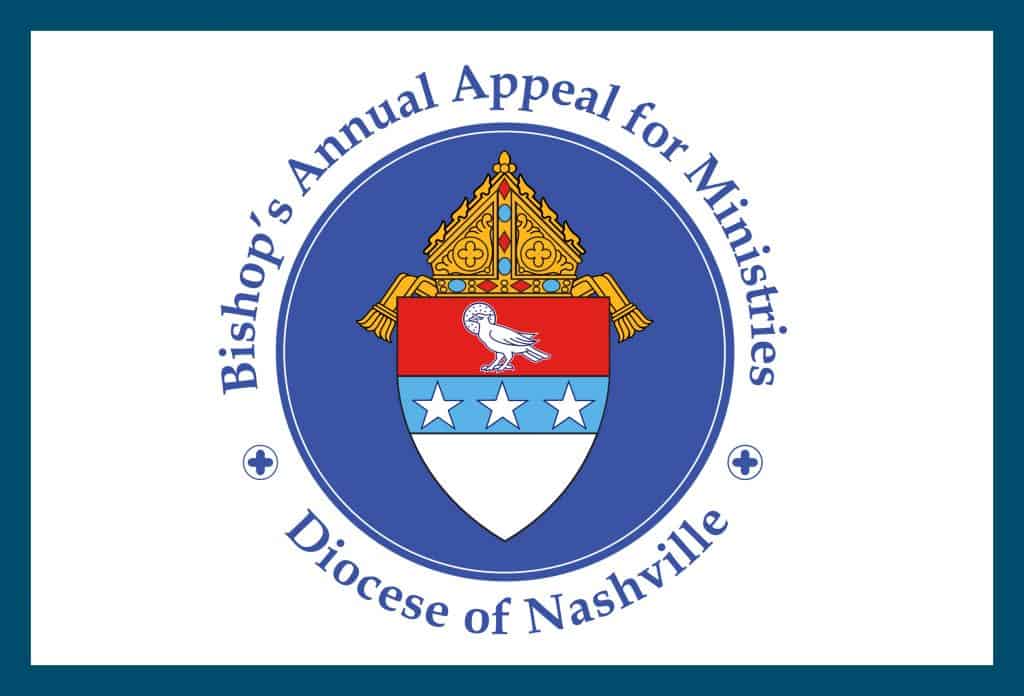 The Bishop's Annual Appeal for Ministries is closing in on its goal as the end of the year approaches.
As of Nov. 16, the Appeal has officially reached 76 percent of its $3 million goal, raising $2,268,685.95.
The Diocese of Nashville will continue to accept donations through Dec. 31.
The Bishop's Annual Appeal "provides invaluable support for vital ministries; seminarian training and religious education for all ages; youth and children's ministries and support for the poor and needy," according to a letter from Bishop J. Mark Spalding on the annual appeal webpage.
"The beauty of Christ can be found in many places – in a morning sunrise, in the eyes of a child, in the hands of the elderly. One of my favorite ways to experience God's beauty is simply by sitting inside the church, admiring the gentle light of His love that shines through stained-glass windows," the letter reads. "Just as stained-glass windows shine God's love into the church, we can shine the same light into the lives of others simply by the love we show, the hope we provide, the gifts we give, and the ministries we deliver."
Of the money raised by the appeal, 30 percent benefits vocations, 24 percent benefits religious education, 20 percent benefits Catholic Charities, 16 percent benefits general ministries throughout the diocese and 10 percent benefits youth ministries.
"With Thanksgiving and the end of the year both approaching, there is a lot to be thankful for with the many blessings that have occurred this year," said Jen Mahr, Annual Appeal coordinator for the diocesan Office of Stewardship and Development. "But something to think about is that there are still many people who are in need and who need our support and who can be impacted greatly with money raised for the Bishop's Annual Appeal.
"The Bishop's Annual Appeal is an opportunity to bring the love of Christ to those in Middle Tennessee," she added. "Take some time to think about if this is something you'd be interested in giving to or if you feel particularly called to help those that are in need and to help this diocese become the best that it can be today."
People can donate in one of three ways: online at www.dioceseofnashville.com/appeal where donors can opt to make a one-time gift or set up a monthly gift; texting BISHOP to 615-552-1101; or mailing cash or a check to Office of Stewardship and Development, Catholic Pastoral Center, 2800 McGavock Pike, Nashville, TN 37214. Checks should be payable to Diocese of Nashville. Cash donations should include the donor's name and parish so the parish receives proper credit for its designated portion for the overall campaign.
For more information, call Mahr at 615-783-0783 or e-mail jennifer.mahr@dioceseofnashville.com.