When Larry Langley had the opportunity to become Christ the King School's first coach of the forensics team, which teaches students the art of public speaking, he jumped at the chance.
"I knew what it could do for children," he said. "I'd seen it before."
Langley saw scores of his students blossom with confidence as they learned to speak before strangers in competitions sponsored by the Nashville Catholic Middle School Forensics League.
For his many contributions to his students and the league, Langley was one of 12 people in the inaugural class inducted into the Nashville Catholic Middle School Forensics League Hall of Fame in ceremonies on Saturday, Nov. 13.
Langley, Dr. Carolyn Baker, the founder of the league and the team at Overbrook School, and Rita LaRue-Lucas, the first coach of the forensics team at St. Ann School, were inducted as coaches.
Pam Beaver, Angela Siefker and Father Joe Pat Breen were inducted as Friends of Forensics for their support of the program.
League alumni inducted into the Hall of Fame included: Angellena Berberich-Eerebout of St. Joseph School; Abbie Loftus DeBlasis of Overbrook; Rob Hancock of Overbrook; Liz Haynes of Holy Rosary Academy; Heather Yopp Honeycutt of Overbrook, and Dr. Nina Marie Fredericks of Christ the King.
"It gave me a sense of confidence at a time when I didn't particularly feel confident," said Fredericks.
The skills in public speaking that she learned in forensics, "have followed me in every aspect of my life," said Fredericks, who is in her fourth year as an obstetrics-gynecology resident at Saint Thomas Midtown Hospital in Nashville. "This activity means so much to me, and as a young woman, I'm thrilled to see it continue to grow."
Each of the inductees was introduced during the ceremony, and then gave a short acceptance speech.
At the end of the ceremony, the Hall of Fame display at the Catholic Pastoral Center was unveiled and blessed by Father Dexter Brewer, pastor of Christ the King Church and a vicar general of the diocese. 
John Baker, the coach of the forensics team at Pope John Paul II Preparatory School in Hendersonville, and Joe Zanger, the coach at St. Joseph School in Madison and the president of the league, proposed forming the Hall of Fame.
"There's a Hall of Fame for every sport," Baker said during the ceremony. "Forensics needed its day in the sun. It needs to be exalted. It needs to be spread. It's a gift, the gift of speaking."
Watching students who as fifth graders are so frightened to speak in public grow into confident leaders by the time they are in eighth grade, "is mind blowing," Baker said.
"When teachers see a child who has found their voice, there is nothing so exciting in education," said the event's featured speaker, Steve Hammond, who was the Superintendent of Schools for the Diocese of Nashville when the league was formed in 1990.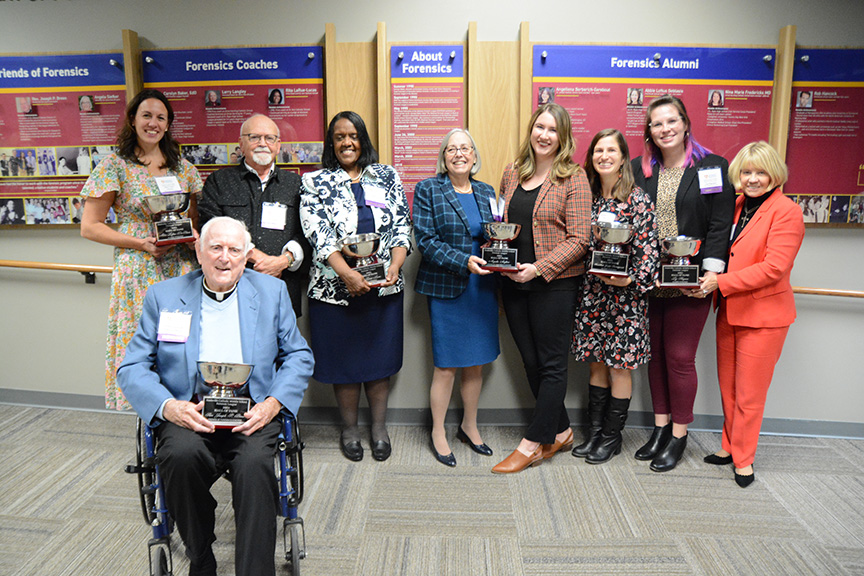 "Where is your voice? How do you find it?" Hammond said. "Fo so many, it's lost and hidden."
When he was superintendent, Carolyn Baker came to him with her idea to start a forensics league. She "came to me with an idea to help children find their voice," Hammond said. "Carolyn has created something of rare beauty."
Baker brought the idea for a forensics program to Overbrook School and the Diocese of Nashville from her experience with a program in Chattanooga, she said. "I had seen what it can do for kids."
Under Baker's leadership, the Overbrook program grew to include more than 100 students in grades five through eight. Besides forming the league in Nashville, Baker led an effort that resulted in the National Forensic League starting a national middle school competition. The first National Junior Forensic Tournament was held at Father Ryan High School in June 2000, with 12 schools from three states competing. In 2019, more than 185 middle school teams competed in the national tournament.
Langley coached the Christ the King forensics team for 17 years and was league president for three.
"This is a very humbling experience for me," Langley said of his induction into the Hall of Fame. The induction was not just a personal recognition, he said. "I never did any of it alone. I had the wonderful leadership of Carolyn Baker. I had the dedication of parents.
"It's a celebration of all the students we were able to teach and touch," Langley said.
Rita LaRue-Lucas, who started the program at St. Ann School, helped launch the forensics league in Nashville because forensics had helped her overcome a stutter when she was a high school student.
Participation in forensics "changed my life," LaRue-Lucas said. "Therefore, when given the opportunity to start the forensics program at St. Ann School, knowing the power that it would have in my students' lives, I jumped at the chance. It was wonderful to see my students grow in confidence and ability."
Pam Beaver began her involvement with forensics by agreeing to help coach the middle school public policy debate team at Overbrook when her son was a student there. She served as a coach for five years, organized debate workshops for diocesan schools, and served as a tournament judge in various categories in the years since.
Angela Seifker has been a behind-the-scenes fixture at forensics tournaments since the league's inception. She helped coach Overbrook students in the TV Broadcasting category and has helped tabulate the scores at tournaments for more than 30 years. In 2019, she was awarded the Adult Volunteer Spirit of Forensics Award for her service to the league.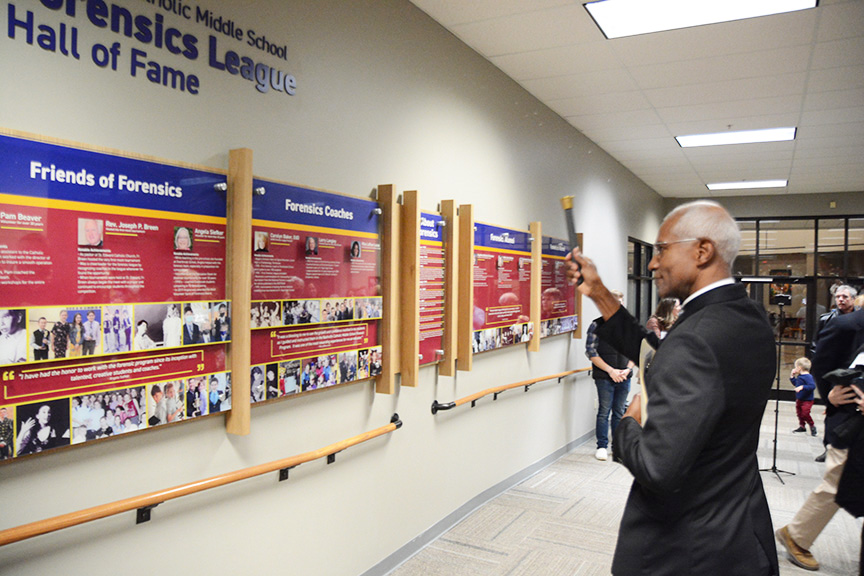 Father Joe Pat Breen, the former pastor of St. Edward Church, was an early and enthusiastic supporter of the forensics program. He hosted the first mock tournament at St. Edward in 1990. St. Edward went on to host tournaments every year, and Father Breen was always present, greeting parents and students, starting the tournament with a prayer and encouraging the competitors.
Angellena Berberich-Eerebout was a four-year member of the forensics team at St. Joseph, it's star performer and it's first cheerleader. She helped build the team from four members when she joined to 25 members when she graduated. In 2007, she was the Diocesan Spirit of Forensics Award winner. She recently graduated from the University of Washington Law School and is a prosecutor in Pierce County, Washington.
Abbie Loftus DeBlasis participated in forensics at Overbrook School. She pointed to that experience as planting the seeds that allowed her to grow in confidence, maturity and poise. After graduating from St. Cecilia Academy, she graduated from Miami University with a degree in finance and a minor in gerontology. She graduated from the Wake Forest University School of Law, where she was editor-in-chief of the law review. After practicing law with regional firms in Charlotte, North Carolina, and Nashville, and teaching at Belmont University College of Law, she became a middle school teacher at Holy Trinity Montesorri School in Nashville, where she is the founder and coach of the forensics team.
Nina Fredericks participated in forensics at both Christ the King School and Father Ryan High School. At Father Ryan, she won numerous leadership awards, founded the St. Vincent de Paul Service Society, and received the Spirit of Christian Service Award.
At Creighton University, she led the Relay for Life event, where her public speaking skills proved helpful. "You're speaking in front of 1,000 people," she noted.
"I think of my time competing often, even 15 years later, with great fondness," Fredericks wrote for the induction ceremony program. "Additionally, it taught me the skill of winning or losing with grace and gratitude."
Rob Hancock credited his experience with the forensics program at Overbrook with leading him to his career as a professional actor performing across the United States and abroad on stage and on television.
"I think the most important thing I experienced in those years doing forensics relates to inspiration and what can come from it," Hancock wrote for the event program. "While there were trophies and accolades involved … those were never really the ultimate prize. The prize was finding that amazing feeling of artistic inspiration and using it to spread joy, laughter, beauty and truth to others. What a gift to discover that at a young age and to have an avenue to pursue it. Forensics helped me start my wonderful journey as an artist, and I will always cherish it."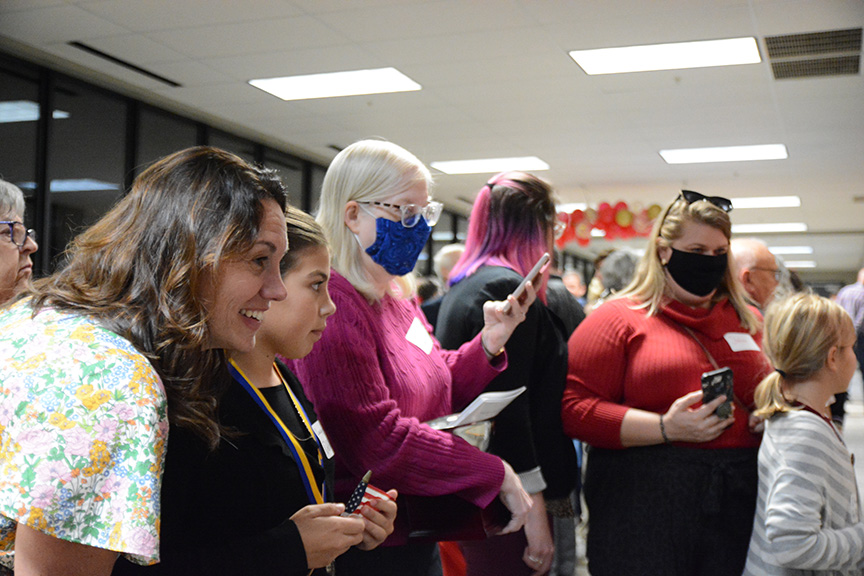 When Liz Haynes found out she had been selected for the Hall of Fame, "I was kind of surprised, and very humbled," she said.
The fact that Chris Melton, the forensics team coach at Holy Rosary Academy, a former president of the league, and a friend of her family for many years, was the one who nominated her, "made it even more special."
Haynes remembers fondly all the friendships she made through forensics. "I wanted everyone to succeed," she said.
Haynes is an Assistant Professor of the Practice of Theatre and the Technical Director for the Theatre Department at Vanderbilt University.
Heather Yopp Honeycutt participated in forensics from the fifth through 12th grade, first at Overbrook School and then at St. Cecilia Academy. "I have such fond memories of my years in forensics," she wrote for the event program. "Forensics taught me a great deal about self-confidence and speaking in front of a group of people. In addition, it taught me the value of preparation – rehearsing something over and over again, not waiting until the last minute, and the importance of getting feedback from others.
"To this day, I still have friendships that formed during forensics – during late rehearsals, long bus rides to tournaments, in lunchrooms waiting for results to be posted," she wrote. "Even though we were often individuals (or duos) competing in individual events, we were one team and learned from each other.
Honeycutt works as the Recruiting Operations Manager for Ramsey Solutions.