After Pope Francis first declared Dec. 8, 2020, through Dec. 8, 2021, as the Year of St. Joseph, Father Jean Baptiste Kyabuta, pastor of St. Joseph Church in Madison, has been looking for the perfect spot to place a new statue of the parish's patron outside the church and school.
Now, as the Year of St. Joseph comes to an end, that perfect place has been found and the statue of St. Joseph with the Child Jesus is now in place; it was blessed and dedicated Sunday, Nov. 14.
"We are Catholics, so statues mean something to us. We have a large property here, and there are certainly numerous spaces to place a statue," Father Kyabuta said. "But, for the Year of St. Joseph, it couldn't be just any place. It needed to be the perfect place. I walked the campus regularly looking for a sign, and I prayed on it."
Blessings in a storm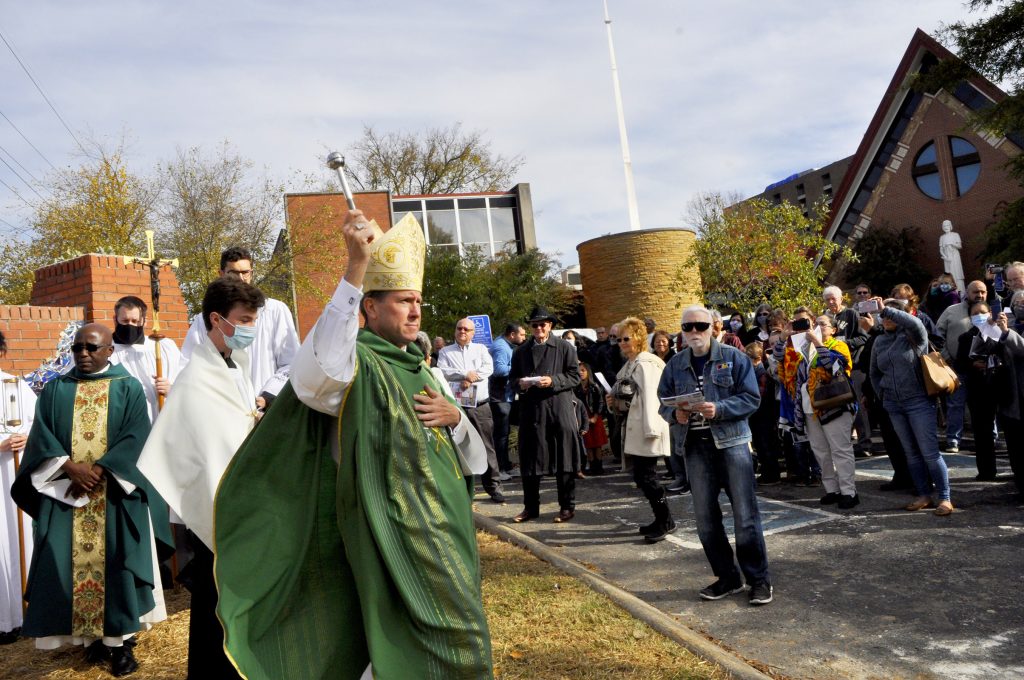 On March 25, 2021, that sign came as storms hit the area causing significant damage to the property.
"That night, I prayed again to St. Joseph, and I asked that he please show us the perfect space. When I woke up, I walked the property to check on storm damage," Father Kyabuta explained. "Low and behold, a birch tree had come down onto the large 'L' shaped brick sign in front of our church and school. With the tree no longer standing … a small grotto area was revealed.
"I thanked our patron saint, our Lord Jesus and God, the Father, for such a perfect space," he said. "Not only would the statue of St. Joseph greet everyone as they arrived, parked and walked into Mass, he would also look over our students, faculty and staff because, as he was chosen by God to watch over the Mother of God and the Savior of the World, he would do the same for us as well."
The statue, with the help of church funds as well as donations such as those from Knights of Columbus Council 3763 and the St. Joseph Women's Club, was purchased from The I. Donnelly Company.
"It was a group effort," said Rebekah Kent, director of Stewardship and Pastoral Services.
The area will also include benches for visitors to sit and reflect, Kent said.
'A silent commitment'
Bishop J. Mark Spalding celebrated 8:30 a.m. Mass at the Church Nov. 14 before presiding over the dedication ceremony. During his homily, he noted the important role of St. Joseph in scripture and the life of the universal Church.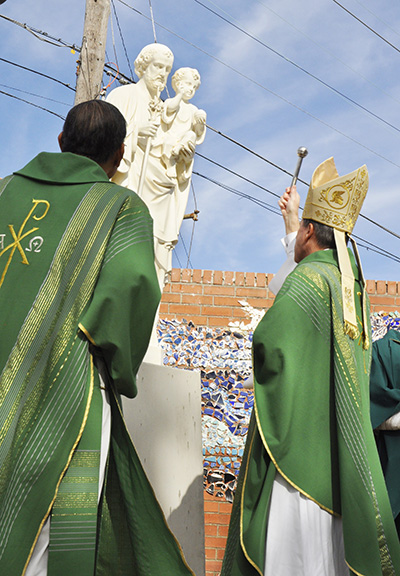 "Be mindful of the example of St. Joseph. In scripture, there is no word spoken by St. Joseph," Bishop Spalding said. "But even in that silence, he was so committed. Even in difficulties and trials and the way people would look at situations, he was so committed to following the will of God, loving and caring for Mary and Jesus all of his days.
"What a great model we have here in this parish, and in the diocese as one of our patrons," he added, "and for the universal Church, especially in this Year of St. Joseph."
The reveal of the statue was met with applause by St. Joseph parishioners during the dedication.
"Beautiful, beautiful, beautiful," said parishioner Leona Steinhilber. "Now, so many can come and really meditate on the life of St. Joseph and what he meant for our salvation. Joseph was one of the key figures and one of the key chosen ones for us, and I'm just privileged to be part of this parish and school community."
The mosaic
The statue isn't the only new piece to the area, as it is framed by a mosaic along the brick wall, which was developed by Sister Beatrice Clarke, St. Joseph School middle school religion teacher and Ascent Program director, and some of the students.
Beverly Brincho, St. Joseph School art teacher, Amy Lavender, St. Joseph School principal, and Mike Zimmerman, St. Joseph Church director of religious education and youth ministry, also contributed.
"Everyone has had a moment where they felt broken down, as if they were unloved and unappreciated. For everyone, then, a mosaic is a symbol; a symbol of how what looks broken and ugly by itself can become whole, one and beautiful," said a reflection written together by Sister Beatrice and the students. "However, that is just the beginning of the symbolism of our mosaic. There is more to it than what is on its surface."
The main symbol featured in the mosaic is a tree, which is a three-fold symbol representing St. Joseph's work as a carpenter, the wood of the cross, and the family tree of Joseph which descends from the line of David. Additionally, the tree is half withered to represent sin in the world and half blooming to represent the Incarnation. Each end has a piece of fruit. The bitten fruit on the withered end represents the first sin of Adam and Eve, and the perfect fruit on the blooming end represents Jesus.
More symbols include representations of the journey to Bethlehem by Joseph and Mary, the Flight to Egypt, and four doves to represent the four times God spoke to Joseph through dreams.
"By including the doves, we wanted to show how St. Joseph was open to the ways God wanted to use him to carry Christ into broken and hard situations," the reflection reads. "This represents one of the major lessons this mosaic teaches: we need to grow in our faith so that when God calls out to us, we will not hesitate; we will go right in, strong in faith that God is sending us where we are needed."
Parishioner Irene Boyd said the beauty of the area came in the details in both the statue and the mosaic.
"The features (of the statue) are very strong, and then the mosaic behind it with all the symbolism just creates a wonderful story that takes us from the first sin of Adam and Eve through the birth of Jesus and the role of St. Joseph.
"He didn't need to be out in the forefront," she added, recalling Bishop Spalding's homily. "He could just be who he was called to be."
A dual effort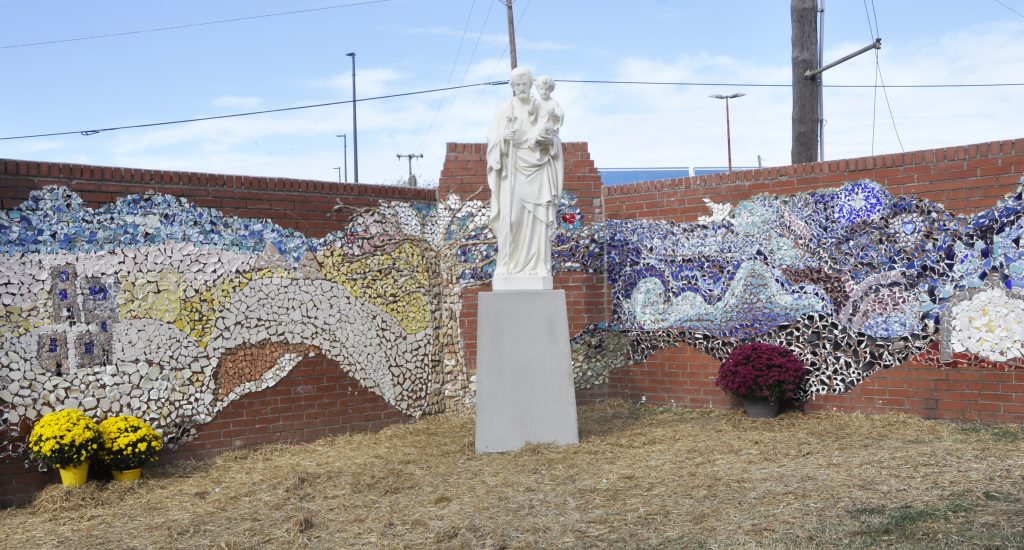 Father Kyabuta said the dual project between St. Joseph Church and School only adds to its significance for the parish and school communities.
"Since I have been here as pastor, and for a long time previously, there have been no projects completed together as a parish and school. Now, we have a statue and mosaic, a spiritual place, that faculty, students, a principal, parishioners and Church staff all had a hand in creating," Father Kyabuta said. "It is so beautiful, so rewarding that you cannot help but be filled with joy.
"This beautiful space is now part of us, part of who we are as a community," he added. "St. Joseph is always walking by our sides here, especially these last 11 months. Through happy times and difficult times, he is with us.
"Many parishioners, along with myself and my staff, have echoed this sentiment throughout 2021. With this statue and mosaic, we honor him, our patron saint."