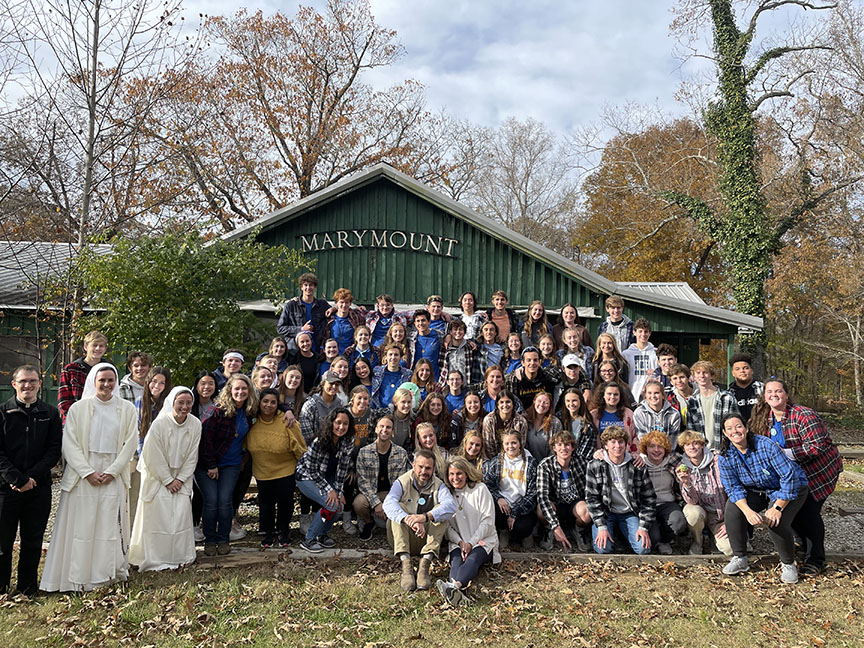 High school juniors and seniors are introduced to a community of love, friendships and joy through peer-to-peer leadership and interaction when they participate in a SEARCH retreat sponsored by the Diocese of Nashville.
That important program is one of many people are supporting when they donate to the Bishop's Annual Appeal for Ministries.
"SEARCH is a great opportunity for teens to meet other teens throughout the diocese and form lifelong friendships, all while growing in their own personal relationship with Christ," said Shelby Conner, assistant director of youth and young adult ministry for the diocesan Office of Faith Formation. During the retreats, "teen leaders give talks to help relate the faith to their own life" often focusing on topics such as faith, facing challenges, forgiveness and more.
"It's real peer-to-peer evangelization," Conner added. "They're journeying throughout the weekend with teens who know what they're truly going through, and that's what makes SEARCH so special."
Additionally, the three-day retreats offer teens the opportunity to attend daily Mass, receive the Sacrament of Reconciliation, and participate in Adoration.
For the 2022-23 academic year, five SEARCH retreats are scheduled with the first slated for Sept. 9-11 at Camp Marymount in Fairview. While each student pays a registration fee, it is significantly less thanks to the additional support provided by the Bishop's Annual Appeal.
The Bishop's Annual Appeal benefits five key areas: vocations, which receives 25 percent of the money; Catholic Charities, which receives 20 percent of the money; religious education, which receives 24 percent of the money; youth ministries, which receives 10 percent of the money; and general ministries, which receives 21 percent of the money.
The last week of August, several mailings will be sent out to parishioners throughout Middle Tennessee encouraging their support for the Bishop's Annual Appeal.
"The Bishop's Annual Appeal funds several ministries throughout the diocese, but one of the areas it funds is the SEARCH program and other aspects within the Office of Faith Formation," said Jen Mahr, annual appeal coordinator for the diocesan Office of Stewardship and Development. "Young teens experiencing the love of Christ in the sacraments before they go off to college is important and necessary to build the Church today and continue to build it into the future."
Working towards a goal of $3 million for the 2022 appeal, as of Wednesday, Aug. 10, $1,866,589.56 or 62.2 percent has been raised. And as the number continues to grow, it will ensure the continuance of the important program.
"We're very thankful to our generous donors who help make the SEARCH retreat possible as SEARCH allows our teens to truly enter into personal relationship with Jesus Christ," Conner said. "SEARCH is truly an encounter with the Lord that our teens are able to experience as they enter into adulthood."
People can donate to the Bishop's Annual Appeal for Ministries in one of three ways:
Online at www.dioceseofnashville.com/appeal where donors can opt to make a one-time gift or set up a monthly gift.
Texting BISHOP to 615-552-1101.
Mailing cash or a check to Office of Stewardship and Development, Catholic Pastoral Center, 2800 McGavock Pike, Nashville, TN 37214. Checks should be payable to Diocese of Nashville. Cash donations should include the donor's name and parish, so the parish receives proper credit for its designated portion for the overall appeal.   
For more information, call Mahr at 615-783-0783 or e-mail jennifer.mahr@dioceseofnashville.com.
For more information about SEARCH, visit soundscatholic.com/searcher. Registration for the Sept. 9-11 retreat is due by Sept. 2.