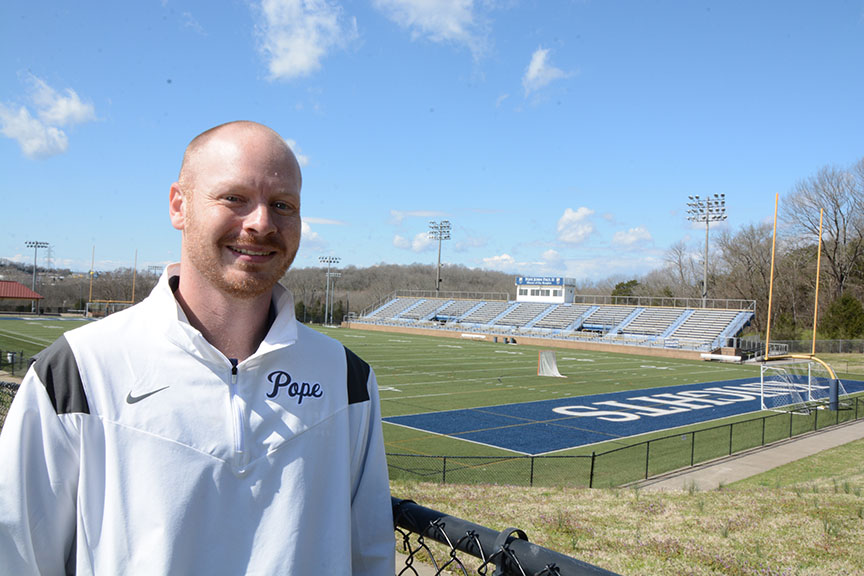 Brian Sneed, a 2006 graduate of Pope John Paul II Preparatory School, has been named as the school's new head football coach.
"I'm just excited to serve the team in this new role," said Sneed, who has been the football team's defensive coordinator and the school's assistant athletic director for the last six years. "It's more fun at a place I went to and know well and a place where I had a really good experience. … You want the players to have the same kind of experience."
He takes over for Justin Geisinger, who stepped down to take the job of head football coach at Franklin Road Academy in Nashville.
"The seamless hand-off to Coach Sneed as head coach enables a smooth transition and keeps us in a great position to maintain momentum," said Head of School Mike Deely.
"Coach Sneed is clearly invested in Pope Prep and our community. He has a very sharp football mind and is a man with a strong moral compass," Pope Prep Athletic Director John Dempsey said. "I have complete faith that he will continue to move our football program forward the right way, with hard work, integrity and discipline."
Sneed, who graduated from Christ the King School in Nashville, was part of the first freshman class at Pope Prep when the school opened for the 2002-03 school year. He came to the school with his father, John Sneed, who served as Pope Prep's first boys basketball coach and softball coach.
"He's probably the reason I'm sitting here right now," Sneed said of his father, who now serves as the Father Ryan High School Wellness Department chair, assistant director of athletics and assistant girls' basketball coach.
His father and his college football coach, Andy Frye of Centre College, were among the first two people Sneed called after being named Pope Prep's head coach.
Sneed, who also served as an assistant coach at Centre under Frye, said he learned a lot from Frye about how to run a program with a standard of excellence.
Sneed worked closely with Geisinger, who is the most successful head football coach in Pope Prep's history.
"Coach Geis, he set a great foundation for us. We've seen progress, and we can continue that," Sneed said. "A lot has to do with the off-the-field things we do … helping these athletes become better people on top of better football players."
As a student at Pope Prep, Sneed was a two-sport athlete who excelled at football. As a linebacker and fullback, he was a three-year starter for the varsity and a two-time team captain.
After graduating from Pope Prep, Sneed went on to Centre College in Danville, Kentucky, where he was a three-year starter at outside linebacker, a two-time All-Conference player for the Southern Collegiate Athletic Conference, and a team captain his senior year. He also was runner-up as the conference Defensive Player of the Year as a senior.
Sneed graduated from Centre with a Bachelor of Science degree in mathematics and a minor in secondary education. He returned to Pope Prep in 2012 as a math teacher and assistant football coach, and then went back to Centre as an assistant football coach from 2013-15.
In 2016, Sneed came back to Pope Prep as assistant athletic director and defensive coordinator under Geisinger.
Geisinger was a four-year starter as an offensive lineman for Vanderbilt University and a two-year team captain, an All-SEC selection and a nominee for the Outland Trophy, given each year to college football's best interior lineman. He was selected in the sixth round of the 2005 NFL draft by the Buffalo Bills and played five years in the NFL with the Bills, Tennessee Titans, Washington Commanders and Carolina Panthers.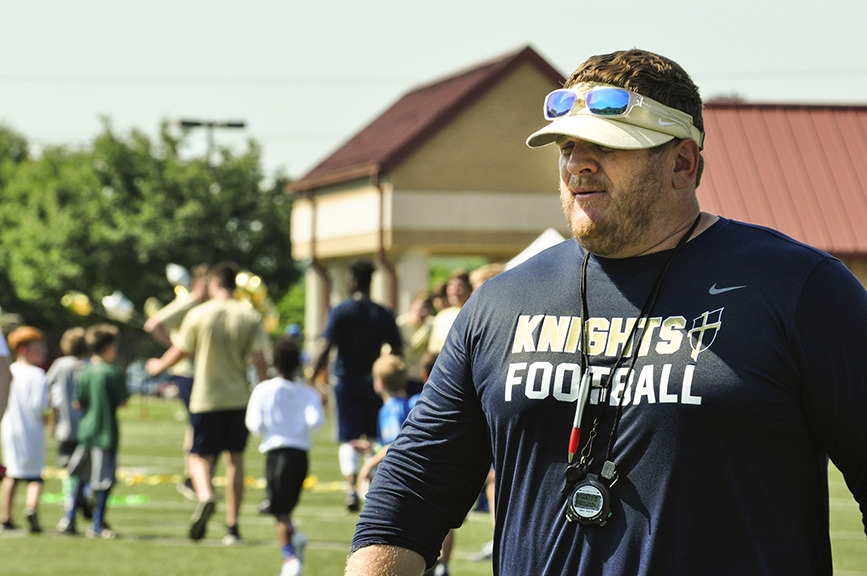 Geisinger joined Pope Prep in January 2010 as the director of strength and conditioning and an offensive line coach for the football team. He became the football team's offensive coordinator in 2014, and since December of 2014 has served as head football coach.
Geisinger leaves Pope Prep with a 41-38 record as head coach. The past two seasons he led the team to back-to-back eight-win seasons for the first time in school history. In last season's Division II-AAA playoffs, the Knights recorded wins over St. Benedict at Auburndale and Brentwood Academy, which was the school's first win ever over the latter. Geisinger led Pope Prep to the semifinals for the first time in school history, where the Knights fell to eventual state champion McCallie.
Geisinger successfully developed a winning program in the toughest division in the state, built a positive team culture, and stands beloved and respected by his players, Dempsey said.
"We have a ton of gratitude for the body of work Coach Geis has done for our school and football program," said Dempsey. "He has left our program much better than he found it. I wish him and his family all the best moving forward in his new endeavor."