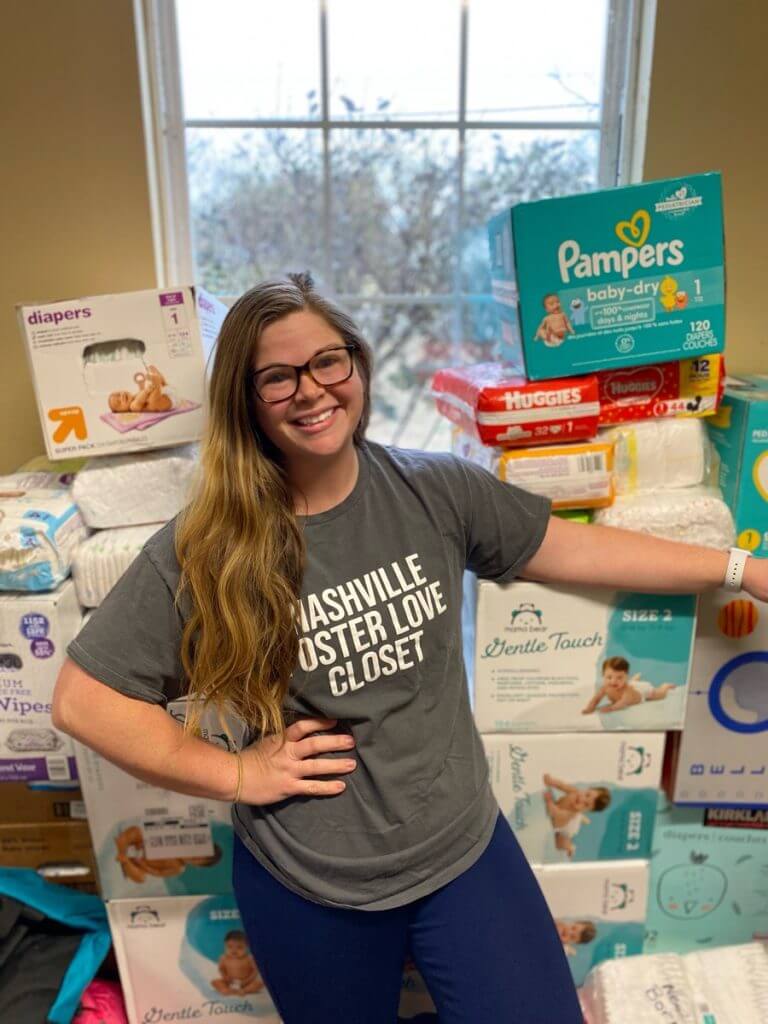 Nobody expects a small charity project to end up turning into a full non-profit, but one Nashville family discovered God's big plans for them last year and how much good they would be able to do for hundreds of local foster children.
The Nashville Foster Love Closet was founded by Holy Rosary Academy and Father Ryan High School alum Kara Anton Puckett and her husband Justin in January 2022. Their goal was to support local foster families.
"The idea was we could have clothes, diapers, and toiletries on hand for those who needed them, but God had bigger plans for us than we did," said Kara Puckett, a parishioner at St. Ignatius of Antioch Church. "He was probably laughing at us for thinking we'd just have something small.
"With the support from the community, plus seeing the need that families had with nothing else like this in Davidson County, we saw God's bigger picture that this needed to be something more," she added.
In its first year, Nashville Foster Love Closet served 520 foster children in Middle Tennessee. It officially gained non-profit status in September. The charity provided Christmas gifts to 193 foster children over the holidays.
The Pucketts have been blown away by the support the local Catholic community has brought to Nashville Foster Love Closet.
"Father Ryan is adding us to their service list for students with service hours. Local churches such as Holy Family (in Brentwood) have helped by hosting Christmas toy drives," Puckett said. "My boy's school (St. Rose of Lima School in Murfreesboro) helped refer families to us and provide donations. We've also had volunteers come and help, including kids from local confirmation classes."
The services they've provided thus far have made an enormous impact on the lives of hundreds of Nashville families. The charity has managed to provide needed material goods and necessities for children in foster care, kinship placements, and adoptive children. On at least one occasion, it was able to help find a local family willing to donate a bunk bed to a family in need.
"The families have shown an outpouring of appreciation. They'll come up to us and thank us. It's really sweet to see photos with new toys or cribs for the kids. They'll be so happy," Puckett said.
"We did a teen girl event with 25 girls and a family with eight foster girls came, and they did a mini-fashion show when they got home to show off all of the new clothes they had gotten at the event. They were so excited," she said. "It's very reaffirming that what we're doing is needed. We push through because we can tell we're making a difference.
Services and events have become a more significant part of Nashville Foster Love Closet's work since they began. It now hosts regular events, from children's sporting events to Easter egg hunts, and is always looking for volunteers to help. It also provides doula services during labor for pregnant teenage girls in need of assistance.
One recent event involved giving families a respite by allowing them two hours alone, babysitting, feeding, and providing childcare for large families at local churches so parents can have time to have dinner together or see a movie.
Kara and Justin Puckett are grateful for the support and kindness they've received from the local Catholic community as they've built Nashville Foster Love Closet into something that can make a difference. They're asking for more help to make a bigger difference going into 2023.
"Not everybody can give monetary donations or give away a bunk bed. Times are tough, and money is tight," Puckett said. "It doesn't cost anything to help us sort or inventory donations, volunteer at events, or get involved in various ways.
"Our March event is 'Kicking It With The Boys,' and we need volunteers. We'll have another one in April for Easter, and we'll need volunteers to help spread easter eggs. There are always volunteer opportunities," she said.
"We only just celebrated the first anniversary of our organization being started, and we're looking to spread some more awareness for what we do so they can get involved and help, learn more about the foster community, support foster families, and become foster families themselves," Puckett said.
"We Catholics are pro-life, and I believe that's a big part of it, being pro-life for all of life and supporting children in this world who need good loving homes," she added. "Not everyone can be a foster family, but everyone can support them."
For more information, visit nashvillefosterlovecloset.com.