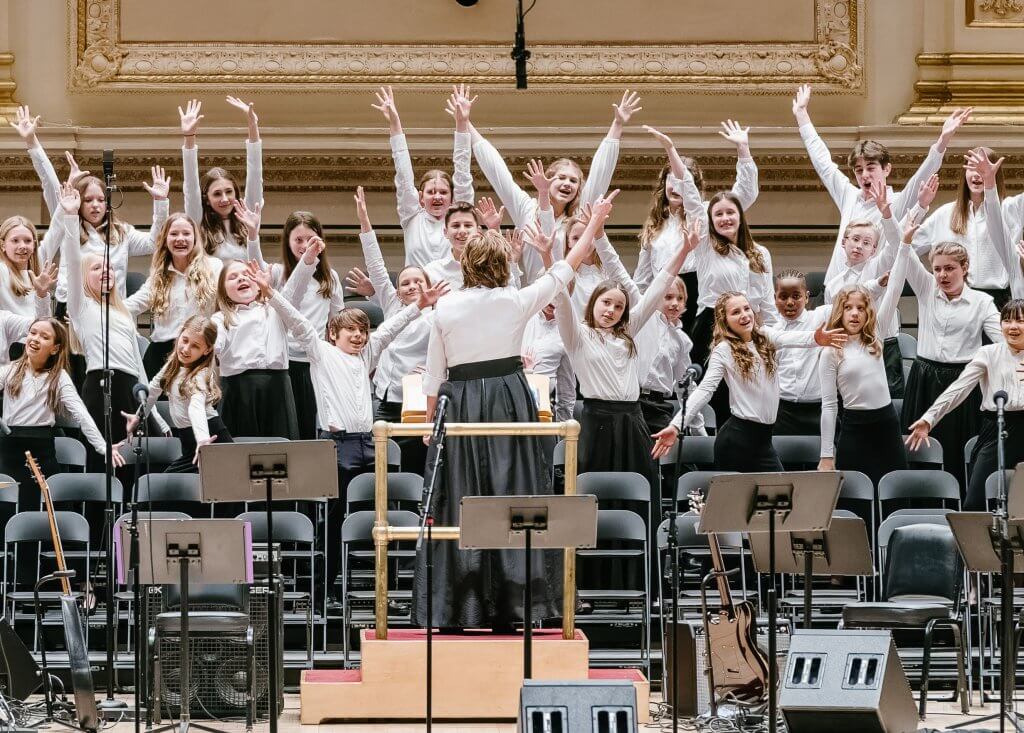 St. Bernard Academy choir members said they couldn't find the words to describe the experience of performing at Carnegie Hall on Sunday, Feb. 19, in New York City.
"Thinking about all the people who have performed at Carnegie Hall like Judy Garland and Julie Andrews, it's thrilling to think we've stood on the same stage as all those people," said Lizzie Wimberley, an eighth-grade student who has been part of the choir for three years. "To look out over the audience of Carnegie Hall and just think that you're here and about all the talented people who have been there, it's almost humbling to stand on that stage."
"I've just been very excited and very grateful for the experience," added Beau Jones, a seventh-grade student, who is in his first year with the choir. "I couldn't find words at the end. I was very emotional."
"No words can describe it in full, but it was beautiful, and I loved everything about it," said Kostas Rokas, a sixth-grade student in his second year of choir. "It was a magical experience. I can't imagine anything better.
"I had never seen the inside of Carnegie Hall before, so the first rehearsal you go out there and it's hard to focus," he added. "You're just trying to keep yourself focused, but you can't because it's too great. You just can't believe it."
St. Bernard sent 45 students for the once-in-a-lifetime opportunity to perform alongside more than 250 others for Voices in the Hall's "The Story of God: A Journey of Faith, Hope, and Unity." The performance was led by Catholic liturgical artists ValLimar Jansen, and the Diocese of Nashville's own John Angotti, director of music and liturgy at St. Philip the Apostle Church in Franklin.
Angotti performed in the show in 2013, having gotten noticed with his work traveling the country as a performing artist at the time. After being asked to join this year's performance, he mentioned it to his friend Renee Thompson, the music teacher at St. Bernard. From there, it was the Holy Spirit that brought it all together to have the students join the show.
The students, ranging from fifth through eighth grade, opened the two-hour show with their performance of "Will You Be Ready?", "What Wondrous Love Is This?", and "Joy in My Heart."
"They were ready," Thompson said. "I wanted them to be well prepared and feel as comfortable as possible because I knew there were other variables that might arise that I couldn't control.
"The kids sang so well, they wanted to do well, and they did not disappoint," she concluded. "They definitely rose up to the challenge."
After their performance, the St. Bernard choir members joined the full choir for the rest of the two-hour show. The more than 250 members, ranging from young and old, black and white, and everything in between, vocally accompanied the headliners on more than 15 pieces, half of which were written by Angotti, as they spread the good news of Jesus Christ to all in attendance.
Throughout, the songs and spoken word drew on the idea of unity, celebrating the Black individuals on the road to sainthood in honor of Black History Month and the universality of the Catholic Church.
"It tied into that whole thing of how to unify this divided world that we're so separated and polarized by, and to show that we come from all different kinds of places," Angotti said.
"We tried to reflect what it means to be the One, Holy, Catholic, and Apostolic Church, emphasizing the word 'catholic' for universality because we had people on the trip who weren't necessarily Catholic, but we were all on the same mission."
Having the youth there to represent only helped bring that message to the forefront more, Angotti said, as they are the future of the Church and its mission.
"The whole thing for me is always about the mission," Angotti said. "The role of the lay people is to take the message into the town halls, into the streets, into the everyday life of the people. … It's an opportunity to bring Jesus and bring our Catholic message of love and mercy."
When the opportunity was first announced to the students, "I didn't know that we were doing it for a Christian reason. It was cool because of that," Wimberley said. "I don't think that's something you see anymore is people getting together for one belief.
"It was life-changing to sing in that huge choir," she said. "It was moving in a way that was kind of indescribable to sing in honor of that belief."
"I got a lot closer in my faith on the trip," added Elisabeth Crane, an eighth-grade student in her fourth year of choir. "When we were rehearsing before the show in St. Patrick Cathedral, that really stuck with me.
"Then getting to Carnegie Hall and just being able to look out and see all the seats, I'll always remember that," Crane continued. "It's a great memory."
"It was a changing experience, singing for one belief and for God," Jones said. "Singing in Carnegie Hall, you hear that term used, but you never think that that is actually going to happen, and then it does, and you're doing it for something you believe in and something you're passionate about, music and faith."
Angotti and Thompson said these reactions are what they'd hoped the students would walk away with after performing.
"The kids were talking about how their experience was unexplainable, and I wanted to say, 'So is love and so is God,'" he said. "What they encountered was God who is beyond understanding. I think they had an ineffable experience, and that was the hope."
"I loved hearing them talk about the experience and that they got it," Thompson added. "They got the message that, 'Hey, we're all here talking about God.'"
"As a teacher, that's what you want," she concluded. "You want to sprinkle it, and let the Holy Spirit figure out where that's going to grow in their lives, and I think it'll bear fruit for generations."
Along with the experience of performing at Carnegie Hall, the students also got to see "Wicked" live on Broadway.
"I'm a Broadway nerd, so seeing 'Wicked' was really cool," Wimberley said. "The singing was incredible, and I think it was inspiring in preparation for Carnegie Hall."
"The vocals, I have no words for the vocals," added Jones.
"'Wicked,' that was great," said Rokas. "I had never seen it before."
The group also got to eat at Ellen's Stardust Diner, a 1950s themed restaurant, which features live performances from the servers.
"I really enjoyed Ellen's Stardust Diner," Crane said. "It was really fun to just be able to see such great singers right in front of you."
"It was a lot of fun seeing people living out their passion and having fun and that was very inspiring for me," Jones said. "If they can do it, I can do it."