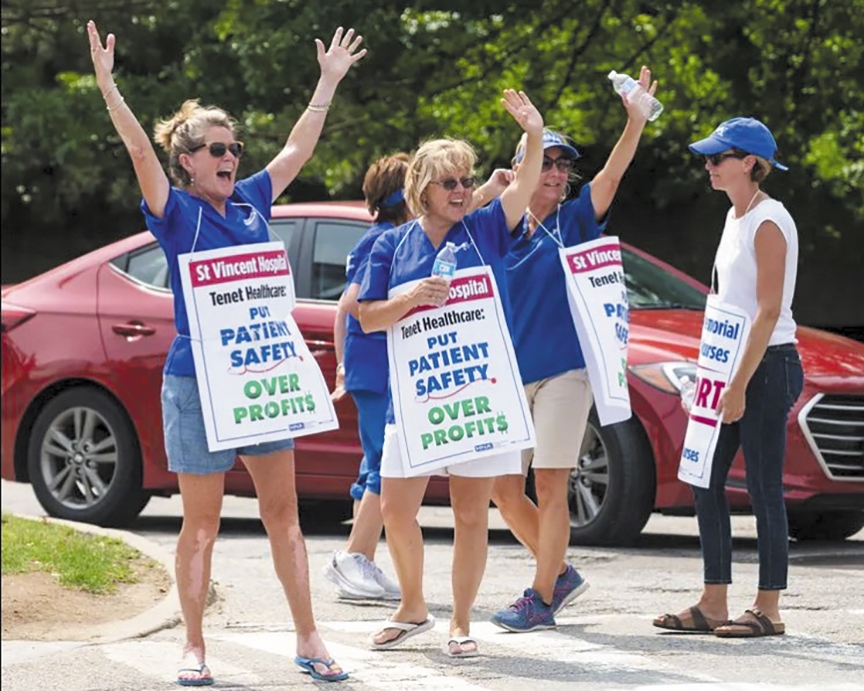 Local representatives of The Catholic Labor Network, a national non-profit membership organization, are encouraging Tennesseans to educate themselves about an upcoming vote to add a Right to Work clause to the Tennessee State Constitution.
Tennessee has had Right to Work laws on the books since 1947. But state legislators are working to make that status more permanent with the proposal of Amendment 1, adding a Right to Work clause to the state constitution.
The proposed amendment reads: "It is unlawful for any person, corporation, association, or this state or its political subdivisions to deny or attempt to deny employment to any person by reason of the person's membership in, affiliation with, resignation from, or refusal to join or affiliate with any labor union or employee organization."
Voting yes or no on the amendment on Tuesday, Nov. 8, will not change the Right to Work laws already in place, and there is little chance those laws will be changed or repealed, said Aimee Shelide Mayer, Nashville representative of The Catholic Labor Network.
But if the amendment is adopted, any attempts in the future to change or repeal Tennessee's Right to Work laws would have a harder road to success. "If you put anything in the Constitution, it's going to be difficult to amend it again," Mayer said.
Right to Work laws were first proposed in response to the National Labor Relations Act (NLRA) signed by President Franklin D. Roosevelt in 1935, which legalized the right of workers to form unions, negotiate contracts and conduct job actions.
Supporters of Right to Work laws argue employees should be free to choose whether to belong and pay dues to a union or employee organization rather than automatically become a member of a union as a condition of employment.
In the last several decades, the number of Americans who are members of a union has steadily decreased while Right to Work laws have spread to more and more states. Currently, 27 states have Right to Work laws.
In a Right to Work state, businesses can still be unionized, but individual employees can decide not to join the union or pay dues. However, any rules or benefits included in a union-negotiated contract apply to all employees whether or not they are members of the union.
"The union has to protect you no matter what," Mayer said.
"The title 'Right to Work' is really confusing. No one is taking away your right to work," Mayer said.
Allowing workers to organize unions and to engage in collective bargaining falls under the Catholic social teaching principle of solidarity, Mayer said.
"It is what binds us together as one human body or, as we Catholics would say, the Body of Christ. If part of the body is hurting then it's going to affect the overall body," Mayer, a parishioner of St. Henry Church, said of the principle of solidarity. "We can't say, 'Your issues don't concern me.' We're called to love our brother and sister and care for their needs.
"Right to Work hinders that call to solidarity. It allows us to wash our hands of whatever is hurting our brothers and sisters and saying, 'That's not my problem,'" she continued.
"Business owners will likely see this as a win" if the amendment passes, Mayer said. "However, all of the papal encyclicals on labor dating back to 1891 underscore the necessity of unions and the right for association."
The Acton Institute, a free-market think-tank, has published numerous articles arguing that the Church's social teachings on labor do not call for compulsory membership in unions and that workers should be free to reject membership in a union that advocates positions contrary to Church teaching.
The Catholic Labor Network works to build faith and labor partnerships across the country, Mayer said. In 2019, the organization received a five-year grant from the U.S. Conference of Catholic Bishops.
"Our work is part of bringing the Good News of Jesus to other people, and we're co-laboring with God in this work," Mayer explained. "Labor Day is an opportunity to see our work on earth as 'holy,' as our vocation. Our vocation includes the primary vocation of how we're living in this world, but also invites us to see that everything we do can give glory to God."
For more information about The Catholic Labor Network or to learn more about Right to Work, visit catholiclabor.org.
In honor of Labor Day, Mayer is also offering two educational sessions about the dignity of work and the rights of workers.
The first session, "Holy Labor and the Right to (Dignified Work)" is a two-part series from 9:45-10:45 a.m. Sept. 11 and 18 at Christ the King Church.
The second session, "The Pursuit of Happiness For All," which will provide an overview of Catholic social teaching and the dignity of work, is from 10-11 a.m. Sunday, Sept. 25, at St. Henry.
For more information, e-mail Mayer at aimee@catholiclabor.org.
Along with educational opportunities, Mayer is a recruiter for the Music City Construction Careers (MC3) Apprenticeship Readiness Program, which helps individuals enhance their skills in preparation for a career in construction. The program includes a free two-week course that is followed up by a placement program, which helps candidates enter into paid, full-time union apprenticeships in construction trades.
The next MC3 class dates are Oct. 3-14, with applications due by Sept. 18.
For more information or to apply, visit MusicCityMC3.org.