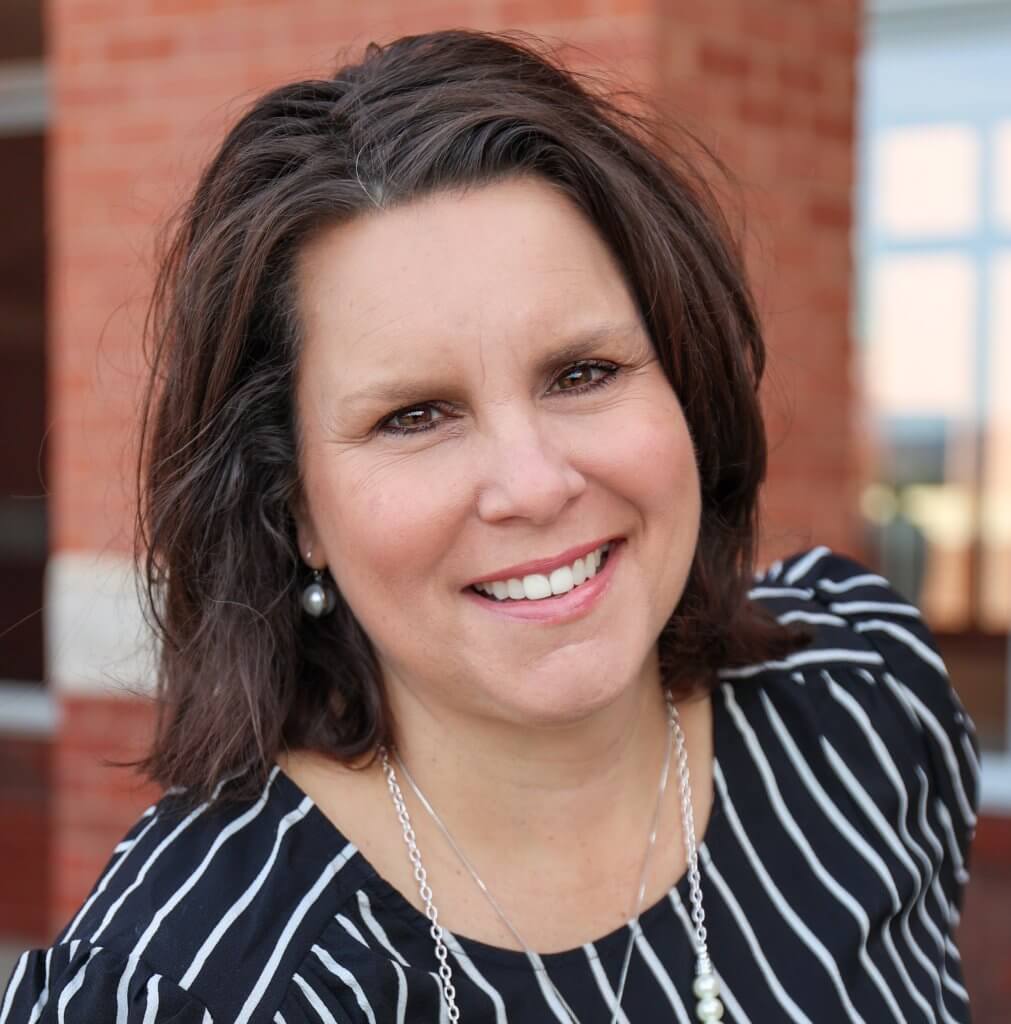 Jennie Guinn, a lifelong Nashvillian and a cradle Catholic, has grown her work as a life coach from a passion project into a ministry that helps many local women facing the challenging transitions that come with entering midlife.
"As a Catholic life coach, I work with 'moms in the middle' to help them thrive in this new season of life," Guinn said. "I share life coaching tools through the lens of scripture, Church teachings, and the lives of the saints so that women can move forward with courage and confidence."
Guinn has spent the last three years building a new career as an independent life coach, specifically serving Catholic women. In that short time, she's gained clients through word of mouth, leading retreats, speaking to various groups, her podcast, and social media. Her weekly podcast, "Catholic Moms in the Middle," has already proven to be a success, with 56 episodes and almost 10,000 downloads.
Recently, that success drew the attention of Nashville Catholic Radio, where she was asked to bring her ministry to the airwaves.
"I recently spoke with Director of Programming Jim Crowe of Nashville Catholic Radio about getting involved in the Catholic radio ministry," Guinn said. "One thing led to another, and he asked if I'd be willing to host a show. We started talking about it in November, and the first show launched in February.
"It's an extension of the ministry I'm already doing with my podcast and blog," she said. "It is an outreach to the women in the diocese to encourage them, equip them, inspire them, and help them embrace the challenges that come with being a midlife mom."
The show airs on WBOU 100.5-FM and online at nashvillecr.com at 11:30 a.m. and 5:30 p.m. Tuesdays and repeats at 10:30 a.m. Saturdays.
Before becoming a Catholic life coach, Guinn worked as an educator at St. Edward School for 26 years. She grew up in a large Catholic family and attended St. Edward School and Father Ryan High School. Immediately out of college, she began her teaching career. She worked as an educator, administrator, and director of religious education at her childhood school. Guinn is the mother of three grown sons and a proud grandmother.
In 2020, Guinn felt God calling her to step out in faith and begin a new career. "I felt God calling me in a different direction," she said. "My kids were getting older and more independent, and I was at a point in my life where I could explore a new path."
Her experience as an educator and as a parent inspired her work with midlife moms.
"For years, I'd been following leaders in life coaching and listening to podcasts," she said. "I love connecting with women and talking with them about their lives while sharing our faith with one another.
"Equipping and encouraging others is my passion," she added. "I wanted to be a Catholic life coach, but I couldn't figure out how it would look or work in my life. God opened the door for me to get certified and continues to open doors on my life coaching journey."
"Leaving the Church and school was a difficult transition. I was good at my job and well known in the community. My mother, my sisters and I, and my three children went to school at St. Edward. I moved from familiarity to the unknown," Guinn said. "In life coaching, I was creating a business on my own while learning new skills. I knew my faith inside-and-out but learning how to market my business, reach out to clients, and start a podcast are a few of the many unknowns I encountered."
The risk paid off not too long after she started. Guinn's ministry has grown quickly and touched many lives in a short time. Being a Catholic life coach allows her to use her skills as an educator, ministry leader, mother, grandmother, and wife to build up other women going through some of life's most challenging transitions.
"As a teacher, I loved the lightbulb moments where students began to make connections and see things clearly," Guinn said. "I loved it in the classroom, and now I love seeing it in women during a coaching session as they gain a new awareness in their lives."
"In midlife, women are often searching for what comes next. As moms they have spent so much of their life raising children and meeting the demands of a busy family," Guinn said. "Family life can be chaotic, and moms are used to wearing lots of different hats.
"In midlife or as empty nesters, they suddenly find themselves in a quiet house, and it becomes a time of significant transitions – rediscovering their identity, experiencing changes in their marriage, and learning to parent adult children who are searching for their own way in the world," she said. "Another big midlife transition can be caring for elderly parents and trying to meet their needs."
Through Guinn's life coaching, women can find the courage and confidence to face new challenges, embrace them, and to explore new dreams or goals. "God is always a part of these changes, even when it doesn't feel like it," she said. "He is with us in our relationships, our encounters with others, our marriages, and in each and every transition we encounter. By embracing Christ's call for our lives, we can become the person he has called us to be in the world."
Guinn loves equipping and encouraging women to thrive in midlife by giving them the tools they need to navigate life's transitions so they can live a happy, healthy, and holy life.
Midlife Women who are interested in navigating this new season with grace and courage can learn more about Catholic Moms in the Middle, sign up for a free coaching call, or listen to her podcast on her website, at www.jennieguinnlifecoach.com.