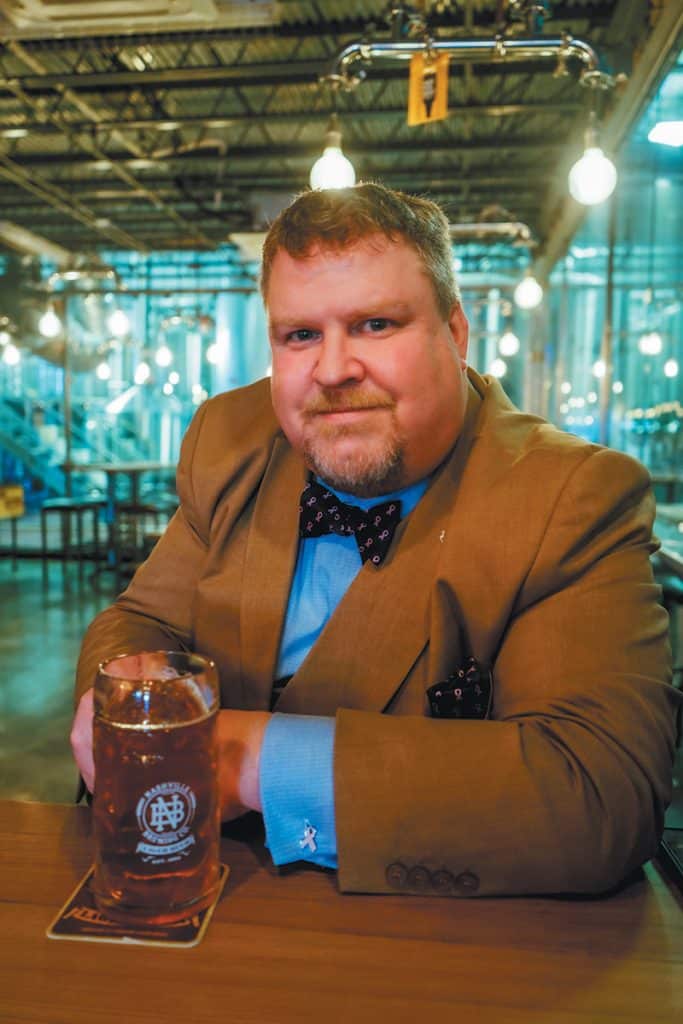 Like universities and hospitals, the roots of the modern beer brewing industry run through the Catholic monasteries of Europe.
And although many of the monasteries are gone, their beer lives on as some of the most well-known brands in the world, said Scott Mertie, a parishioner at Holy Family Church in Brentwood, a beer historian, and the owner of Nashville Brewing Co.
"Their legacy is their breweries," Mertie said of the monasteries.
Mertie, who also is the president of Kraft Healthcare Consulting, LLC, an affiliate of KraftCPAs PLLC, recently gave a talk to the Catholic Business League on the history of beer and its ties to the Catholic Church.
People have been brewing beer for millennia. Archaeologists recently discovered a 13,000-year-old brewery in a cave near Haifa, Israel, Mertie said. "The Middle East is the mecca where beer started."
The Romans, whose empire included the Middle East, brought the brewing process back to Rome. And as they were pushing into northern Europe, they brought the beer brewing process with them, Mertie said.
Originally, beer was primarily brewed in homes. But in the Middle Ages, there was a shift to brewing beer in monasteries.
The monasteries "would host people as they passed through the town," Mertie said, offering them shelter, food and drink, often beer. Just as the monasteries were making their own food, such as cheese, they started brewing their own beer.
Beer was an important part of the monks' diet, Mertie said. "They were mostly drinking beer. It was safer than water."
In the Middle Ages, when access to education was limited, monasteries became centers of academic and scientific exploration, Mertie said.
The monks started recording their beer recipes, documenting every batch, and keeping track of what worked and what didn't, Mertie explained. As monks would leave one monastery to establish another, they would bring their recipes for beer with them.
That meticulous process improved the quality and consistency of the beer, Mertie said.
It was the monks who discovered that adding hops to the recipe acted as a preservative, which allowed the monasteries to keep their beer in kegs and ship it to other communities. It was a secret the monasteries kept to themselves, Mertie said.
The process of boiling the hops had the extra benefit of making beer safer to drink than water, especially during the many plagues that struck Europe during the Middle Ages, Mertie said.
St. Arnold of Metz, the patron saint of brewers, once blessed the kettle used to brew beer to convince the people of the city to drink beer instead of water during a plague, which saved many lives, Mertie said.
It became clear that if you drank the monk's beer you lived and if you drank the water you died, Mertie said.
"The Church used that to their advantage," he said. "It was a way to draw people into the Church to spread Christianity and to make money for the Church."
Beer's saints
There are many saints of the Church who have connections to beer and brewing, Mertie said.
St. Florian, the patron saint of Austria, Poland, firefighters and brewers, saved the city of Nuremberg, Germany, from a massive fire by using beer from a local brewery to put out the fire.
St. Brigid of Kildare, one of the patron saints of Ireland, was a brewer and several miracles involving beer are attributed to her, including using one keg from her monastery to supply beer to 18 other monasteries. On another occasion, she changed the dirty bathwater in a leper colony into beer.
St. Arnold of Soissons, the patron saint of hops pickers and Belgian brewers, is credited with improving filtration techniques for beer.
In the 1500s, brewing beer started moving from the monasteries to secular brewers, Mertie said. Some of those secular brewers with monastic roots are still brewing today, including Augustiner, Paulaner and Smithwick beers.
Nashville's beer history
Nashville's history of beer brewing is also connected to its Catholic community. The German immigrants who settled in the Germantown neighborhood of Nashville, many of whom were Catholic, brought with them the recipes and brewing techniques of their homeland, Mertie said.
At one time, there were four breweries in Germantown. Most of them were small, family affairs serving customers in the neighborhood.
In 1859, Jacob Stiefel, a German Catholic, started a commercial brewery, the Nashville Brewery, on what is now Sixth Avenue South near the Gulch neighborhood of Nashville. The brewery operated under several other owners until 1890, when Christian Moerlein, a prominent brewer from Cincinnati, and his apprentice William Gerst, bought the brewery, since renamed Nashville Brewing Co. Gerst bought out Moerlein and operated the brewery as the Gerst Brewing Co. until 1954.
Mertie started studying the history of beer in Nashville, and in particular William Gerst and his brewery. That research led to Mertie's book, "Nashville Brewing," published in 2006.
Mertie and his wife, Candy Johnson Mertie, have sponsored four historical markers around the city documenting Nashville's brewing history.
"I'm so vested in this history," Mertie said. "It has definitely become a passion."
When it comes to brewing beer, Mertie has put his money where his passion is.
He's been an investor in several craft breweries over the years. In 2016, he relaunched Nashville Brewing Co. with his long-time friend Kent Taylor, co-founder of Blackstone Brewing Co.
The two brands are brewed at the same production brewery on Clifton Avenue off Charlotte Avenue in Nashville.
"We had the trademark for that name," as well as some of the traditional recipes for lager style beers that the German immigrants in Nashville would have brewed in the 1800s, Mertie said.
"We knew these traditional lagers were making a comeback," Mertie said. "We're very traditional to European styles. We wanted to stick to our guns. There's a reason these styles have been around for hundreds of years."
While still young, the Nashville Brewing Co. has won several prestigious awards, including a silver medal at the World Beer Cup, the world's largest beer competition, and a silver medal at the Great American Beer Festival, the nation's largest beer competition, Mertie said.
Mertie wants to keep Nashville Brewing Co. on its current trajectory, he said. "We're doing very well in the Nashville market. We're very content. The dream is to get people to keep up the awareness … of the history behind beer. Every style of beer, there's a story behind it."
To watch Scott Mertie's talk to the Catholic Business League on "Beer and Catholicism: Their Unique History," visit www.catholicbusinessleague.org.