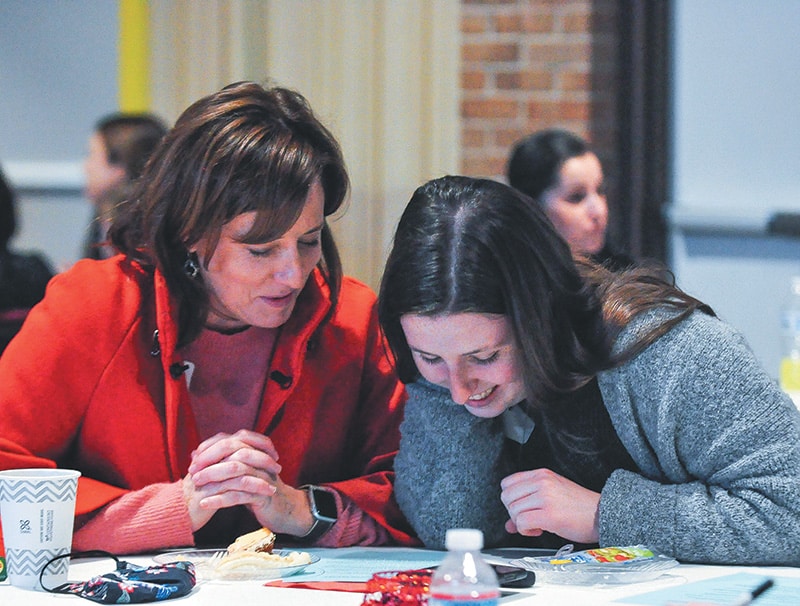 Mothers, daughters, and grandmothers came together at the Catholic Pastoral Center on Saturday, Feb. 13, to deepen their relationship with each other and with the Lord. And they topped off the day with tea and cake.
"It was a great day to share together and with such a huge community of the diocese," said Jenni Moscardelli, a parishioner at St. Frances Cabrini Church in Lebanon who attended the Mother-Daughter Retreat and Tea with her daughter Carrie. "These shared experiences are priceless."
"It's important to grow in my faith with my mom," said Carrie Moscardelli, a senior at Father Ryan High School.
About 250 women and girls, representing 22 parishes, attended the retreat, said Julianne Staley, the Director of Formation of the Young Church at St. Philip Church in Franklin. Staley organized the retreat, which was co-sponsored by the Diocese of Nashville.
"I know personally, with this last year, it's been difficult to find time to work on relationships in isolation," Staley said. "I know a lot of churches can't have in-person events and retreats. I know my kids were thirsting for a retreat. So that's why I decided to open it up to everyone who wanted to come."
The diocesan staff helped spread the word about the retreat among other churches, and the response was strong, Staley said. "I've never had a retreat fill up as fast as this year."
"It means the world" to see mothers and daughters come together for the day, Staley said. "My mother gave me the greatest gift in my life, my faith."
Seeing mothers and daughters together at the retreat is "a beautiful reminder that mothers and fathers, they are the primary catechists. This is the perfect way to display that," Staley said.
"We wanted to remind everyone where we come from and where we are going in our relationship to the Lord," she added.
The retreat featured talks by four speakers, two in English and two in Spanish. Two of the talks were geared for mothers with older daughters and two were geared for mothers with younger daughters. The speakers included Franchelle Jaeger, a speaker, writer and parishioner at St. Matthew Church in Franklin, Jovita Hernandez, the associate director of Catholic Media Productions and Nashville Catholic Radio, and Dominican sisters, Sister Anastasia, O.P., and Sister Marie Isabelle, O.P.
The retreat also featured Eucharistic adoration, the Sacrament of Reconciliation, Mass celebrated by Bishop J. Mark Spalding, and tea and cake at the end of the day.
Julia Healy attended the retreat with her mom, Lee Healy. They attended the talk by Jaeger on three important truths about women, including: motherhood, both biological and spiritual; a woman's sensitivity to others; and beauty.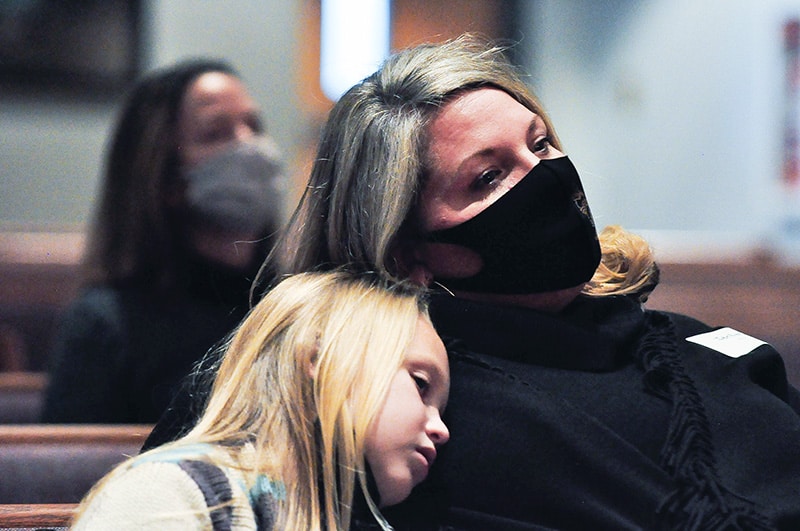 'I definitely liked the speaker," Lee Healy said. "She really made you think deeply. We don't value ourselves as mothers."
"We both got a lot out of it, even though we're different ages," Julia Healy added.
In her talk, Jaeger quoted St. Edith Stein, who said the destiny of every woman is to be a bride and a mother, although not always in the way the world typically understands those terms. In baptism, every woman becomes the bride of Christ, Jaeger said.
"A natural fruit of our life with Christ is motherhood," Jaeger said, and for some it will be biological motherhood and for others a spiritual motherhood.
"If there's a person in your life or in your class who needs to be seen and heard, it's the mother's role to do that," Jaeger said. "Every woman can be that mother."
Women have a special sensitivity that allows them to recognize the needs of others, Jaeger said.
Women, who are made in God's image, are made for beauty, she added. The world is constantly barraging women with messages about what they need to be beautiful "when we already are beautiful," Jaeger said. "It's about how we act, how we speak, how we carry on with others, how we care for others."
The devil takes these truths and twists them, clothing them in a veil of untruth, which can lead people off the path to holiness, Jaeger said. "Satan has done this to women from the very beginning and he's not done yet."
It was Julia Healy's idea that she and her mother attend the retreat together. "I thought it would be good to strengthen our relationship with each other and the Lord," she said.
Next fall "she's going off to college," Lee Healy said of her daughter, a senior at Franklin High School. "We want to spend quality time together before then. I've been thinking about that a lot lately."
Julia is part of the youth group at St. Philip Church, where her family are parishioners. She also will be a co-director of the SEARCH retreat in March.
Erin Martinez, a parishioner at the Cathedral of the Incarnation in Nashville, attended the retreat with her three daughters, Ania, 11, Catherine Rose, 8, and Regina, 4 months old.
"We were excited to spend the day together and learn more about our faith," Martinez said. "It's nice to break from the busyness of life and spend time with the Lord."